NFL Draft 2011: Green Bay Packers Mock Draft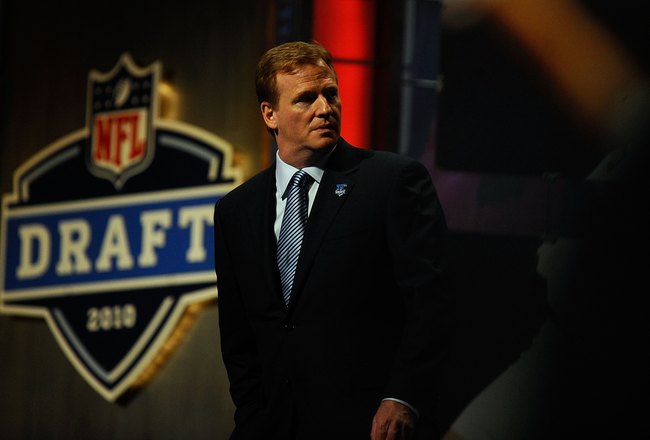 Jeff Zelevansky/Getty Images
Coming off a Super Bowl championship season, the Packers, at first glance, may appear to have no glaring needs.
Needless to say, they do have a few positions where they could improve and "building through the draft," as Ted Thompson says, is the way to improve.
In the three-day draft bonanza, the Packers are sure to make some selections that will be beneficial to the team's future.
Here's my take on the path they should take in the draft.
1ST ROUND, 32nd Overall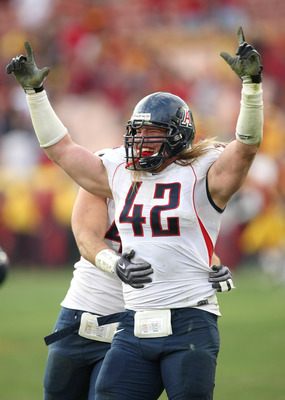 Stephen Dunn/Getty Images
Brooks Reed, OLB, University of Arizona
Drawing comparisons to Clay Matthews, Brooks Reed is a top-five linebacker in the 2011 NFL Draft. He possesses, like Matthews, a motor that never quits.
Many critics have said the Packers most glaring need is the outside linebacker spot opposite of Matthews.
I disagree with that assertion; however, I feel that based on Ted Thompson's "best player available" draft strategy, Brooks Reed will be the top guy on the board.
Other possibilities:
Gabe Carimi, OT, Wisconsin: Carimi is not expected to slip past the Bears; however, Bulaga slipped much farther than expected in last year's draft. If Carimi is available, the Packers will snag him and make him their LT of the future.
Mark Ingram, RB, Alabama: Ingram is another potential top-20 guy who could slip to the Packers. If so, I think the Packers will pounce. The addition of Ingram will lead to a crowded backfield in Green Bay of Ryan Grant, James Starks, and Ingram, with Brandon Jackson likely departing in that scenario.
Jonathan Baldwin, WR, Pittsburgh: With Driver still producing, but aging, and James Jones likely leaving in free agency, the Packers are in need of a 3rd/4th receiver. Baldwin doesn't have a ton of speed; however, his tight end-like size makes him a deep ball threat. Character concerns are the most likely reason that the Packers stay away from Baldwin.
Aaron Williams, CB, Texas- The Packers are home to one of the top defensive backfields in the NFL; however, as was the case in the 2nd Half of the Super Bowl, injuries do happen. With Charles Woodson reaching his mid-30's, it is time to groom another DB who can team with Tramon Williams and Sam Shields in the future, and Aaron Williams would be a great addition.
3RD ROUND, 73rd Overall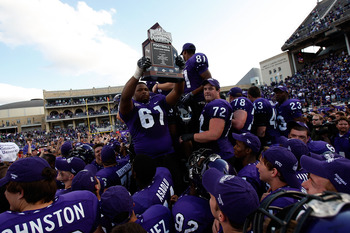 Ronald Martinez/Getty Images
Marcus Cannon, OT/OG, TCU
We all know how Ted Thompson likes to trade down. With the Packers owning the last pick in the 2nd round and feeling that they would have better value picking in the 3rd round, they trade their 64th overall pick to the Texans for the Texans 73rd overall pick in the 3rd round and 105th overall pick in the 4th round.
The trade, in and of itself, is not the only interesting thing about this pick. Just this week, the 22-year old Cannon was diagnosed with non-Hodgkin lymphoma. Reports have shown that he will be done with his chemotherapy, if successful, by the end of June.
While this is obviously a slightly risky move, it will still be tough for Ted Thompson to pass up on the 6'5" 360 pound Cannon. Cannon has the versatility to play both OG and RT and would provide good depth on the line for the Packers.
3RD ROUND, 96th Overall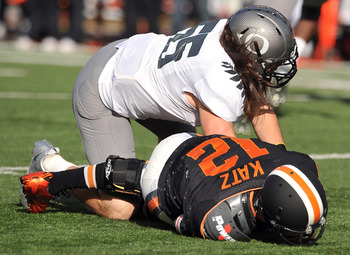 Steve Dykes/Getty Images
Casey Matthews, ILB, University of Oregon
Too difficult to resist, Thompson selects Clay's younger brother Casey. This may seem unlikely as Packers inside linebacker Desmond Bishop signed a recent contract extension, AJ Hawk took a pay cut to stay with the team, and Nick Barnett remains on the team. It obvious though that Thompson feels the late 3rd round pick of Matthews will help the team in the future.
4TH ROUND, 105th Overall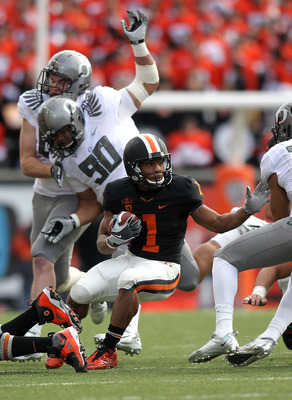 Jonathan Ferrey/Getty Images
Jacquizz Rodgers, RB, Oregon State
With their first 4th round pick, the Packers pick up an electrifying runner, who critics have called too short (he's 5'6") to play in the NFL. Although Rodgers disappointed with his 40 time, he is tough to bring down and would give the Packers flexibility as a change-of-pace running back and a returner. Another upside for Rodgers is that he does a good job of securing the ball. With his last name, I'm sure many jokes will be made between A-Rod and him.
4TH ROUND, 129th Overall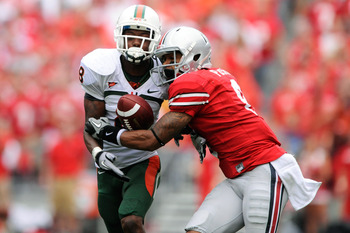 Jamie Sabau/Getty Images
DeMarcus Van Dyke, CB, University of Miami
There has been some discussion about Miami CB Brandon Harris being selected by the Packers. The Packers were successful in picking up former Hurricane Sam Shields as an undrafted free agent last year. Instead, the Packers select the other Miami CB, DeMarcus Van Dyke, who also happens to have run the fastest 40-time at the NFL Draft. Although his 40-time obviously attracts attention, Van Dyke also performed well at his positional workouts.
4TH ROUND, 131st Overall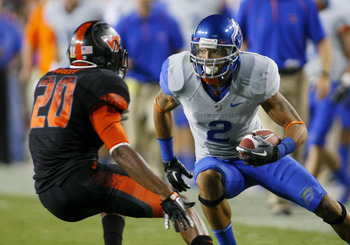 Geoff Burke/Getty Images
Austin Pettis, WR, Boise State
With the 131st pick overall, the Packers pick up their WR of the future. Although not receiving as much attention as former teammate Titus Young, Pettis did finish his Boise State career with a record 39 receiving TD's. Pettis has great focus in traffic and he should fit in on the Packers similarly to how Jordy Nelson did when he was drafted a few years ago.
5TH ROUND, 163rd Overall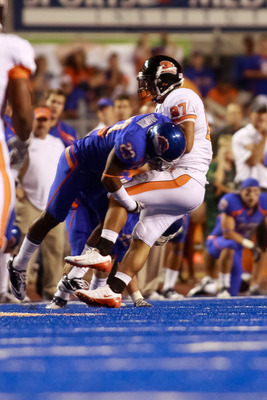 Otto Kitsinger III/Getty Images
Jeron Johnson, SS, Boise State
The Packers decide to select two Broncos in a row and select the Bob Sanders-esque Jeron Johnson. Johnson is not afraid to hit and although Charlie Peprah and Morgan Burnett will be returning, Johnson would challenge for a starting spot right away.
6TH ROUND, 197th Overall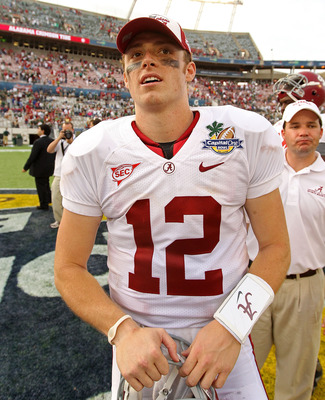 Mike Ehrmann/Getty Images
Greg McElroy, QB, University of Alabama
Matt Flynn did a phenomenal job filling in for Aaron Rodgers against the Patriots. He did so well that the Packers might look into trading him soon, similar to what they did with Matt Hasselbeck when they had Brett Favre. But in order to make that trade, the Packers need to be at least somewhat confident in their third string quarterback. That's where Greg McElroy comes in. McElroy, like Flynn, has experience winning the BCS National Championship, and hopefully he can follow in Flynn's footsteps as an NFL backup QB.
7TH ROUND, 204th Overall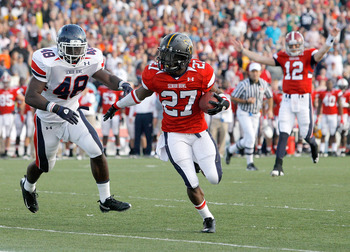 Sean Gardner/Getty Images
Noel Devine, RB, University of West Virginia
Compared to Darren Sproles, Noel Devine gives the Packers a dynamic player that they have been lacking for years. Devine can run, catch, and return and would be a great addition to the Packers. Devine has had a bit of an injury history; however, taking him in the 7th round is worth the risk.
7TH ROUND, 233rd Overall
Jamie Sabau/Getty Images
Justin Boren, OG, The Ohio State University
With their last draft pick, the Packers add another offensive lineman for depth. Boren isn't just any old lineman though. After doing the unthinkable and transferring from Michigan to Ohio State, Boren has earned the honors of first and second-team Big Ten in consecutive years.
Surprises?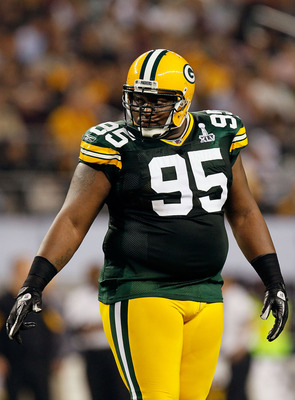 Kevin C. Cox/Getty Images
The biggest surprise for me with this "mock" draft was non-selection of a defensive lineman. Of course, this shouldn't come as too much of a surprise based on the Packers "best player available" strategy. Losing Jenkins and Jolly would be bad, but not devastating. With the Packers core group of B.J. Raji, Ryan Pickett, Mike Neal, Howard Green, C.J. Wilson, and Jarius Wynn all returning, the Packers will be fine.
Now it's your turn. What surprised you? What picks did I completely whiff on?
Keep Reading

Green Bay Packers: Like this team?