2011 NFL Mock Draft: Every Single Pick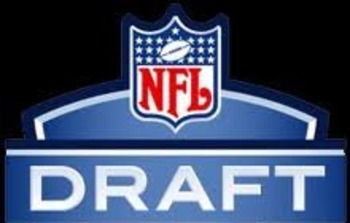 This is a mock draft of every single pick. Obviously there will be trades throughout the draft, and I won't try to predict those, so the predictions are based on where everyone is picking as of right now.
I determined who I thought each team would pick based on team needs, best players available and past draft tendencies of each team.
Part of my research was done on knowledge of the players and I also studied Scout Inc's evaluation of all the players. Carolina is on the Clock!
1. Carolina Panthers: QB Cam Netwon- Auburn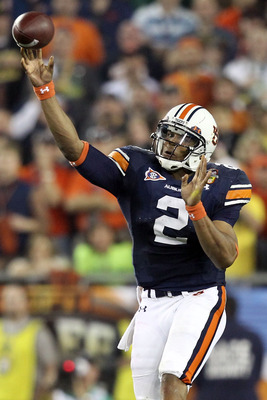 Christian Petersen/Getty Images
The Panthers have many needs, and word is that they have four players that they are thinking of taking.
No one can impact a team as much as a QB though and the Panthers will end up pulling the trigger on Newton.
I'm not so sure it's the right pick, as we've seen this type of QB fail before, but there is no doubt that he would bring excitement to the team and would sell tickets more than a DT or DB would.
2. Denver: DT Marcell Dareus- Alabama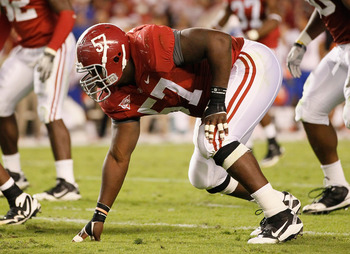 Kevin C. Cox/Getty Images
The Broncos seem like they've needed defensive linemen for years and Dareus is the best available.
Some say he could have the same impact that Suh had, and while I think that is going a little too far, there is no doubt that he can be a force.
Denver needs to improve their defense fast, and Dareus might be the best way to do that.
3. Buffalo: OLB Von Miller- Texas A&M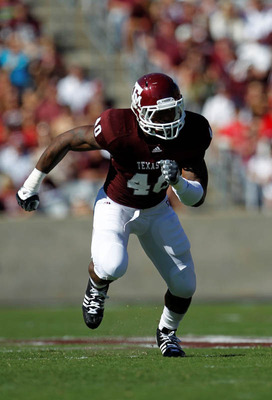 Buffalo needs a pass rusher since Aaron Maybin hasn't lived up to his potential.
Miller is the best in the draft. He will come into the league as one of the favorites to win Defensive Rookie of the Year.
Buffalo could go QB here but Fitzpatrick may have done enough to hold that off for the time being.
Miller could give Buffalo the best pass rusher they've had since Bruce Smith.
4. Cincinnati: WR A.J. Green- Georgia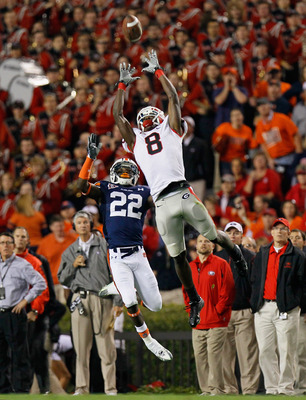 Kevin C. Cox/Getty Images
The Bengals are another team that could go QB, but I expect A.J. Green to be the kind of player they want.
With Owens out and Ochocinco always being a problem and on the decline, Green would be a great fit.
He has tremendous skills and could be the best WR to come out since Calvin Johnson. Maybe getting a solid talent like this might make Carson Palmer change his mind about playing for Cincy.
5. Arizona: QB Blaine Gabbert- Missouri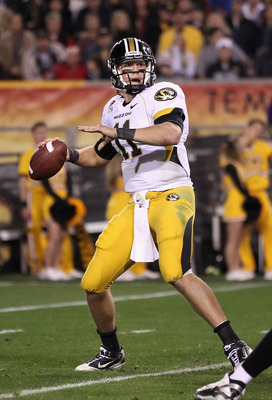 Christian Petersen/Getty Images
Arizona saw last year how far your team can fall without a true QB to turn to.
I don't think John Skelton is the answer for the Cardinals, and Gabbert could be the most pro-ready of any of the quarterbacks out there.
He has all the tools to succeed and would be throwing to a very good WR corps. I can't imagine Arizona not taking one of the top two QBs unless they've been picked.
6. Cleveland: WR Julio Jones- Alabama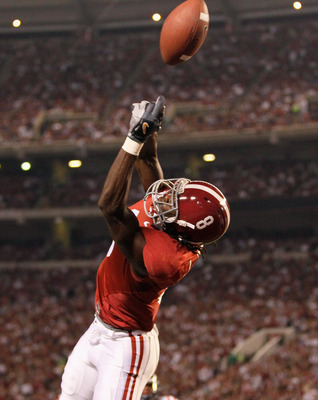 Kevin C. Cox/Getty Images
The Browns looked like they found their QB of the future in Colt McCoy last year, but now he needs someone to throw to.
Jones should be the pick here. It's possible that A.J. Green falls here, but if not, Jones is not a bad back up plan. Many believe he is actually more ready to produce right away than Green.
7. San Francisco: CB Patrick Peterson- LSU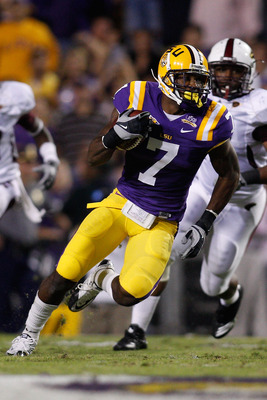 Chris Graythen/Getty Images
If Peterson does fall this far, which I think he will because of the other teams needs, than San Fran is getting a steal.
I believe Peterson is the best player in the draft and has the mold to be one of the better DBs in the NFL.
There is a possibility that the 49ers trade up to get a QB, but I think they would be more than happy to get Peterson if he falls to them.
8. Tennessee: DT Nick Fairley- Auburn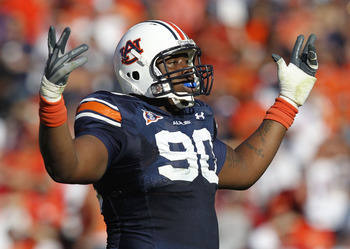 Mike Zarrilli/Getty Images
At one time Fairley was considered the top prospect in the draft. He has fallen a bit but is still a great grab for the Titans.
They seemed to have really missed Haynesworth since his departure, and while their DL isn't horrible, it could use a talented guy in the middle, and Fairley would fit nicely.
9. Dallas: OT Tyron Smith- USC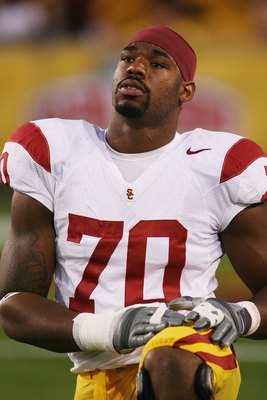 Jeff Golden/Getty Images
Smith is the best OL in the draft, and while he might not be quite right for the LT position, he still is a great offensive lineman.
Dallas' OL looked horrible last year, and it led to Tony Romo getting injured. The Cowboys will need to protect their QB better this year, and drafting Smith is a good start.
10. Washington: DT Corey Liuget- Illinois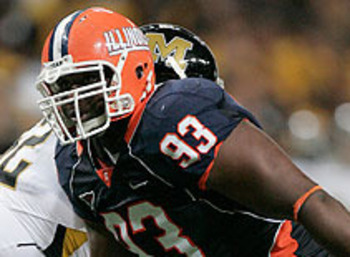 Not quite sure what Washington will do here.
They have many needs, and QB is one of them, they could possibly reach for a quarterback here or try and trade up to get one of the top options.
Albert Haynesworth has been a disaster for them, and while Liuget isn't the type of player that quite fits the 3-4 mold, he could do better than most think.
11. Houston: CB Prince Amukamara- Nebraska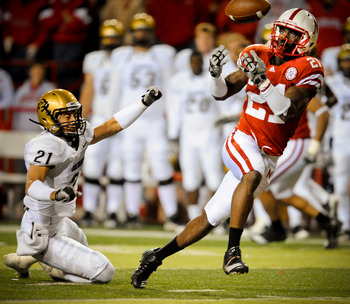 Eric Francis/Getty Images
Houston needs to improve their defense; they were passed on a bunch last year, and while they took a CB in the first round in 2010, getting another one as good as Prince wouldn't be a bad thing.
It is possible that they get a DL to try and free up the pressure on the secondary, but Amukamara and Kareem Jackson could be a great CB duo for years.
12. Minnesota: OT Anthony Castonzo- Boston College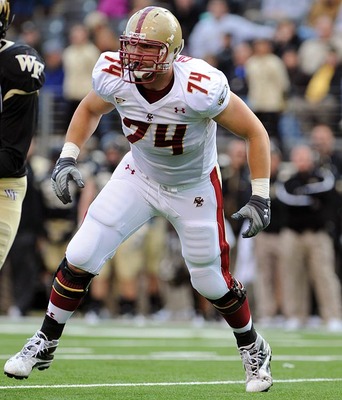 The Vikings do need a QB, but I wouldn't be surprised if they went after a veteran in a trade or waited until later in the draft to get one.
Their offensive line needs some tweaking, and Castonzo would be a guy that could play on either side of the line.
Boston College has a history of having good offensive lineman, and Castonzo should keep that history going.
13. Detroit: DE Da'Quan Bowers- Clemson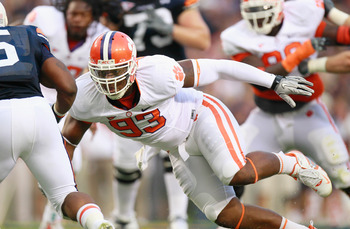 Kevin C. Cox/Getty Images
The Lions could trade down here if they aren't able to get a CB like Peterson or Amukamara, but if they stay in the spot, I think Bowers could be a good fit.
He has fallen on some boards because of injury questions, but there is no doubting his talent.
The Lions are an up and coming team, and having Suh and Bowers on the front four could be unstoppable.
14. St. Louis: DE Robert Quinn- North Carolina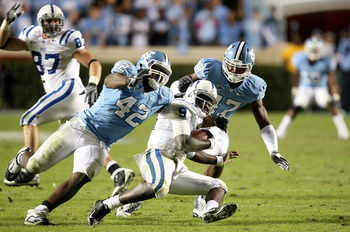 Streeter Lecka/Getty Images
Quinn is another guy that has fallen, but is top 10 material.
The Rams could really use a WR, but unless they trade up, there isn't a guy that's worth taking here.
St.Louis' defense looked much improved last year, but they could still use another DE.
Quinn is probably the best available player at this point, and it makes sense for the Rams.
15. Miami: C Mike Pouncey- Florida
Eliot J. Schechter/Getty Images
Many believe Pouncey is the best OL in the draft but being a center isn't quite as valuable as offensive tackle. Pouncey could play guard as well. Miami needs a guard and a center so Pouncey is the best pick for them here. There is thoughts that the Dolphins will take a RB here with Ricky Williams on his way out but Pouncey is probably the better pick.
16. Jacksonville: DE J.J. Watt- Wisconsin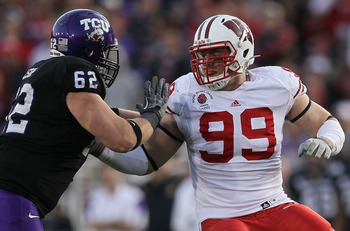 Stephen Dunn/Getty Images
Jacksonville is a team that may have overachieved last year but they have some good pieces in place. They really need help at DE though. Kampman wasn't quite as good as they had hoped and he had really no help on the other side. Watt was a fantastic DE for Wisconsin in a very physical Big Ten conference.
17. New England: DE Aldon Smith- Missouri
Dilip Vishwanat/Getty Images
New England draft well every year, they have a way of knowing when it is time to fill a need or when it is time do draft the best available. With Smith I think they can do both. The defense was definitley the weak point for the Patriots last year and Smith could start right away for them at End.
18. San Diego: DE Muhammad Wilkerson- Temple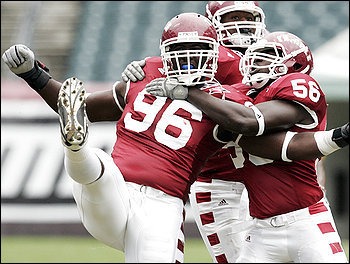 Chargers are a team that underachieved last year. The defense wasn't terrible but it wasn't great either. Their are a lot of great DEs in this years draft so it makes sense for the Chargers to take one of them to help Luis Castillo on the other side. It's possible Chargers look at a linebacker here as well.
19. New York Giants: OT Nate Solder- Colorado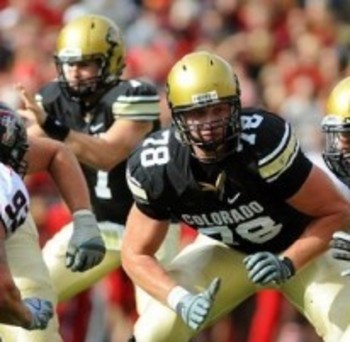 Giants have a good team but the OL didn't perform as well as they were expected. Solder should be the best available OT at this point in the draft and Giants won't hesitate in picking this Buffalo to protect Eli Manning.
20. Tampa Bay: DE Cameron Jordan- California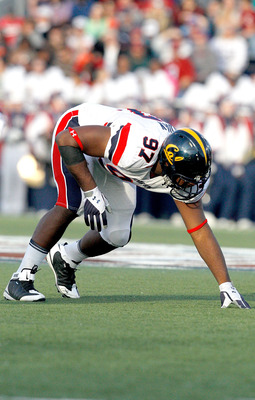 Sean Gardner/Getty Images
Tampa Bay is a team that is getting better and better but DE is one of their weak spots. Luckily for the Bucs their is a plethora of talent at DE this year. Jordan would be a nice fit and wouldn't necessarily have to start right away, but could if needed. It's possible that the Bucs go running back here if they aren't convinced that Blount is the real deal.
21. Kansas City: OT Gabe Carimi- Wisconsin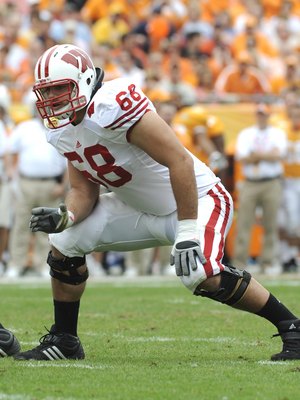 Al Messerschmidt/Getty Images
The Chiefs may go defense here but Matt Cassel showed last year that he can be a very good QB and KC will want to make sure they protect their guy. Carimi could possibly go higher than this but if he does fall Kansas City should be thrilled to get him.
22. Indianpolis: OG Danny Watkins- Baylor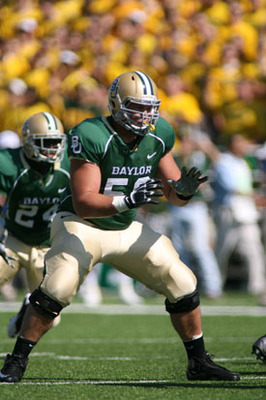 Indy's OL is starting to age and the guard position is a place they need to address. Watkins is probably the best pure guard in the draft and might start right away for Indy. If one of the big DTs were to drop this far then the Colts may end up taking one of them.
23. Philadelphia: CB Jimmy Smith- Colorado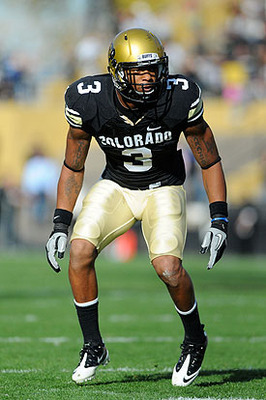 Their are concerns with character issues with Smith but as far as talent goes, some believe he is top ten material. The Eagles really struggled when Asante Samuel got hurt last year and even when healthy they needed someone better on the other side.
24. New Orleans: DE Ryan Kerrigan- Purdue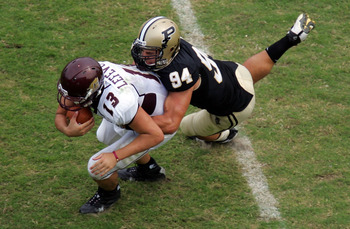 Ronald Martinez/Getty Images
Whenever I watched this guy play I was extremely impressed, I think he can be a great pro and while the Saints don't have a lot of needs the DE spot isn't one of their strongest. It's possible the Saints go OL or RB here but Kerrigan is my pick.
25. Seattle: QB Jake Locker- Washington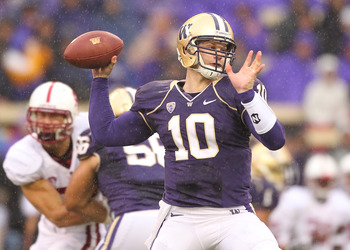 Otto Greule Jr/Getty Images
Matt Hasselbeck just doesn't have it anymore and even if he does for a couple more years, the Seahawks no they will need a replacement soon. It's possible that Locker is gone before now, but if not what better place than to stay in Washington and play for Seattle. In my opinion Locker will end up being the best QB of the draft, he might not be the most ready right now but in the long run I see him having the most success.
26. Baltimore: CB Aaron Williams- Texas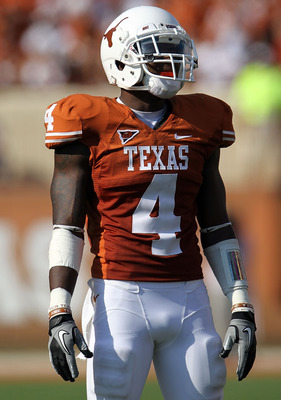 Ronald Martinez/Getty Images
The Ravens are one of the smartest drafting teams around. The cornerback position is undoubtedly the weak point of this team and while they may hope that Jimmy Smith falls to them, Aaron Williams isn't a bad back up option.
27. Atlanta: DE Adrian Clayborn- Iowa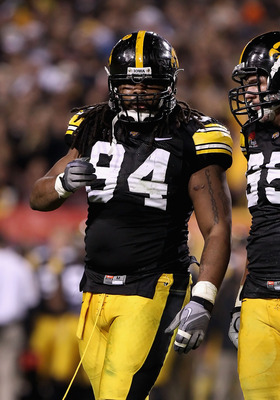 Christian Petersen/Getty Images
The Falcons are one of the best teams in the NFC but their defense will need to be better to be Super Bowl contenders. John Abraham had a resurgence last year and while he should continue to be good, the other side of the line is weak with Jamaal Anderson never living up to his potential. Clayborn brings toughness and should have a bright future.
28. New England: OLB Akeem Ayers- UCLA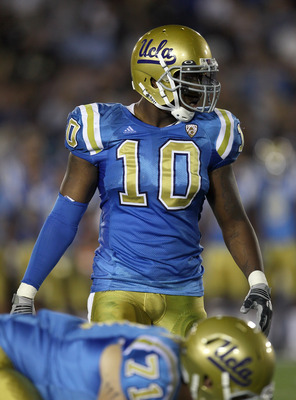 Stephen Dunn/Getty Images
The Patriots are the only team to have two picks in the first round and I expect them to use them both on defense. New England is set with their inside linebackers but they really need some help on the outside. Ayers would need to get used to the cold on the east side but he would be a very nice fit for the Pats.
29. Chicago: WR Randall Cobb- Kentucky
Andy Lyons/Getty Images
Chicago has a good team but those WRs just aren't going to cut it. Jay Cutler has the skills to be a above average QB but he isn't a guy that can make his receivers look better than they are. If the Bears are going to move ahead in Mike Martz's offense they need better weapons. Cobb may be a reach here but he is probably the best available WR at this point so he may be worth it.
30. New York Jets: DE Cameron Heyward- Ohio St.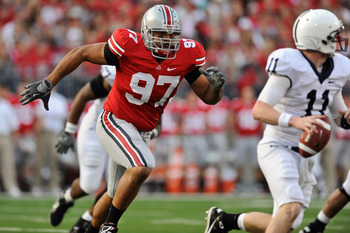 Jamie Sabau/Getty Images
The last time the Jets took a DL from Ohio State it didn't work out to well with Vernon Gholston, but I don't expect that to make them shy away from Heyward. Rex Ryan love defense and the defensive line needs depth. Heyward wouldn't necessarily have to start right away but would give them a boost off from the bench.
31. Pittsburgh: CB Brandon Harris- Miami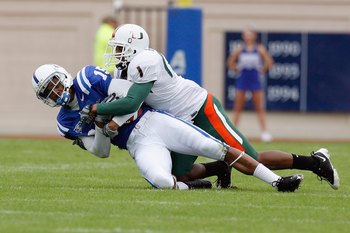 Kevin C. Cox/Getty Images
Offensive Line and Secondary are really the only places the Steelers need help. Harris just seems like the better pick here as they Packers really torched the cornerbacks in the Super Bowl so that could be more of a priority.
32. Green Bay: RB Mark Ingram- Alabama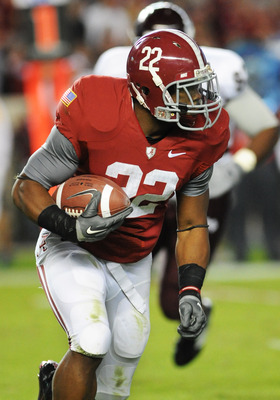 Al Messerschmidt/Getty Images
Ingram seems to easily be the best running back in the draft, but he has been slipping due to some physical questions. Some say he could fall out of the first round but I think Green Bay is too smart to let him fall past them. Running back isn't necessarily a top need with Ryan Grant coming back from injury and James Starks showing he can be effective, but no one knows what Grant will do and Starks may not be an every down back. Green Bay doesn't have a lot of holes so I would expect them to take best available and Ingram would be that.
Second Round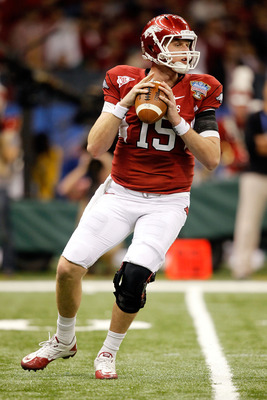 Matthew Stockman/Getty Images
33. New England: OT Derek Sherrod- Mississippi St.
34. Buffalo: DE Brooks Reed- Arizona
35. Cincinnati: S Rahim Moore- UCLA
36. Denver: DE Justin Houston- Georgia
37. Cleveland: TE Kyle Rudolph- Notre Dame
38. Arizona: OLB Bruce Carter- North Carolina
39. Tennessee: QB Andy Dalton- TCU
40. Dallas: RB Ryan Williams- Virginia Tech
41. Washington: QB Christian Ponder- Florida St.
42. Houston: DE Stephen Paea- Oregon St.
43. Minnesota: QB Ryan Mallett- Arkansas
44. Detroit: CB Ras-I Dowling- Virginia
45. San Francisco: DT Phil Taylor- Baylor
46. Denver: OT Marcus Cannon- TCU
47. St. Louis: WR Titus Young- Boise St.
48. Oakland: OG Clint Boling- Georgia
49. Jacksonville: WR Torrey Smith- Maryland
50. San Diego: DT Marvin Austin- North Carolina
51. Tampa Bay: RB Mikel Leshoure- Illinois
52. New York G: DT Jurrell Casey- USC
53. Indianapolis: OT Benjamin Ijalana- Villanova
54. Philadelphia: OG William Rackley- Leigh
55. Kansas City: WR Jonathan Baldwin- Pittsburgh
56. New Orleans: RB Kendall Hunter- Oklahoma St.
57. Seattle: OG James Carpenter- Alabama
58. Baltimore: WR Greg Little- North Carolina
59. Atlanta: DT Christian Ballard- Iowa
60. New England: OG Orlando Franklin- Miami
61. San Diego: WR Tandon Doss- Indiana
62. Chicago: C Rodney Hudson- Florida St.
63. Pittsburgh: DE Allen Bailey- Miami
64. Green Bay: OLB Martez Wilson- Illinois
Third Round
Andy Lyons/Getty Images
65. Carolina: DT Jarvis Jenkins- Clemson
66. Cincinnati: DE Jabaal Sherad- Pittsburgh
67. Denver: ILB Quan Sturdivant- North Carolina
68. Buffalo: QB Colin Kaepernick- Nevada
69. Arizona: OT Marcus Gilbert- Florida
70. Cleveland: CB Johnny Patrick- Lousivlle
71. Dallas: S Jaiquawn Jarrett- Temple
72. New Orleans: TE Lance Kendricks- Wisconsin
73. Houston: WR Leonard Hankerson- Miami
74. New England: WR Jerrel Jernigan- Troy
75. Detroit: OG John Moffitt- Wisconsin
76. San Francisco: RB Daniel Thomas- Kansas St.
77. Tennessee: ILB Kelvin Sheppard- LSU
78. St. Louis: DT Terrell McClain- South Florida
79. Miami: RB Johnny White- North Carolina
80. Jacksonville: CB Joshua Thomas- Buffalo
81. Oakland: CB Curtis Brown- Texas
82. San Diego: OT Lee Ziemba- Auburn
83. New York G: ILB Mason Foster- Washington
84. Tampa Bay: CB Marcus Gilchrist- Clemson
85. Philadelphia: OLB Christopher Carter- Fresno St.
86. Kansas City: OLB Dontay Moch- Nevada
87. Indianapolis: CB Brandon Burton- Utah
88. New Orleans: S Ahmad Black- Florida
89. San Diego: CB Shareece Wright- USC
90. Baltimore: DE Sam Acho- Texas
91. Atlanta: WR Gregory Salas- Hawaii
92. New England: RB Dion Lewis- Pittsburgh
93. Chicago: WR Edmond Gates- Abilene Christian
94. New York J: TE Virgil Green- Nevada
95. Pittsburgh: OT Chris Hairston- Clemson
96. Green Bay: DE Jeremy Beal- Oklahoma
97. Carolina: WR Vincent Brown- San Diego St.
Fourth Round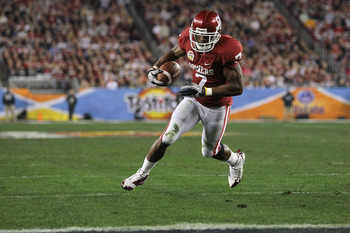 Ronald Martinez/Getty Images
98. Carolina: CB Brandon Hogan- West Virginia
99. Seattle: OT James Brewer- Indiana
100. Buffalo: ILB Colin McCarthy- Miami
101. Cincinnati: QB Ricky Stanzi- Iowa
102. Cleveland: DE Cliff Matthews- South Carolina
103. Arizona: CB Kendric Burney- North Carolina
104. Philadelphia: DT Kenrick Ellis- Hampton
105. Houston: S Joseph Lefeged- Rutgers
106. Minnesota: S Quinton Carter- Oklahoma
107. Detroit: WR Austin Pettis- Boise St.
108. San Francisco: QB Tyrod Taylor- Virginia Tech
109. Tennessee: CB Buster Skrine- Chattanooga
110. Dallas: DE Pernell McPhee- Mississippi St.
111. Miami: S Shiloh Keo- Idaho
112. St. Louis: RB Jacquizz Rodgers- Oregon St.
113. Oakland: WR Cecil Shorts- Mount Union
114. Jacksonville: ILB Akeem Dent- Georgia
115. San Francisco: TE Luke Stocker- Tennessee
116. Tampa Bay: ILB Casey Matthews- Oregon
117. New York G: CB Curtis Marsh- Utah St.
118. Kansas City: DT Drake Nevis- LSU
119. Indianapolis: DT Lawrence Guy- Arizona St.
120. Philadelphia: S Tyler Sash- Iowa
121. Jacksonville: TE Robert Housier- Florida Atlantic
122. Buffalo: TE D.J. Williams- Arkansas
123. Baltimore: RB Demarco Murray- Oklahoma
124. Atlanta: OG David Arkin- Missouri St.
125. New England: CB Chimdi Chekwa- Ohio St.
126. New York J: WR Dwayne Harris- East Carolina
127. Chicago: OT Joe Barksdale- LSU
128. Pittsburgh: RB Shane Vereen- California
129. Green Bay: OT Jah Reid- UCF
130. Tennessee: C Stefen Wisniewski- Penn St.
131. Green Bay: WR Niles Paul- Nebraska
Fifth Round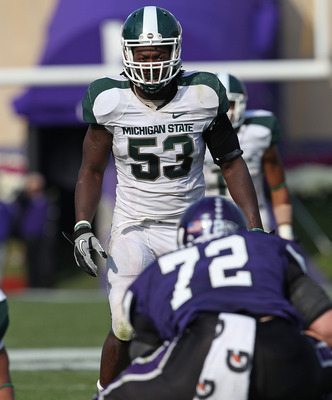 Jonathan Daniel/Getty Images
132. Carolina: DE Greg Romeus- Pittsburgh
133. Buffalo: CB Jalil Brown- Colorado
134. Cincinnati: RB Jordan Todman- UConn
135. Kansas City: ILB Nate Irving- N.C. State
136. Arizona: WR Jeremy Kerley- TCU
137. Cleveland: RB Delone Carter- Syracuse
138. Houston: OLB K.J. Wright- Mississippi St.
139. Minnesota: OT Demarcus Love- Arkansas
140. Kansas City: FB Charles Clay- Tulsa
141. San Francisco: OLB Ross Homan- Ohio St.
142. Tennessee: S DeAndre McDaniel- Clemson
143. Dallas: CB Davon House- New Mexico St.
144. Washington: WR Ricardo Lockette- Fort Valley St.
145. St. Louis: CB Demarcus Van Dyke- Miami
146. Miami: RB Bilal Powell- Louisville
147. Jacksonville: S Jeron Johnson- Boise St.
148. Oakland: RB Alexander Green- Hawaii
149. Philadelphia: RB Derrick Locke- Kentucky
150. Minnesota: ILB Greg Jones- Michigan St.
151. Tampa Bay: OLB Lawrence Wilson- UConn
152. Indianapolis: S Chris Conte- California
153. Philadelphia: OT Jason Pinkston- Pittsburgh
154. Detroit: OLB Brian Rolle- Ohio St.
155. Washington: OLB Adrian Moten- Maryland
156. Seattle: CB Rashad Carmichael- Virginia Tech
157. Seattle: S Da'Norris Searcy- North Carolina
158. Atlanta: OLB Doug Hogue- Syracuse
159. New England: S Robert Sands- West Virginia
160. Chicago: CB Cortez Allen- Citadel
161. New York J: OLB Mark Herzilch- Boston College
162. Pittsburgh: OG Stephen Schilling- Michigan
163. Green Bay: OG Zach Hurd- Uconn
164. Baltimore: OT Derek Newton- Arkansas St.
165. Baltimore: OLB Scott Lutrus- UConn
Sixth Round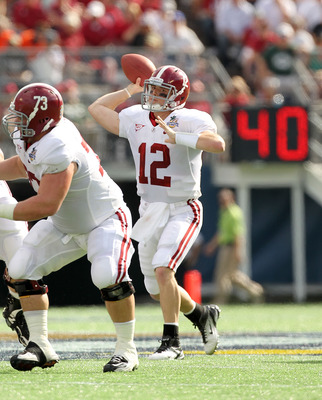 Mike Ehrmann/Getty Images
166. Carolina: TE Jordan Cameron- USC
167. Cincinnati: OT Byron Stingily- Louisville
168. Cleveland: OLB Jonas Mouton- Michigan
169. Buffalo: OT Derek Hall- Stanford
170. Cleveland: OT Willie Smith- East Carolina
171. Arizona: OG Keith Williams- Nebraska
172. Minnesota: C Kristofer O'Dowd- USC
173. Seattle: C Tim Barnes- Missouri
174. San Francisco: WR Terrence Toliver- LSU
175. Tennessee: OG Justin Boren- Ohio St.
176. Dallas: OG Andrew Jackson- Fresno St.
177. Washington: C Brandon Fusco- Slippery Rock
178. Houston: S Joe Lefeged- Rutgers
179. Miami: QB Pat Devlin- Delaware
180. Baltimore: S Chris Culliver- South Carolina
181. Oakland: QB Greg McElroy- Alabama
182. Jacksonville: C Zane Taylor- Utah
183. San Diego: OLB Thomas Keiser- Stanford
184. Arizona: TE Julius Thomas- Portland St.
185. New York G: OLB J.T. Thomas- West Virginia
186. Denver: S Deunta Williams- North Carolina
187. Tampa Bay: OT Trevis Turner- Abilene Christian
188. Indianapolis: WR Ronald Johnson- USC
189. Denver: TE Andre Smith- Virginia Tech
190. San Francisco: QB Taylor Potts- Texas Tech
191. Baltimore: ILB Josh Bynes- Auburn
192. Atlanta: RB Taiwan Jones- Eastern Washington
193. New England: OLB Jabara Williams- Stephen F. Austin
194. New York J: OG Mike Person- Montana St
195. Chicago: DT Ian Williams- Notre Dame
196. Pittsburgh: ILB Mike Mohamed- California
197. Green Bay: CB Anthony Gaitor- Florida International
198. New York G: C Jason Keice- Cincinnati
199. Kansas City: DT Sione Fua- Stanford
200. Minnesota: OG Daniel Kilgore- Appalachian St.
201. San Diego: ILB Mario Harvey- Marshall
202. New York G: TE Schuylar Oordt- Northern Iowa
203. Carolina: OG Ray Dominguez- Arkansas
Seventh Round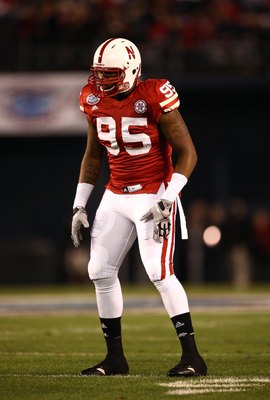 Donald Miralle/Getty Images
204. Green Bay: DE Pierre Allen- Nebraska
205. Detroit: ILB Nick Bellore- Central Michigan
206. Buffalo: DE Ugo Chinasa- Oklahoma St.
207. Cincinnati: OG Caleb Schlauderaff- Utah
208. New York J: DT Cedric Thornton- Southern Arkansas
209. Seattle: OLB Quentin Davie- Northwestern
210. Atlanta: OT D.J. Young- Michigan St.
211. San Francisco: CB Chykie Brown- Texas
212. Tennessee: OLB Bruce Miller- UCF
213. Washington: S Jerrard Tarrant- Georgia TEch
214. Houston: OT David Mims- Virginia Union
215. Minnesota: DE Brandon Bair- Oregon
216. St. Louis: OLB Jeremiha Hunter- Iowa
217. Miami: WR Denarius Moore- Tennessee
218. Miami: OLB D.J. Smith- Appalachian St.
219. Oakland: OT Jarriel King- South Carolina
220. Dallas: ILB Chris White- Mississippi St.
221. New York G: OT Kevin Hughes- Southeastern Louisiana
222. Tampa Bay: S Mistral Raymond- South Florida
223. Kansas City: OT Kyle Hix- Texas
224. Washington: OG Andrew Phillips- Stanford
225. Baltimore: CB Richard Sherman- Stanford
226. New Orleans: OLB Eric Gordon- Michigan St.
227. Philadelphia: CB Ryan Jones- Northwest Missouri St.
228. St. Louis: OG Ricky Henry- Nebraska
229. Atlanta: CB Chris Rucker- Michigan St
230. Atlanta: TE Weslye Saunders- South Carolina
231. San Francisco: DT Martin Parker- Richmond
232. Pittsburgh: S Jermale Hines- Ohio St.
233. Green Bay: OT Byron Bell- New Mexico
234. San Diego: QB Adam Weber- Minnesota
235. Miami: ILB Greg Lloyd- UConn
236. Minnesota: OLB Ricky Brewer- Colorado St.
237. Philadelphia: OG Garrett Chislom- South Carolina
238. Tampa Bay: DE Ricky Elmore- Arizona
239. San Francisco: WR Dane Sanzenbacher- Ohio St.
240. Philadelphia: DT David Carter- UCLA
241. Oakland: DE Markus White- Florida St.
242. Seattle: DT Chris Neild- West Virginia
243. New Orleans: DT Sealver Siliga- Utah
244. Carolina: DT Ollie Ogbu- Penn St.
245. Buffalo: QB Josh Porits- California (PA)
246. Cincinnati: CB Byron Maxwell- Clemson
247. Denver: DT Colby Whitlock- Texas Tech
248. Cleveland: K Alex Henery- Nebraska
249. Arizona: QB Scott Tolzien- Wisconsin
250. San Francisco: OLB Criag Stevens- Auburn
251. Tennessee: QB T.J. Yates- North Carolina
252. Dallas: OT Eric Mensik- Okalhoma
253. Washington: ILB Orie Lemon- Oklahoma St.
254. Houston: ILB Brian Duncan- Texas Tech
Keep Reading