NFL Draft 2011: Top 10 Mock Draft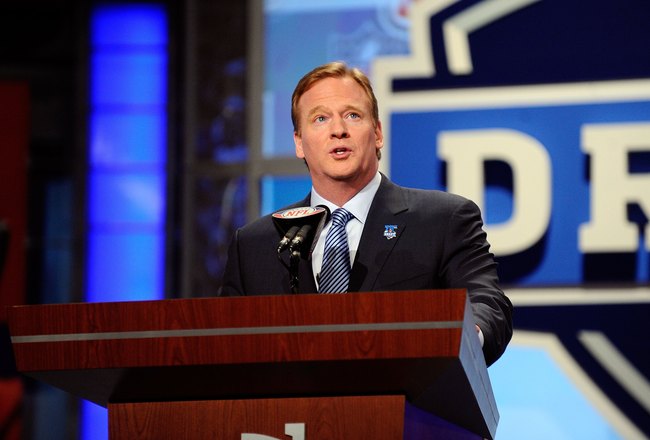 Jeff Zelevansky/Getty Images
The NFL Draft. One of the most polarizing, interesting and exciting sporting events to watch even though there is no action whatsoever.
Players are analyzed for more than just their skills. They are questioned about their character, integrity and many other personal subjects that many other job applicants would be offended by.
But this is going to be a job for the rest of there lives and teams need to know every aspect of every player.
Through seven rounds of draft picks there are busts and gems found. Tom Brady was drafted in the sixth round while Ryan Leaf was drafted first overall and we all know where those two players ended up in their careers.
Mock drafts are the hot thing now a days and I have my own.
Here is my top 10 mock draft.
Also follow me on Twitter @ http://twitter.com/#!/BIGben2010
10. Washington Redskins Select J.J. Watt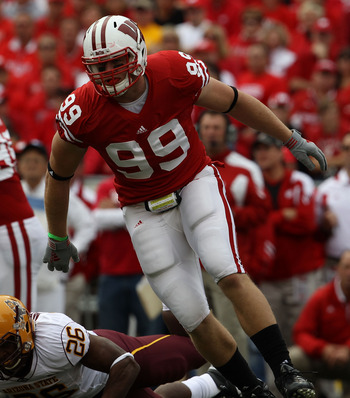 Jonathan Daniel/Getty Images
The Washington Redskins have many needs for there roster and with the tenth pick they should probably focus on defensive line help.
The Redskins have two starting defensive ends that are both over the age of 35, Vonnie Holiday and Phillip Daniels and the back ups are just there for depth purposes.
So the ideal pick for the Redskins would be a defensive end who can rush the passer and that would be J.J. Watt from the University of Wisconsin.
Watt has an explosive first step when getting off the snap and is very quick for someone his size. He can catch quarterbacks in the back field and stop running backs in there tracks.
Other options:
Julio Jones WR Alabama- If he falls this far (which he won't) then the Redskins will have to take him instantly.
Robert Quinn DE North Carolina- Another pass rusher that should be taken earlier but if he falls the Redskins should scoop him up.
Blaine Gabbert QB Missouri: This is kind of a wild card here, because most likely the wouldn't draft a quarterback but if they do it would be Gabbert if he falls here.
9. Dallas Cowboys Select Cameron Jordan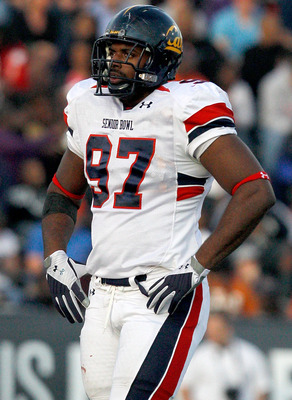 Sean Gardner/Getty Images
The draft is full of defensive line talent and it looks as if another one is going to be drafted here.
Cameron Jordan is a defensive end from California and is one of the best after his stock jumped quickly after an incredible combine and pro day.
Jordan would fit very well for the Dallas Cowboys who need solid defensive end play out of someone. Jordan is one of the bigger defensive ends at 6'4" 290 pounds and for his size he runs quite well.
Bringing Jordan in would benefit the Cowboys defense that struggled last year.
Other options:
Tyron Smith OT USC: The Cowboys could use some offensive line help but Jerry Jones has never drafted an offensive lineman in his 22 years as a general manager.
Anthony Costanzo OT Boston College: The same story as Tyron Smith; could help but not likely to get drafted by the Cowboys.
J.J. Watt DE Wisconsin: I feel as if the Cowboys defense would work better with Cameron Jordan but they could also like Watts size and speed and draft him.
8. Tennessee Titans Select Blaine Gabbert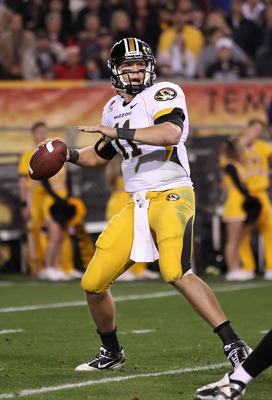 Christian Petersen/Getty Images
The only quarterback on the Tennessee Titans roster is Rusty Smith.
Smith is no where close to being a franchise quarterback and the Titans should probably spend there draft pick on a quarterback.
That quarterback would be Blaine Gabbert from the University of Missouri. Gabbert according to many experts has all the mechanics to be an excellent franchise quarterback in the future.
Gabbert could have a nice time his first year in Tennessee if he starts because of the offensive weapons he has such as running back Chris Johnson and wide receiver Kenny Britt.
But the Titans have to take care of Gabbert and make sure he develops right or else he has the potential to be a bust.
Other options:
Nick Fairley DT Auburn: Fairley could help the Titans defensive line right off the bat if drafted. But I think quarterback is more of a need for the Titans and will benefit them more in the future.
Julio Jones WR Alabama: Kenny Britt has issues all the time off the field and bringing in another receiver might be a good idea. Jones is a big fast receiver with solid hands that will help any quarterback in the league.
Cam Newton QB Auburn: Newton will go much earlier but if he falls this could be a nice option for him and the Titans to pair together.
7. San Francisco 49ers Select Robert Quinn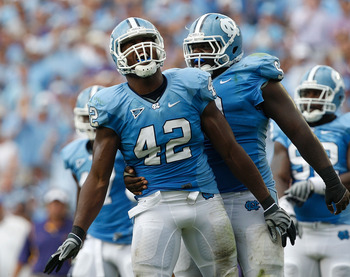 Streeter Lecka/Getty Images
The San Francisco 49ers could also be looking for a quarterback at this pick but I feel as if they still want to try one more year with Alex Smith.
So with this pick I have them drafting Robert Quinn. Quinn is a legitimate pass rushing hybrid linebacker who would help a weak pass rush. Quinn could automatically start in his first year and show some glimpses of talent.
But in the future he could be one of the best pass rushers in the NFL.
My only worry with Quinn is that he has not played competitive football for a year now after being suspended his senior year.
But I'm not too worried about Quinn because he has all the talent and size to be a very good NFL player.
Other options:
Blaine Gabbert QB Missouri: I feel like the 49ers will take another year to see what Alex Smith can do but if they don't feel comfortable with Smith they could draft Gabbert.
Patrick Peterson CB LSU: Peterson would be hard to pass up on this late in the draft. He has some of the best skills in the draft and if he's here at this point the 49ers could draft him.
Prince Amukamara CB Nebraska: Amukamara is another cornerback who could go in the top 10. But I don't know if the 49ers would take him at this pick.
6. Cleveland Browns Select Julio Jones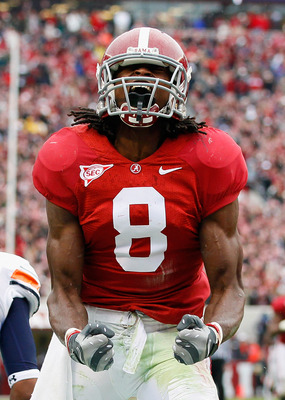 Kevin C. Cox/Getty Images
The Cleveland Browns have there future quarterback in Colt McCoy but what would be perfect for that quarterback would be someone to throw to.
Julio Jones is a wide receiver from the University of Alabama who might be the best receiver in the draft. Jones is a freak on the field standing at 6'3" and 220 pounds.
With his size he runs an amazing 4.34 40 and can beat a lot of defensive backs.
Jones would bring some kind of playmaker to a lack luster receiving core of the Browns and would make McCoy a much better quarterback.
The Browns will have a star in the making in a couple of years if they stick to this pick.
Other options:
A.J. Green WR Georgia: If he falls this far then the Browns will pick him up before Jones. Green is said to have better hands than Jones.
Robert Quinn DE/LB North Carolina: The Browns defense is slightly improving but if Quinn is drafted by the Browns it would become much better. But I expect the Browns to focus more on offense with this pick.
Patrick Peterson CB LSU: Even though the Browns have a very young solid cornerback in Joe Hayden pairing Peterson up with him could create a very deadly combo.
5. Arizona Cardinals Select Patrick Peterson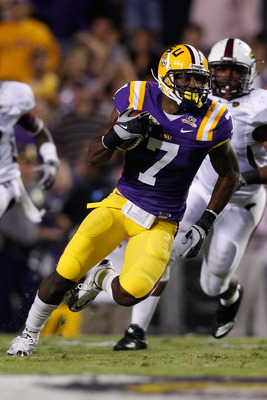 Chris Graythen/Getty Images
Patrick Peterson from LSU skill wise is maybe the best player in this draft class. Peterson flat out flies all over the field and covers his assignment very tightly.
A lot of people would ask why the Arizona Cardinals would not select a quarterback with this pick. The reasoning is because star wide receiver Larry Fitzgerald does not want to work with a rookie quarterback. So if a rookie quarterback is drafted the Cardinals can say goodbye to Fitzgerald.
So the logical pick would be Peterson. Peterson would become a duo with Dominique Rogers-Cromartie who is a very good young cornerback.
Many passing games would have trouble with these two corner backs and the Cardinals defense could get to be one of the best in the NFL.
Other options:
Blaine Gabbert QB Missouri: I know I already said the Cardinals wouldn't draft a quarterback but who knows it could happen.
Robert Quinn DE/LB North Carolina: An upgrade on the defensive line with a pass rusher would be nice for the Cardinals.
Von Miller LB Texas A&M: If he is still which is highly doubtful then the Cardinals should pick him with no questions.
4. Cincinnati Bengals Select A.J. Green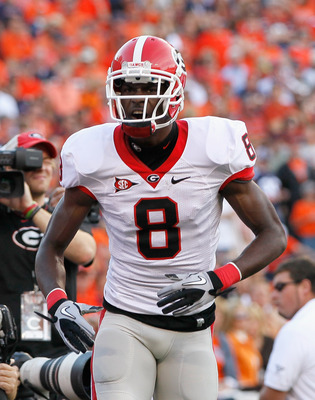 Kevin C. Cox/Getty Images
The Cincinnati Bengals are a franchise in disarray. Quarterback Carson Palmer wants out and so does wide receiver Chad Ochocinco.
At this point drafting anyone would help the team. Wide receiver A.J. Green from Georgia is probably the best wide receiver in the draft and could help any quarterback that is throwing to him.
Green runs extremely nice routes and has a nice long frame to help make catches over smaller defenders. He is also very physical and is always fighting for the ball when in the air.
If Green goes to the Bengals it could be interesting to see how does his first season with what ever quarterback plays in Cincinnati.
Other options:
Blaine Gabbert QB Missouri: The Bengals might not have a decent quarterback suiting up for them if Palmer leaves so drafting a quarterback could be a option.
Julio Jones WR Alabama: Another very good receiver who could spark some interest with the Bengals.
Cam Newton QB Auburn: If he falls this far then the Bengals could draft him right away.
3. Buffalo Bills Select Von Miller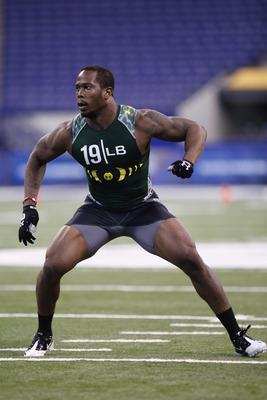 Joe Robbins/Getty Images
Von Miller of Texas A&M would be a slam dunk pick here by the Buffalo Bills with the third pick. Miller is a pass-rushing beast that could improve the Bills defense greatly.
Miller has the strength and quickness to blow past an offensive lineman and find the quarterback in the backfield to take him down. He would serve greatly with either his hand on the ground or playing on his feet.
But Miller isn't all about pass rushing he can protect the run and shed blocks to find the ball carrier and make the tackle.
Drafting Miller would be the best possible pick for the Bills at this point, with his athleticism he can make plays all over the field against the run or pass.
Other options:
Blaine Gabbert QB Missouri: The Bills are in need of a quarterback but I don't think they would reach for Gabbert here.
Cam Newton QB Auburn: If he drops here the Bills will have a close eye on Newton.
Marcell Dareus DT Alabama: He would fit perfectly for the Bills defensive scheme but he could be gone by this pick.
2. Denver Broncos Select Marcell Dareus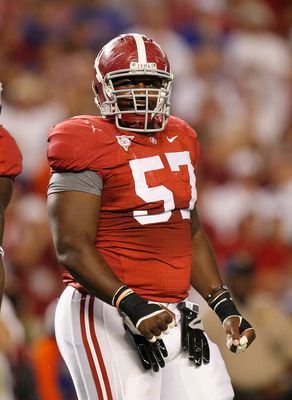 Kevin C. Cox/Getty Images
The Denver Broncos had a disappointing season last year and are looking to improve on mostly defense this year.
So with this pick the Broncos would select Marcell Dareus out of the University of Alabama.
Dareus is a prototypical defensive tackle that most teams want at 6'3" 320 pounds. Dareus is also unusually quick for his size running a 4.93 40 at the combine.
With his size and speed Dareus makes plays against the pass and the run with ease. In the national championship game in 2010 Dareus intercepted a pass and returned it 28 yards for a touchdown, just showing the kind of skill set he has at the defensive tackle position.
The Broncos will benefit greatly from Dareus and would help attract other blockers to free up pass rushing artist Elvis Dumervil for more sacks.
Overall drafting Dareus could help the Broncos defense become one of the most dangerous in the league to the quarterback.
Other options:
Von Miller LB Texas A&M: I can see him being picked in this spot because of his athleticism but Dareus fits better with the defense.
Patrick Peterson CB LSU: I highly doubt Peterson would be selected here but his skill set could help him be drafted at this point.
Nick Fairley DT Auburn: This is a little bit high for Fairley to go but the Broncos have been said to like Fairley a lot.
1. Carolina Panthers Select Cam Newton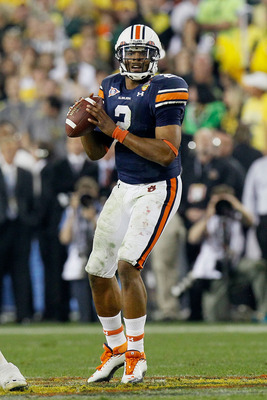 Kevin C. Cox/Getty Images
Standing at 6'5" 250 pounds out of the University of Auburn is quarterback Cam Newton.
Newton had one of the most amazing seasons at Auburn winning leading the team to a national championship over the University of Oregon.
But questions still surround him about his accuracy and if he can actually play quarterback in the NFL.
Even with all the questions most scouts says he has tons of potential to be a great quarterback with a little bit of practice and good coaching.
The Carolina Panthers drafted Jimmy Clausen last year but he didn't show any glimpses of being the future in Carolina.
So Newton should be drafted first overall because of his potential and his freaky athleticism.
With the right coaching Newton could become one of the biggest superstars in the NFL but with bad coaching he could become one of the biggest busts to come out of the draft.
Other options:
Marcell Dareus DT Alabama: Dareus has the size and skill set to be picked No. 1 overall, but I expect the Panthers to focus on quarterback.
Patrick Peterson CB LSU: One of the best overall players in the draft if not the best, Peterson could be hard to pass up on.
A.J. Green WR Georgia: Green is a dynamic receiver but I highly doubt the Panthers would select a receiver with first pick.
Keep Reading