Champions League Semifinal: Real Madrid vs. Barcelona: Live
Jasper Juinen/Getty Images
El Clasico III
After two closely contested but ultimately low-scoring Clasico's, one does not get the feeling tonight's game will escape this trend.
Even though FC Barcelona has been significantly weakened due to the absences of Eric Abidal, Adriano, Maxwell, Andres Iniesta and Bojan to either injury or illness, it doesn't seem like Real Madrid will give up on their defensive approach.
If it ain't broke, don't fix it.
Thus far, it has served Jose Mourinho very well. Personally, I would be happy if FC Barcelona can get away with a draw. It would force Mourinho's Madrid side to open up in the return leg at the Camp Nou.
In addition, I hope Pep Guardiola makes adjustments of his own side and gives Thiago and Ibrahim Afellay a chance to showcase their skills. I do hope that every time, in every game, but I always end up disappointed.
Seydou Keita is a good squad player, but he is not exactly El Clasico caliber. He's a hard worker but not very imaginative nor a real goal threat.
At any rate, Pep should not only take a cue from Mourinho's media handbook but his playbook as well. Barcelona's squad is stretched to the maximum while the Blaugrana's defense is more shaky than solid because the aforementioned injuries.
Game over. I guess this one is on Jose Mourinho. He set up Madrid to fail. Real Madrid never took the initiative and were punished not once but twice.
Now Real Madrid are without Sergio Ramos AND Pepe but must also chase the game in Barcelona, meaning they have to play football. And it's well-known what happened the last time Madrid visited the Camp Nou and tried to play an open game...Manita.
I guess Karma is a ......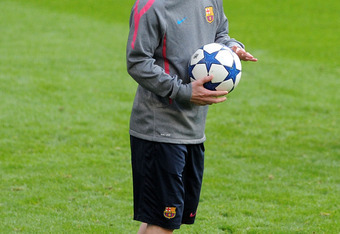 87' Gooooooooooooooool Messi
That's why Lionel Messi is the best and Ronaldo only 2nd. He skinned Real Madrid by himself!
See you next year!
This El Clasico series has yet to see other scorers than Lionel Messi and Cristiano Ronaldo while Emanuel Adebayor confuses the pitch with the UFC octagon.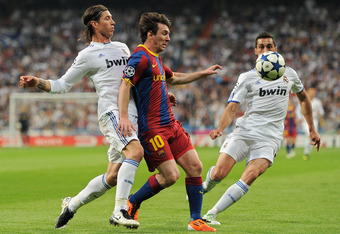 77' Goooooooooooool Lionel Messi
Great assist by Ibrahim Afellay! Take that anti-football!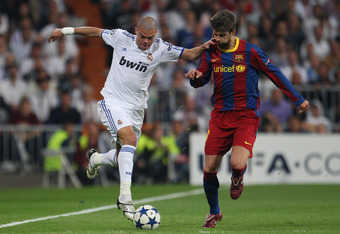 Sorry for the interruption, my system crashed down.
61' Pepe Red Card
Didn't I forecast a Pepe sent-off? Now, I am not a medium it's just Pepe is quite easy to figure out. He is always good for the rash and irrationale. No suprises here.
Pepe and Sergio Ramos unavailable for the Clasico at the Camp Nou. I guess the return fixture will be a lot more open than this match.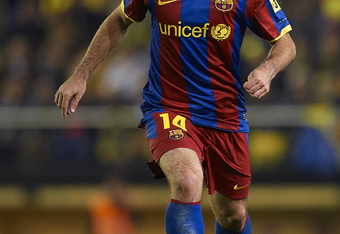 59' Never one to leave an opportunity to get overly physical with an opponent, Javier Mascherano has taught Real Madrid's Pepe the art of flying. And another yellow card.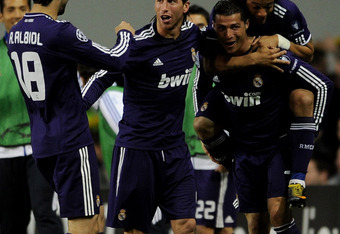 They say in life only two things are certain, death and taxes. I beg to differ. Cristiano Ronaldo being incredibly selfish is another.
Having picked up the ball in Barca's box he opted to go for the shot instead of passing the ball to the better positioned Emanuel Adebayor.
53' Yellow card Sergio Ramos, didn't I predict that he'll be out? I have to take back my earlier statement, four things are certain, Sergio Ramos temper and overeagerness can't be contained over a prolonged time, certainly not over four Clasicos.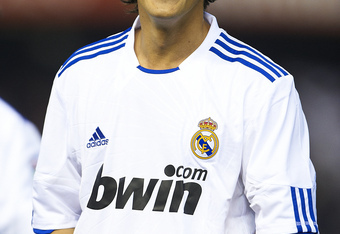 You have to love Fox Soccer Channel, half the advertising is related to dubious financial institutions while the other half is devoted to fast food. I have yet to watch a sports-related ad.
I can't hardly remember any highlights of the game but I am certain that I want fried chicken or a pizza for that matter.
Hold on, I see Adebayor coming in for Mesut Özil, poor German international, he has yet to play a full Clasico.
Auf Wiedersehn Mesut. Vielleicht kannst du dir ja jetzt ein Nutella Brot gönnen.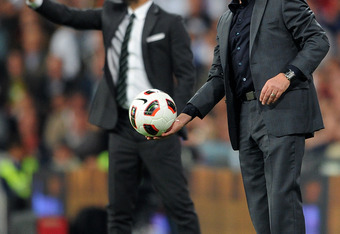 I wonder, is there life on Mars?
There's not much of a difference between the last two Clasico's and this one. If anything, this Clasico is even more boring and dull than preceding installments.
Neither FC Barcelona's Pep Guardiola nor Real Madrid's Jose Mourinho are likely to change their respective set-up. I can't believe I bailed on Marvel's Thor to see this lame kick.
Although I would have to pay 10 Euro I believe I would be entertained much more. At this point I wouldn't even mind watching the trailers.
Where are the updates? Good question. This is one of the most boring games since, well the last La Liga Clasíco.
To be honest I almost fell asleep twice within the first 20 minutes. Real Madrid once again showcase their parking abilities while FC Barcelona pass the ball without noticable end result.
Both, Lionel Messi and Cristiano Ronaldo are fairly anonymous. The only thing colorful about the game are the players' boots.
Just a couple of moments to kick-off. If I can trust my eyes I should've seen Javier Mascherano lining up as a holding midfielder on the team sheet, finally a change!
Carles Puyol as left-back? As long as he is in the starting XI I have one less reason to panic.
I'm still sticking to my original Clasico prediction that either, Pepe or Sergio Ramos will be send off during in one of these games.
This article is
What is the duplicate article?
Why is this article offensive?
Where is this article plagiarized from?
Why is this article poorly edited?