UFC 129 Results: Randy Couture vs. Lyoto Machida Had Best End for UFC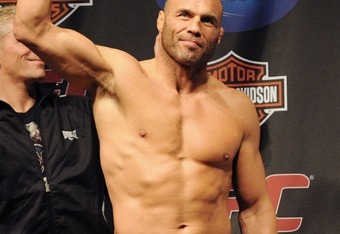 As UFC 129 fades into the distance, there's no doubt that it would have been a nice story had Randy Couture managed to defy the odds one more time and find a way to beat Lyoto Machida in their featured bout.
The way things happened, however, it's fair to say that the Randy Couture vs. Lyoto Machida fight had a utilitarian ending: that is, it did the greatest good for the greatest number.
Machida, obviously, needed a win, and scoring it in spectacular fashion via a jumping front kick, certainly helps his cause. It reminds us of just why Machida is such a dangerous man. For the first time since Machida won the UFC Light Heavyweight Championship at UFC 98, we truly saw the unique style that had observers declaring that fight the beginning of the "Machida Era." With one kick, Machida reasserted himself in the light heavyweight division. While he'll need another win or two to get the opportunity, it's possible that Machida presents the most intriguing matchup for champion Jon Jones of anyone on the UFC's 205-pound roster.
For Couture, meanwhile, it certainly would have been nice had he been able to ride off into the sunset victorious - or at least with all his teeth - but the reality is that Couture had nothing more to prove. Sure, he wasn't able to truly hang with an elite fighter like Machida at the age of 47, but that would be too much to ask of anyone. Most importantly, as impressive as Machida's knockout was, Couture was able to get up off the mat relatively quickly, embrace Machida in the Octagon, and get the sendoff he deserved from Joe Rogan and the 55,000 in attendance. As final images in the Octagon go, Couture definitely got the upper hand on Chuck Liddell, whose forced retirement at the hands of Rich Franklin was an influence for Couture's decision to call it quits.
The UFC gets the best of both worlds. If Couture had won, it would be a nice story, but they'd be left with a former champion on a three-fight losing streak, the last coming at the hands of a retiring legend. Needless to say, Machida is a much more valuable asset now. At the same time, it wouldn't have been a good send-off had Couture needed to be carried out of the Octagon. It wouldn't have been a PR nightmare or anything, but it was certainly best that Couture leave under his own power, soaking in the cheers of the 55,000 fans at the largest UFC event in history.
It remains to be seen what Machida will do with the surge of momentum that his stunning knockout win has given him. However, for now, it's hard to imagine an ending to the fight that would have been as good for all parties involved.
Most recent updates:
This article is
What is the duplicate article?
Why is this article offensive?
Where is this article plagiarized from?
Why is this article poorly edited?