UFC 129 Results: Georges St-Pierre Shows Brilliance in Less-Than-Thrilling Win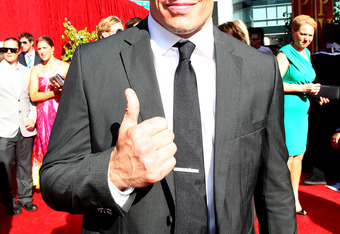 For a man who popularized the phrase "not impressed by your performance" among MMA fans, Georges St-Pierre showed Saturday that he holds himself to the same high standard that he holds fighters like Matt Hughes to.
GSP told Joe Rogan Saturday that he wasn't happy with his own performance against Jake Shields, although given the fact that Shields hadn't lost a fight in six years to anyone, being able to beat him with a badly injured eye in the latter stages of the fight is very impressive. What's more, the win was a great example of what makes so many consider St-Pierre the best pound-for-pound fighter in the world.
While the modern mixed martial artist is proficient in all aspects of the sport, St-Pierre trains at the highest levels in both his stand-up game and his ground fighting, and is equally capable of winning with either, depending on what the situation requires. Against Dan Hardy last year at UFC 111, that meant using his wrestling and jiu-jitsu to ground "the Outlaw" and not give him a chance to win standing up. Against Josh Koscheck at UFC 124 and against Shields last night, that meant keeping the fight standing up and taking away the ground game.
Of course, St-Pierre reminded us how good his own wrestling is during the fight with Shields, taking the world-class grappler down on multiple occasions. However, he let Shields up rather than engage him on the ground, denying Shields his best chance to win the fight. It might not have produced the thrilling finish St-Pierre seemed to promise when he told fans, "Don't blink" in his post-weigh-in interview with Joe Rogan on Friday, but it did what no one (including Dan Henderson) has been able to do in six years.
Short of a freak "anything can happen" occurrence like Matt Serra's overhand right at UFC 69, the fighter who finally ends GSP's reign as champion (provided he doesn't end it himself by vacating the title and challenging Anderson Silva at 185) is going to have to able to truly challenge St-Pierre both on the ground and on the feet. To that end, the name who has been most mentioned as GSP's most likely future challenger at 170 - Strikeforce welterweight champ Nick Diaz - may be the most intriguing matchup, as he possesses both the striking to finish an elite-level striker like Paul Daley and the Cesar Gracie jiu-jitsu game that St-Pierre was so keen to avoid on Saturday night.
With Dana White heading out to Stockton to talk to Diaz, it'll be interesting to see what comes out of that discussion.
Most recent updates:
This article is
What is the duplicate article?
Why is this article offensive?
Where is this article plagiarized from?
Why is this article poorly edited?