2011 NBA Mock Draft: Who Moves into the Lottery with Harrison Barnes Out?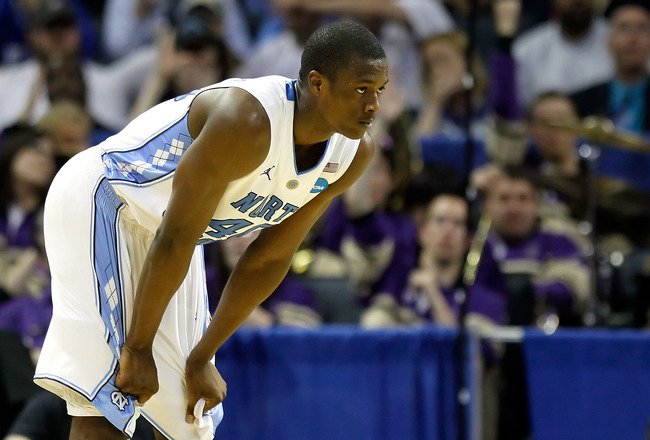 Kevin C. Cox/Getty Images
With the NBA playoffs now well under way and the early entry deadline rapidly approaching, we are getting an increasingly better picture as to how the 2011 NBA Draft will ultimately play out.
However, with players like Harrison Barnes, Jared Sullinger and Perry Jones withdrawing their names, a 2011 NBA Mock Draft will now look quite different.
Nevertheless, recent draft entries such as Tristan Thompson, Jordan Hamilton and Donatas Motiejunas, have helped to shore up this year's event.
So, using the end-of-season NBA standings for the draft order, this mock will provide a profile of each selection, as well as a description as to why each franchise would pick the player and how they would fit in with the team.
No. 30 Chicago Bulls: Lucas Nogueira, C, Brazil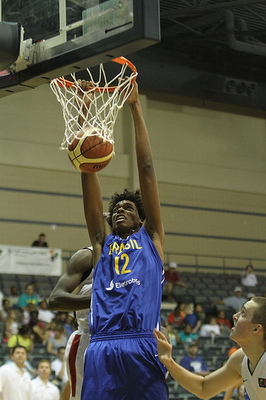 photo from netscoutbasketball.com
This past summer, Brazilian center Lucas Nogueira put on a dominant performance in the U18 Tournament of the Americas, firmly establishing himself as an NBA prospect.
What's more, he possesses an outstanding combination of size, length and athleticism, and as an 18-year-old, 7'0", 225-pound prospect, the sky is the limit.
And while he is still raw on offense and needs to build up some strength, Nogueira has the natural talent and drive to be effective inside as a rebounder and shot blocker.
Consequently, a team like the Chicago Bulls, who already have a solid frontcourt, might grab the young center and stash him away abroad for a few years, letting him develop before bringing him over to the team.
No. 29 San Antonio Spurs: Kyle Singler, F, Duke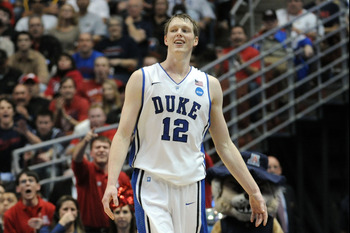 Harry How/Getty Images
Despite Duke turning in a solid year, it's hard to view the 2010-11 College Basketball season as anything but a letdown for Duke forward Kyle Singler.
After all, he was the Final Four Most Outstanding Player and a National Champion in 2009-10, and if he had entered the draft, he may have been a lottery pick.
Now, however, after seeing most of his stats drop across the board, while failing to show significant signs of improvement, Singler's stock has fallen drastically in the eyes of many NBA scouts.
Nevertheless, he still brings decent athleticism, a good overall skill-set and a veteran mentality, along with his 6'8", 230-pound frame.
Therefore, the senior forward would make sense for a team like the San Antonio Spurs at No. 29.
In San Antonio, Singler would be able to contribute by using the shooting and passing skills that the team's offense requires, all while helping to bolster the team's aging forward rotation.
No. 28 Chicago Bulls: Josh Selby, G, Kansas (from Miami)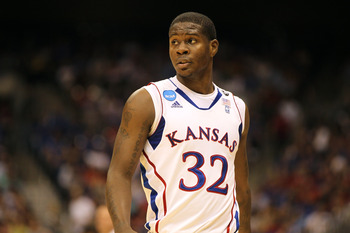 Jamie Squire/Getty Images
If the 2010-11 College Basketball season was bad for Kyle Singler, it was a nightmare for Kansas guard Josh Selby.
First the freshman was forced to sit out the first nine games of the year due to NCAA violations.
And when the 6'2", 183-pounder finally got to play, he looked more like a shooting guard, although he did show flashes of brilliance.
However, that would not last, as Selby proceeded to hurt his foot, miss a few games and never truly return to pre-injury form.
So as a player who may have been a lottery pick if he had been able to come out of high school, it's safe to say that his stock has fallen.
Yet Selby does have the length, strength and athleticism of an NBA player, as well as solid ball skills, so he would definitely be considered by the Chicago Bulls at No. 28 overall.
As a Bull, he would have an opportunity to join the team's lackluster shooting-guard rotation, while also backing up star point guard Derrick Rose.
No. 27 Dallas Mavericks: Travis Leslie, G-F, Georgia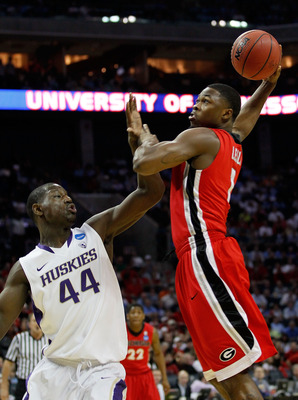 Kevin C. Cox/Getty Images
Travis Leslie was one of the most explosive players in all of college basketball this season, using his top-notch leaping ability and athleticism to put together an solid campaign.
However, standing only 6'4", he is a bit on the small side for an NBA wing.
Nevertheless, the Georgia junior's explosiveness, high level of energy and tenacious work effort, more than compensate for his shortcomings.
What's more, he has shown a good deal of improvement on his jumper, although it is still a work in progress.
Consequently, when one adds up the pros and cons, it seems as though Leslie would be an attractive selection for a team like the Dallas Mavericks at No. 27.
Here, he would be able to help at the two right away, while even working into the small forward rotation, since both Shawn Marion and Peja Stojakovic are getting up there in age.
No. 26 New Jersey Nets: JaJuan Johnson, F-C, Purdue (from LA Lakers)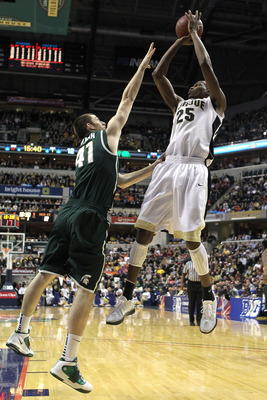 Andy Lyons/Getty Images
Despite dealing with concerns over his weight and strength throughout his time at Purdue, JaJuan Johnson is still an intriguing NBA prospect.
In his senior season, the forward-center managed to average over 20 points per game, while displaying a solid mid-range jumper.
And with his combination of length and athleticism, the 6'10", 220-pounder has also stood out as an effective shot blocker and rebounder.
Therefore, Johnson would certainly grab the attention of the New Jersey Nets with the No. 26 overall pick.
In New Jersey, he would look to push former lottery picks Brandon Wright and Johan Petro for playing time behind Brook Lopez, and even serve as a replacement for Kris Humphries if he decides to leave.
No. 25 Boston Celtics: Nolan Smith, G, Duke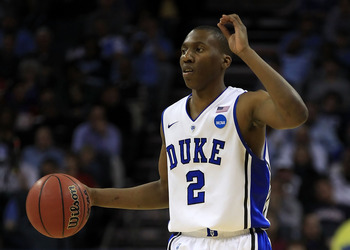 Streeter Lecka/Getty Images
Nolan Smith had a huge season this year, posting per-game averages of 21.6 points, 5.2 assists and 4.8 rebounds, and winning the ACC Player of the Year.
What's more, he showed that he was capable of handling the team's point guard responsibilities, following freshman Kyrie Irving's injury.
Additionally, the 6'3", 185-pound senior has played excellent defense, and with his all-around game, he would be very appealing t the Boston Celtics at No. 25.
As a Celtic, Smith would bring a veteran mentality to the team's bench, spelling Rajon Rondo at the point, while also filling in for the aging Ray Allen at the 2 guard.
No. 24 Oklahoma City Thunder: Justin Harper, F, Richmond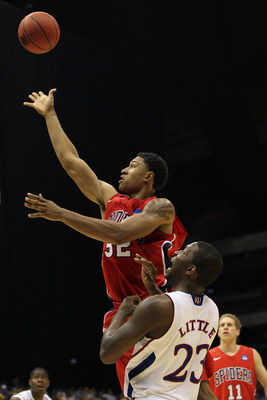 Jamie Squire/Getty Images
Justin Harper burst onto the national scene this year, helping to lead his Richmond Spiders to a few high-profile NCAA Tournament upsets.
Moreover, as a an athletic 6'10", 225-pound combo forward, with an ability to slash to the rim and a great stroke from deep, Harper certainly looks the part of an NBA player.
And despite his lack of a post offence, Harper averaged nearly 18 points per game on well over 50 percent shooting.
Therefore, the senior forward would certainly garner the attention of the Oklahoma City Thunder with the No. 24 overall selection.
In Oklahoma, Harper would help to stretch the floor for Kevin Durant and Russell Westbrook, while helping the team regain some of the frontcourt scoring that they lost after the trade of Jeff Green.
No. 23 Houston Rockets: Tobias Harris, F, Tennessee (from Orlando)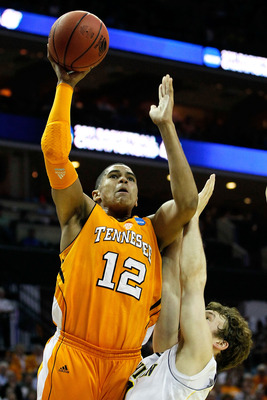 Kevin C. Cox/Getty Images
Throughout the 2010-11 campaign, Tobias Harris managed to meet expectations and produce at the level that a highly-touted recruit would be expected.
He scored from inside and out, grabbed rebounds, played solid D and was a terrific ball-handler for a 6'8", 226-pounder.
What's more, he put this all-around game on display despite being only 18 years old.
Consequently, the upside-laden forward would make an attractive selection at the No. 23 spot for the Houston Rockets.
Here, Harris would be able to help to fill the void at the small forward position, left after the team traded Shane Battier.
No. 22 Denver Nuggets: Tyler Honeycutt, G-F, UCLA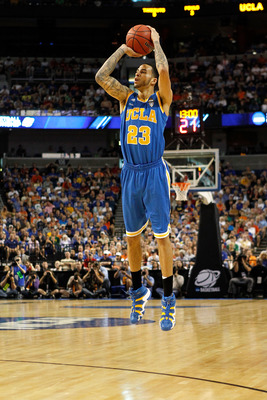 J. Meric/Getty Images
Despite struggling with inconsistency and failing to post eye-popping numbers, Tyler Honeycutt still has many attractive qualities as a prospect.
First of all, he playing amazingly at times, showing just how good he can truly be.
What's more, he has been able to do just about everything on the court, from scoring outside, to handling and distributing the ball, to rebounding and blocking a ton of shots.
So with fantastic athleticism, a high level of skill and a 6'8", 188-pound frame, Honeycutt should fit right in in the NBA.
Consequently, he would be a great pick for the Denver Nuggets at No. 22.
In Denver, his skill-set would fit well within the team's fast-paced offensive attack, while he could have the opportunity to replace upcoming free agent wings JR Smith and Wilson Chandler.
No. 21 Portland Trail Blazers: Kenneth Faried, F-C, Morehead State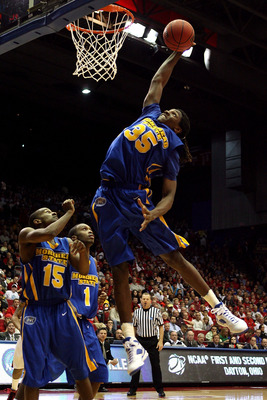 Andy Lyons/Getty Images
It's safe to say that Morehead State's Kenneth Faried had a good year.
After all, he led the nation in rebounding, broke the Division I record for career rebounds and came one double-double shy of tying Tim Duncan's record for consecutive collegiate double-doubles.
While doing his, he posted per game averages of 17.3 points, 14.5 rebounds, 2.3 blocks and 1.9 steals per game, all while shooting 62.3 percent from the field.
What's more, that ultra-athletic 6'8", 225-pound forward-center matched up successfully against some of the nation's premier big men.
Consequently, he a team like to Portland Trail Blazer would jump at the chance to grab him with the No. 21 overall pick.
As a Blazer, Faried could help them toughen the team up inside, since Marcus Camby is aging and Greg Oden seems to be dealing with injuries every year.
No. 20 Minnesota Timberwolves: Jordan Hamilton, G-F, Texas (from Memphis)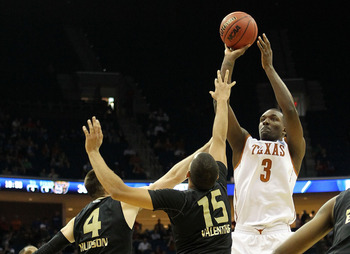 Ronald Martinez/Getty Images
Texas wing Jordan Hamilton witnessed a drastic jump in production this past season, while still displaying a deadly outside stroke.
What's more, he showed that he can make better decisions on the court, taking better shots and knowing when to pass the ball.
Consequently, the 20-year-old 6'7", 220-pounder was able to post an average of nearly 19 points per contest, while converting on 2.5 threes per game.
And although his athleticism leaves something to be desired, he could still very well go to a team like the Minnesota Timberwolves at No. 20.
Here, he would provide some help for the team at wing, challenging Wes Johnson, Martell Webster and Lazar Hayward for time.
No. 19 Charlotte Bobcats: Chris Singleton, F, Florida St. (from New Orleans)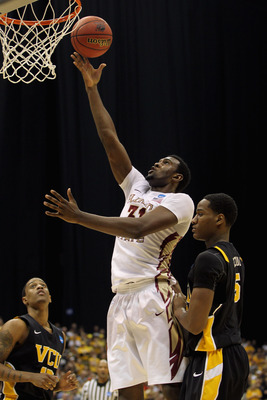 Jamie Squire/Getty Images
During his three years with Florida State forward Chris Singleton has established himself as one of the best athletes in all of college basketball.
Moreover, standing 6'9" and weighing in at 225 pounds, his size only makes his athleticism all the more impressive.
Consequently, Singleton has been able to become an amazing defender, posting averages of about two steals and 1.5 blocks per game.
What's more, the 21-year-old has continued to show improvement to his offensive game, proving that he still has a fair amount of upside.
Therefore, a team like the Charlotte Bobcats would be happy to grab him with the No. 19 selection, allowing Singleton to help the team replace forward Gerald Wallace, who was traded to the Portland Trail Blazers earlier in the year.
No. 18 Washington Wizards: Trey Thompkins, F-C, Georgia (from Atlanta)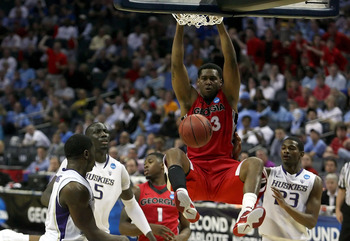 Streeter Lecka/Getty Images
This past season, Trey Thompkins was back for Georgia with his well-rounded offensive repertoire, scoring from inside and out, and using his 6'10" and 245 pounds frame and high level of skill.
And while his athleticism is not ideal, skilled players of his size are few and far between.
Consequently, the junior forward center would make an attractive selection at No. 18 for the Washington Wizards.
In Washington, Thompkins would be able to serve as a scoring compliment to JaVale McGee in the frontcourt, while he could also provide some much-needed competition for Andray Blatche.
No. 17 New York Knicks: Markieff Morris, F-C, Kansas
Ronald Martinez/Getty Images
Markieff Morris finally made a real name for himself in the 2010-11 College Basketball season, stepping out from behind his twin brother's shadow.
The more-athletic Morris has done this by playing tough inside, but also showing the ability to step out and knock down jumpers.
What's more, the 6'10", 245-pound Markieff has shown that, despite being 21 years old, he still has a lot of room for improvement.
Therefore, he would fit in perfectly with a team like the New York Knicks at No. 17.
Here, Morris could step right in and immediately help the team inside, providing support to Ronny Turiaf and Jared Jeffries in the other, non-Amar'e-Stoudemire frontcourt position.
No. 16 Philadelphia 76ers: Bismack Biyombo, F-C, Congo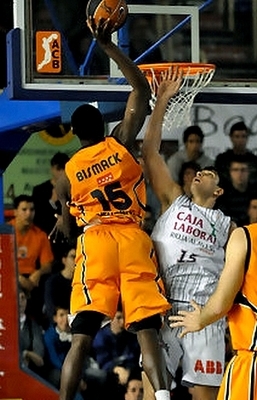 photo from acb.com
Bismack Biyombo came onto the NBA draft scene rather recently, after being invited to perform at the Nike Hoops Summit.
Here, he notched a points-rebounds-blocks triple-double, while breaking the all-time blocked shots record.
What's more, his intriguing combination of size (6'9", 240 pounds) and athleticism have allowed him to achieve some success while playing at the Spanish senior level.
And considering that he has only been playing competitive basketball for a relatively short amount of time, it's obvious that he has the potential to improve enormously.
However, while he is listed at 18 years of age, there are concerns about his actual age.
Confounding this matter is the fact that he has refused to answer questions about it, causing there to be rumblings that he could be as old as 26.
Consequently, if there is anything to these rumors, Biyombo could slip all the way to the Philadelphia 76ers at No. 16.
As a Sixer, he would be able to develop behind Elton Brand, while playing alongside the likes of other young big men such as Thaddeus Young, Spencer Hawes and Marreese Speights.
No. 15 Indiana Pacers: Tristan Thompson, F-C, Texas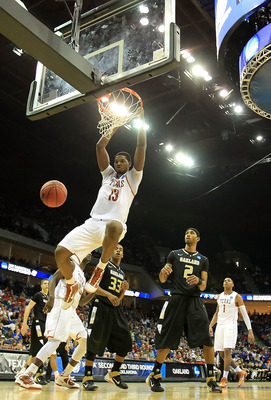 Ronald Martinez/Getty Images
Tristan Thompson was crucial to the success of the Texas Longhorns throughout the 2010-11 College Basketball season.
The 20-year-old forward-center used his impressive combination of size (6'9", 225 pounds), strength, length and athleticism to become a solid two-way player, physically dominating the opposition.
Furthermore, his skill level has lot of room for improvement, so his potential is off the charts.
Consequently, he would fit right in with the Indiana Pacers at No. 15 overall.
As a Pacer, Thompson would be able to develop behind center Roy Hibbert, while also having the opportunity to join the team's power forward rotation of Tyler Hansbrough, Josh McRoberts and Jeff Foster.
No. 14 Houston Rockets: Klay Thompson, G-F, Washington State
Jeff Gross/Getty Images
In his junior season, junior Klay Thompson proved to once again be a deadly offensive player for Washington State.
He is a lights-out shooter with a lightning-quick release, he can handle and distribute the ball, and while he isn't the most athletic player, his basketball IQ allows him to get in the lane and finish around the rim or pull up short with floaters.
Consequently, the 6'6", 200-pound guard was able to put up 21.4 points per game, while also dishing out 4.3 assists.
Therefore, he could very well go as high at No. 14 overall to the Houston Rockets, where he would be able to provide a scoring punch off the bench behind Kevin Martin and Kyle Lowry, and possibly even at the three behind Chase Budinger.
No. 13 Phoenix Suns: Kawhi Leonard, F, San Diego State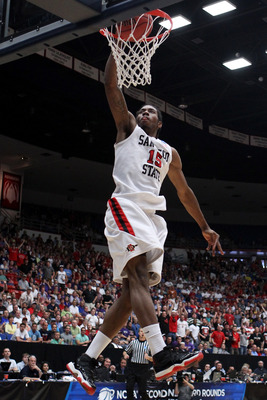 Christian Petersen/Getty Images
Kawhi Leonard emerged as a legitimate NBA prospect this year, leading San Diego State on an impressive season-long run.
However, what's most impressive is the combination of skills that the sophomore forward possesses.
He can play tough inside, knock down deep shots, defend and even run the offense as a point-forward.
Moreover, the 6'7", 225-pounder was able to average a double-double on the season, and consequently, he would be a great pick at No. 13 to the Phoenix Suns.
Here, Leonard would fit nicely into the Suns' uptempo offense, since his athleticism, scoring and ball-handling suit the team's style.
Moreover, he would provide some toughness inside, fighting for time with the likes of Channing Frye, Hakim Warrick and Grant Hill.
No. 12 Utah Jazz: Jimmer Fredette, G, BYU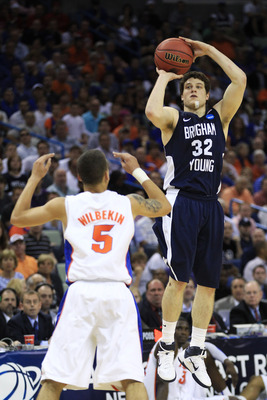 Streeter Lecka/Getty Images
Jimmer Fredette turned in an outstanding campaign for BYU this past season, even earning numerous player-of-the-year awards.
In all, he finished the year leading the country in scoring by a wide margin with an average of 27.9 points per game.
Moreover, the senior guard showed that he can perform regular point guard duties, making the 6'2", 195-pounder an even more attractive prospect.
And even though his athleticism is underwhelming, Fredette's skills should still allow him to be selected by the Utah Jazz at No. 13.
In Utah, he would challenge the likes of CJ Miles and Raja Bell for time at the shooting guard, while also backing up Devin Harris at the one.
No. 11 Golden State Warriors: Marcus Morris, F, Kansas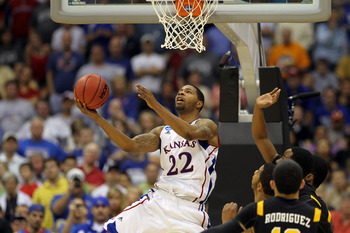 Jamie Squire/Getty Images
Marcus Morris returned to Kansas this past season, looking to become the team's focal point.
And while his team failed to win it all, they were consistently one of the nation's best, due in large part to Morris.
The 6'9", 225-pound forward managed to score over 17 points per game on nearly 60 percent from the field, all while showing an inside-out arsenal.
And even though he is an average athlete, Morris held his own on D and on the boards.
Therefore, Morris could very well be taken with the No. 11 pick by the Golden State Warriors, where he would likely challenge the likes of Andris Biedrins, Ekpe Udoh and Vladimir Radmanovic for time, while effectively providing guards Stephen Curry and Monta Ellis with a frontcourt scoring complement.
No. 10 Milwaukee Bucks: Alec Burks, SG, Colorado
Jamie Squire/Getty Images
Alec Burks turned in a breakout season in during his sophomore campaign for the Colorado Buffaloes this past season.
The athletic and explosive 6'6", 200-pound guard demonstrated that he is more than just a slasher, knocking down some outside shots on his way to an average of over 20 points per game.
Moreover, the 19-year-old grabbed lots of boards and dished out his fair share of assists, and at just 19 years of age, he has a lot of potential from improvement.
Consequently, he could easily be grabbed by the Milwaukee Bucks at No. 10, where he would be able to compete for time at the shooting guard with John Salmons, Carlos Delfino and Chris Douglas-Roberts, and maybe even get a chance to notch some time at the backup point guard.
No. 9 Charlotte Bobcats: Terrence Jones, F, Kentucky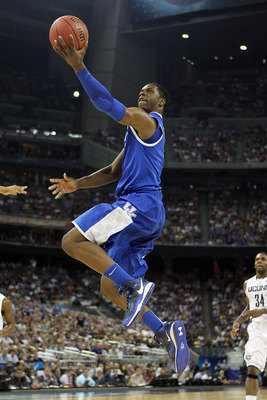 Andy Lyons/Getty Images
After looking like an early lottery pick during the beginning of the 2010-11 College Basketball season, Kentucky freshman Terrence Jones struggled down the stretch.
In fact, he had a tendency to disappear for stretches in games, and his weak right hand became glaringly apparent by the NCAA Tournament.
Nevertheless, the 6'8", 244-pound forward still possesses good athleticism and outstanding length, which allowed him to thrive as a rebounder and shot blocker.
And when one factors in his outside shooting, the 19-year-old Jones is still a terrific prospect.
Therefore, Jones could very well be grabbed by the Charlotte Bobcats with the No. 9 overall pick.
As a Bobcat, he would immediately help to shore up the team's frontcourt, which has been significantly hindered since the trades of Gerald Wallace and Nazr Mohammed.
Consequently, he would compete for time against Tyrus Thomas, Boris Diaw and Dante Cunningham.
No. 8 Cleveland Cavaliers: Jan Vesely, F, Czech Republic (from Cleveland)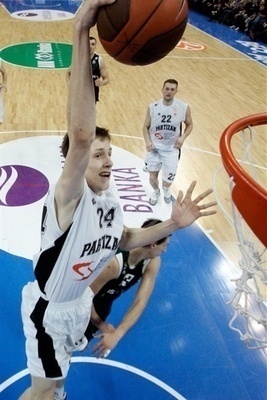 photo from peckopivo.com
Jan Vesely was a late withdrawal from the NBA Draft last year, but instead returned to Europe to gain more experience before once again throwing his hat in the ring.
And after doing so, the 6'11", 240-pound Czech forward now has a fairly refined face-up offense, as he is capable of using his solid athleticism to get to the rack or his textbook form to sink jumpers.
What's more, he has emerged as a reliable shot blocker on the defensive end.
So although he could use some more strength to shore up his game inside, the 20-year-old Vesely is still an attractive prospect, and he could easily be taken by the Cleveland Cavaliers at No. 8.
With the Cavs, he would serve as a compliment to the low-post oriented game of JJ Hickson, while giving them a solid base to build upon.
No. 7 Detroit Pistons: Kemba Walker, PG, Connecticut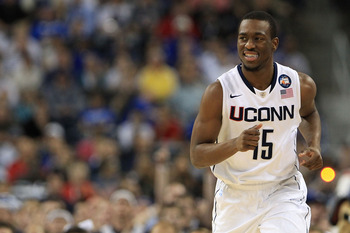 Streeter Lecka/Getty Images
After leading his team on an amazing late-season run, which saw Connecticut winning both the Big East and NCAA Championships, Kemba Walker has become one of the hottest prospects in college basketball.
But he did more than just win, as Walker became the nation's fifth-leading scorer, notching over 23 points per game.
In doing so, the 6'1", 172-pounder proved to be an ultra-quick, skilled and clutch performer, displaying decent point-guard skills during his collegiate career,
And although he be may be more of a combo guard, a team like the Detroit Pistons could very well take him at No. 7 overall.
Here, Walker would be given the chance to step in as the team's point guard, as they have relied upon various non-traditional points such as Rodney Stuckey and Tracy McGrady, as well as the underwhelming Will Bynum, throughout this past season.
No. 6 Utah Jazz: Brandon Knight, G, Kentucky (from New Jersey)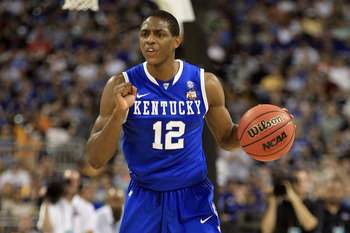 Streeter Lecka/Getty Images
Entering the season, Brandon Knight was one of the nation's top-ranked recruits.
However, his stock began to suffer almost immediately, due in large part to a concern over whether or not he was a true point guard.
Nevertheless, 6'3", 185-pound 18-year-old helped to turn this around after playing a crucial role in helping to carry his Kentucky Wildcats to a deep NCAA Tournament run, when he made clutch play after clutch play.
Consequently, the high-scoring, lightning-quick guard could be scooped up by a team like the Utah Jazz with the No. 6 overall selection.
In Utah, Knight would look to spell Devin Harris at the point, while also probably being given an opportunity to do some work off the ball at the two.
And seeing as though the Jazz have a relative weak shooting guard rotation, consisting of CJ Miles, Raja Bell and Gordon Hayward, Knight would have a solid chance to contribute immediately.
No. 5 Sacramento Kings: Donatas Motiejunas, F-C, Lithuania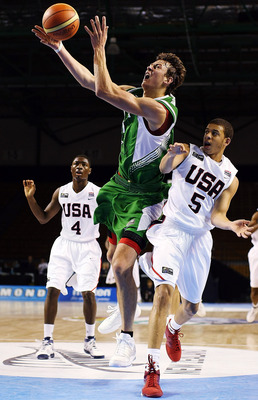 Hannah Johnston/Getty Images
Lithuanian big man Donatas Motiejunas nearly entered the NBA draft last season, when he was projected to be a possible lottery pick.
Consequently, by returning to play another season in Italy, he has definitely become a more polished product.
First of all, as a 7'0", 220-pound forward-center, Motiejunas has used his length and athleticism to become a decent shot-blocker.
Moreover, he has the ability to score in a variety of ways, whether it be from the post, the mid-range, the perimeter or when attacking the basket.
However, he currently lacks ideal strength to play inside in the NBA, but at just 20 years of age, he still has lots of room for improvement.
Therefore, when one considers that he may have been a lottery selection had he entered the draft last year, it seems as though Motiejunas would certainly attract the attention of the Sacramento Kings at No. 5.
As a member of the Kings, Motiejunas' inside-out game nicely would compliment the purely interior style of DeMarcus Cousins, while the Lithuanian would be able to earn more time as Samuel Dalembert continues to age.
No. 4 Washington Wizards: Jonas Valanciunas, C, Lithuania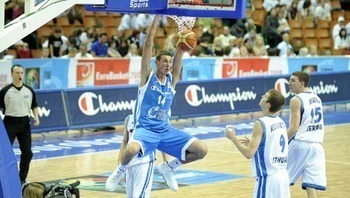 photo from jonasvalanciunas.com
As the second Lithuanian big man featured in this mock, center Jonas Valanciunas likely has more upside.
Playing for the Lithuanian national team at the U16 and U18 European Championships, the center prospect first gained NBA attention, bringing home two gold medals and two MVP trophies.
However, what makes him even more attractive to NBA scouts is that he, as opposed to most European bigs, relies upon a traditional post game.
And using his good hands and soft touch, decent athleticism and an effective short-range jumper, Valanciunas already possess a nicely developed offense.
Moreover, he is a solid shot blocker inside, and although he currently lacks ideal strength, at just 18 years old, his 6'11", 240-pound, broad-shouldered frame should be able to put on more muscle.
Therefore, he would be a fascinating selection at the No. 4 spot of the Washington Wizards.
In Washington, Valanciunas' inside game would provide a nice compliment to the athletically-oriented styles of Wizard big men Andray Blatche and JaVale McGee, looking to earn him immediate playing time.
No. 3 Toronto Raptors: Enes Kanter, F-C, Kentucky (Turkey)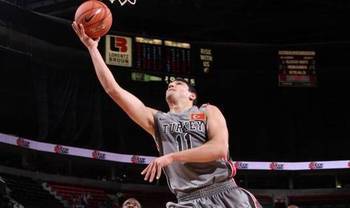 photo from foxsports.com
The last time Enes Kanter was playing competitively in front of NBA scouts, he was wreaking havoc on the U16 and U18 competition.
However since then, Kanter enrolled at Kentucky, and was soon ruled by the NCAA to be ineligible for receiving compensation when playing basketball in his native Turkey.
And while his being barred from playing collegiately has hurt the 6'11", 260-pound 18-year-old's draft stock to some extent, he has way too much talent to slip very far in the draft.
With extraordinary strength, a feel for the game, good touch inside and a respectable jumper, Kanter is a rather complete interior player.
Consequently, teams will look past his average athleticism and shaky knees, and a team like the Toronto Raptors would jump at the chance to take him with the No. 3 pick.
Here, Kanter would have an opportunity to fight for playing time against Ed Davis, Amir Johnson and Reggie Evans, providing a physical inside presence to compliment the finesse game of current Raptors center Andrei Bargnani.
No. 2 Cleveland Cavaliers: Kyrie Irving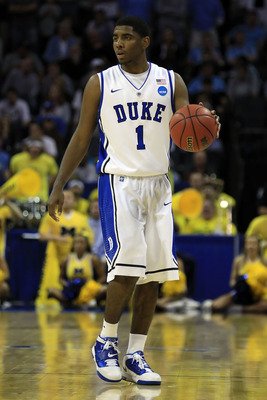 Streeter Lecka/Getty Images
After firing out of the gate the past season and posting huge numbers right away, Kyrie Irving injured his toe and missed a huge chunk of time, creating concerns about the Duke point guard's legitimacy as a prospect in 2011.
However, the 6'2", 180-pounder returned from the setback for the NCAA tournament without showing any lingering health problems, helping the massively talented 19-year-old regain any stock that was lost.
So all in all, given that he was likely the best pure point guard in the nation as a freshman, coupled with the fact that the NBA has become a point-guard-dominated league, Irving has certainly made the case for being a top-overall pick.
But if the team with the No. 1 selection does not need a point guard, expect Irving to be taken off the table with the No. 2 overall pick of the Cleveland Cavaliers.
Here, Irving would ultimately have the opportunity to take over the point guard position behind the aging and frequently injured Baron Davis, while serving as the cornerstone of the franchise for years to come.
No. 1 Minnesota Timberwolves: Derrick Williams, F, Arizona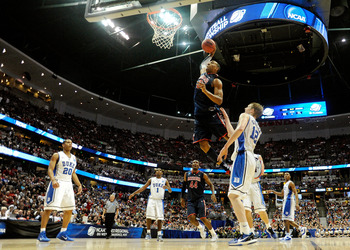 Kevork Djansezian/Getty Images
After single-handedly carry his team through the NCAA Tournament, Arizona's Derrick Williams emerged as a can't-miss NBA prospect.
Whether he was blocking game-tying attempts at the horn, knocking down game-winning shots or dropping absurd point totals, the sophomore forward showed that he is, not only extremely talented, but both a leader and a clutch player, two important attributes for a top pick.
What's more, when one looks at the skills the the 6'8", 241-pounder put on display during the regular season, when he was third in the nation in player efficiency rating (the two before him played in mid-major conferences), it hard not to be impressed.
And since the Minnesota Timberwolves may have Ricky Rubio joining the team in the near future, they will likely pass on point guard Kyrie Irving and grab Williams with the No. 1 overall pick.
In Minnesota, Williams would be able to step in from day one, using his well-rounded offense to take some of the scoring pressure off of Kevin Love and Michael Beasley.
Keep Reading