College Football 2011 Predictions: Who Will Win Each Pac-12 Rivalry Game?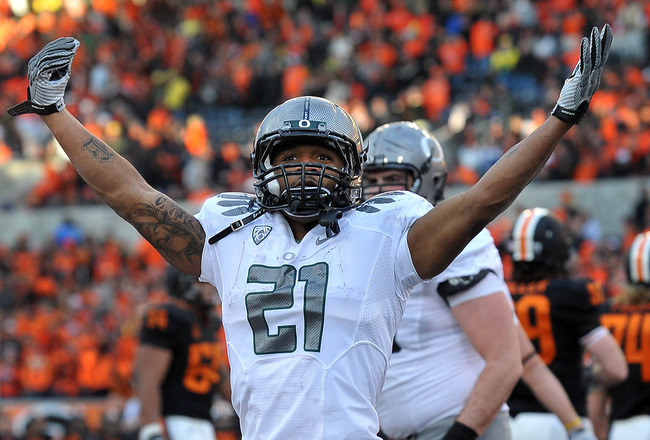 Steve Dykes/Getty Images
The Pac-12 has some of the most hate-filled and storied rivalries in college football.

Conference alignment might change a lot of things, but hatred for your rivals is something that can never be destroyed. It is a beautiful thing in sports.

Will the Red Sox ever get along with the Yankees?

Will the Celtics ever get along with the Lakers?

And will Oregon ever get along with Oregon State?

No way!

Fans await these games every year with the utmost anticipation. Who will win them in 2011?

These are my predictions for the top Pac-12 rivalry games.
Colorado at Colorado State (Sept. 17)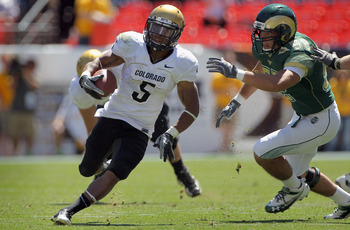 Doug Pensinger/Getty Images
The "Rocky Mountain Showdown" dates back to 1983, when Colorado won a 70-6 blowout in a rare February game. Since that time the Buffaloes have won 60 of the 80 meetings against Colorado State.
The teams met at INVESCO Field in Denver last season and will again this season. Colorado won the matchup 24-3 in the 2010 season opener.

This year, the two rivals will meet in Week 3.

Expect Colorado to run away with this game again in 2011. The Buffaloes return 16 starters from a season ago, including running back Rodney "Speed" Stewart.


Score Prediction

Colorado: 31

Colorado State: 6
Utah at BYU (Sept. 17)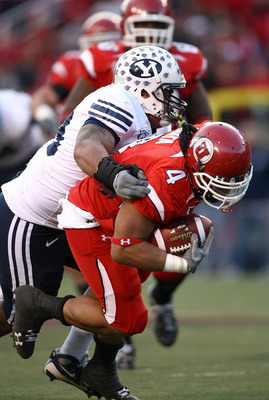 Jonathan Ferrey/Getty Images
The last two meetings between these teams were thrillers. In 2009, BYU won 26-23 in overtime, and last season Utah won 17-16 after a late blocked field goal with time expiring to break BYU's hearts.

Known as the Holy War, this is one of the most underrated rivalries in the country. These two teams hate each other. Even though the teams will no longer play in the same conference, I am sure nothing will be taken away from this usually epic matchup.

Expect another close game in 2011. Utah has a lot of holes on its team, while BYU returns most of its key players from a season ago.

Utah is playing at USC the previous game, a game it will most likely lose. It will be a disheartening loss—expect it to carry over against its hated rival.


Score Prediction

BYU: 24

Utah: 21
USC at Notre Dame (Oct. 22)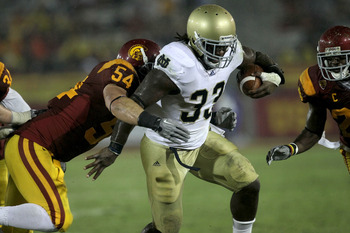 Stephen Dunn/Getty Images
The USC-Notre Dame rivalry is arguably the most storied in college football. Plus, they fight for one of my favorite trophies in the nation, the Jeweled Shillelagh.

Last season, the Trojans entered the game on an eight-game winning streak against the Irish. But Notre Dame shocked the college football world and defeated the Trojans in the LA Coliseum.

The series will now shift to South Bend in one of the most anticipated meetings in years. Most preseason rankings have Notre Dame ranked ahead of USC, and the Irish will be looking to prove that they are no joke.

Last year, USC was without its star quarterback Matt Barkley, and he was missed greatly. I expect USC to take control of this rivalry again if Barkley is under center.


Score Prediction

USC: 38

Notre Dame: 24
Stanford at USC (Oct. 29)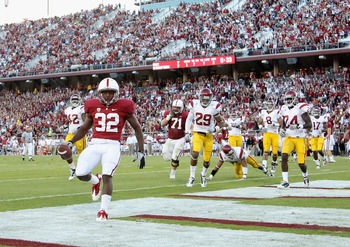 Ezra Shaw/Getty Images
Stanford is actually USC's oldest rival. The two first met in 1905, a game that Stanford won 10-0.

In recent years, Stanford has taken control of the series. It has won three of the last four matchups, including last year's bout.

There is a lot of hype surrounding both teams, especially at quarterback. Stanford's Andrew Luck is considered the best passer in the nation, and USC's Matt Barkley has proven to be an elite quarterback.

I expect USC to get some revenge this year. The Stanford defense has lost a lot of key players and will have a tough time slowing down USC's talented offense.


Score Prediction

USC: 38

Stanford: 27
Arizona at Arizona State (Nov. 19)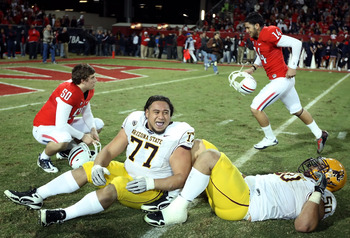 Christian Petersen/Getty Images
Last season, the Duel in the Desert was one of the most exciting games of the season. The first memorable moment came when the Sun Devils blocked an extra point that would have given the Wildcats a one-point lead with just 27 seconds left in the game.

The nightmare was not over for Arizona yet either. In double overtime, the Wildcats found themselves down by a single point and kicking an extra point that would send the game into a third overtime. Guess what happened next?

Blocked again.

This game always has the perfect combination of heartbreak and hatred. The two play for the Territorial Cup, the oldest trophy in college football.

Arizona State's program is surrounded by a lot of hype, while Arizona's seems to be going downhill. However, this game is always close regardless of how much of a talented gap there is between the teams.

I expect ASU to take this one again in another nail-biter.


Score Prediction

Arizona State: 24

Arizona: 20
California at Stanford (Nov. 19)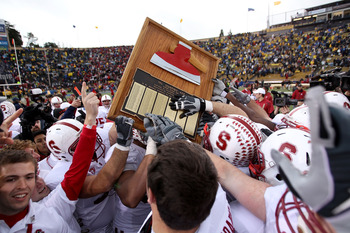 Ezra Shaw/Getty Images
This might turn out to be one of the most lopsided rivalries of the conference in 2011.

The two teams battle for the Stanford Axe and shared one of the most memorable moments in sports history, "The Play."

California loses its best offensive player in running back Shane Vereen and two very talented defensive players in Cameron Jordan and Darian Hagan.

Stanford, on the other hand, returns the best quarterback in college football, Andrew Luck.

This probably won't be much of a contest next year. Stanford should run away with it again.


Score Prediction

Stanford: 49

California: 16
Colorado at Utah (Nov. 26)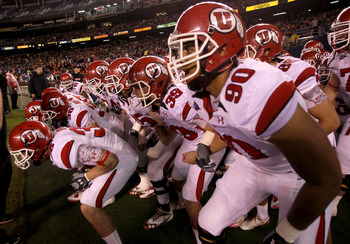 Stephen Dunn/Getty Images
At one time, this game was one of the most played rivalries in college football. Then in 1963, after 57 meetings, the two teams stopped the rivalry and hadn't played again until now.

The two will now be paired together as they enjoy their first season in the Pac-12. It is exciting to see an old rivalry renewed in a new setting.

In recent years, Utah has been the better overall program. However, this will be its first year in a BCS conference.

Playing this game at the end of the season will hurt Utah because it has yet to prove it can make it through the strenuous Pac-12 schedule, while Colorado is used to playing in a tough Big 12.

I think the Utes will inch out the Buffs in this one. It will be closer than most people think. Colorado has the more experienced team of the two.


Score Prediction

Utah: 20

Colorado: 16
Notre Dame at Stanford (Nov. 26)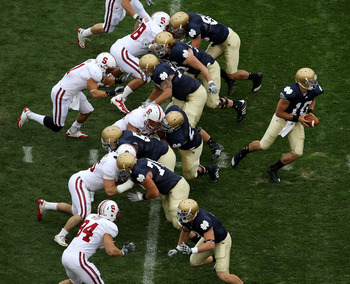 Jonathan Daniel/Getty Images
This is the youngest rivalry on this list. The two teams did not start playing each other consistently until 1988.

Over the past two seasons, Stanford has controlled the series. However, this is the best Notre Dame team in years.

The Irish return 19 starters from a team that finished 2010 red-hot. Stanford also had a successful 2010 campaign but only returns 11 starters from its Orange Bowl-winning team.

My brain is telling me to take Stanford at home on this one, but I have a gut feeling that Notre Dame will upset the Cardinal in a shootout.


Score Prediction

Notre Dame: 45

Stanford: 37
Oregon State at Oregon (Nov. 26)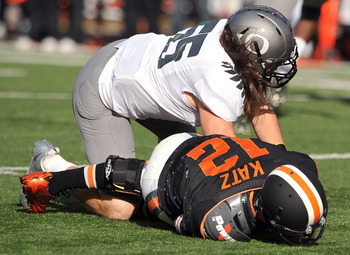 Steve Dykes/Getty Images
Oregon State vs. Oregon, more commonly known as the Civil War, is the seventh-oldest rivalry game in college football.

The last two meetings have been games with huge implications. Both were Oregon victories that clinched them a spot in a BCS bowl game.

The upcoming 2011 meeting will probably be no different.

The Ducks are returning most of their key players, including running back LaMichael James and quarterback Darron Thomas, from a team that lost in the BCS title game and won the Pac-10 title a season ago.

Oregon State, however, is losing the best defensive lineman in the Pac-10 from a season ago, Stephen Paea, and its workhorse running back, Jacquizz Rodgers.

Oregon will take this one in blowout fashion.


Score Prediction

Oregon: 56

Oregon State: 21
UCLA at USC (Nov. 26)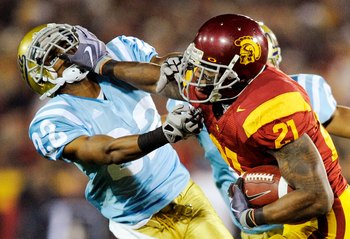 Kevork Djansezian/Getty Images
Over the past decade, this game has not really been much of a contest. It has mostly been the big brother, USC, picking on the little brother, UCLA.

UCLA might challenge Washington State as the worst team in the Pac-12 this season, while USC is looking for a bounce-back year.

Until Rick Neuheisel is gone from UCLA, I have a hard time being confident in the Bruins. Lane Kiffin, on the other hand, is a cocky, young head coach that can thrive in heated rivalry games like this one.

USC has won by scoring exactly 28 points in each of its last three victories over UCLA—so I expect it to do just that once again.
Score Prediction
USC: 28

UCLA: 13
Washington State at Washington (Nov. 26)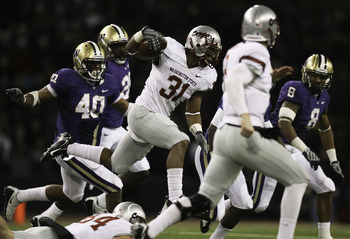 Otto Greule Jr/Getty Images
I have lived in Arizona my whole life, but for some reason this is one of my favorite rivalry games in the country. It just seems like it is always one of the most heated and passionate games every season.

Last year, the Huskies won 35-28 after a Jake Locker touchdown pass with under a minute ago put them ahead by seven.

The Washington Huskies are one of the programs on the rise in the Pac-12. They might be losing quarterback Jake Locker to the draft, but they return 16 starters from last season, including running back Chris Polk.

Washington State has been experiencing tough times in recent years but showed signs of improvement last season.

I feel that the Cougars will be a much improved team next year, but I just can't find the confidence to take them in this game.


Score Prediction

Washington: 31

Washington State: 24
Keep Reading