NBA Playoffs 2011: Tuesday's Schedule, Updates, Injury Reports, Analysis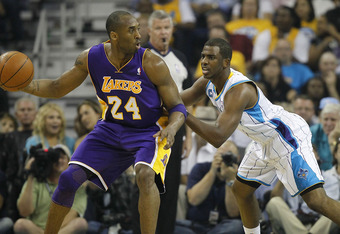 Jeff Zelevansky/Getty Images
NBA Playoffs 2011 grind onward Tuesday, with Eastern Conference powers the Chicago Bulls looking to close out a lower-seeded opponent after failing to do so in their last attempt, the Orlando Magic and Atlanta Hawks continuing a somewhat ugly series, and the two-time defending champion Los Angeles Lakers limping into the latest skirmish of an unexpected first-round dogfight.
The limping Laker on fans' minds is reigning NBA Finals MVP Kobe Bryant, who turned an ankle near the end of LA's Game 4 loss in New Orleans and hobbled out of the arena on crutches—he hasn't been heard from since.
Presumptive 2010-11 regular season MVP Derrick Rose of the Chicago Bulls is nursing an ankle injury of his own but has been more open than Bryant about his condition—including the possible treatment option that the Bulls superstar hoped to avoid.
Bleacher Report will have the latest news on the Most Valuable Ankles heading into the crucial clashes in LA—where the winner will leave Staples Center with a 3-2 series lead—and Chicago, where Indiana Pacers coach Frank Vogel has made a brash declaration regarding the outcome of tonight's Game 5 in a series the Bulls lead 3-1.
We'll also take a look back at last night's action. The San Antonio Spurs dynasty was pushed to the brink of elimination at the hands of a Memphis Grizzlies team seeking an upset of historic proportions, while the Dallas Mavericks surged into the lead in a hard-fought series with the Portland Trail Blazers, and the Oklahoma City Thunder failed to close out the Denver Nuggets in what may be a bad sign for their chances of making the leap to true title contender.
There's nothing like the NBA playoffs, where hoops legacies are rewritten with every bounce of the ball. Stick here for updates on everything you need to know as the battle rages on.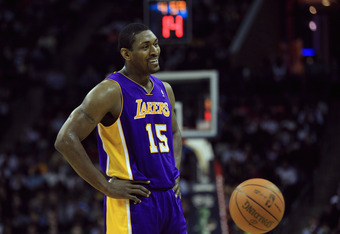 Basketball Journalists Recognize LA Lakers F Ron Artest's Dedication to Community as Stunning Image Reversal Continues
Ron Artest was awarded 2010-11 J. Walter Kennedy Citizenship Award today, in recognition of his efforts to raise awareness and funds for mental-health issues.
The award, which is given by a panel of 150 basketball writers nationwide, continues an amazing evolution of Artest's public image that truly began when he joined the Lakers.
Just a few years ago, when one thought of Ron Artest's activities off the court, images came to mind of splattered beer and flying fists in the stands at the Palace of Auburn Hills.
Even for years after "The Malice at the Palace" and Artest's subsequent year-ending suspension, he was known as an erratic, undependable player who was equally focused on promoting his nascent record label as pursuing an NBA championship.
Since joining the Lakers, that's all changed. As a player, Artest is now known for sacrificing money and stats to try to fit in with an established team as a supporting player.
As a person, he is now known for his joyous, unfiltered press conference following the Lakers' triumph in last year's NBA Finals, in which he thanked his psychiatrist and displayed a genuine enthusiasm that is uncommon in today's professional athletes.
Today, the transformation seems complete, as it's not even surprising to learn that Ron Artest has won an award for his good deeds off the court.
Here is Artest's reaction to the award, via the Los Angeles Times:
"I'm not going to tell you there it's up there with the NBA championship, but it's definitely over the Defensive Player of the Year award that I got," said Artest, who won that honor for the 2003-04 season. "It's important because there are kids here in America who aren't doing well. I want to see those kids have an opportunity to succeed, whether they're on drugs, are abused or have a lack of confidence, bullied, cyber bullied or have family issues. I'm trying to help out and bring awareness.
What do you think? Has Ron-Ron totally redeemed himself? Commentate in the comments.
For more on the Lakers supporting players who must step up in their series with the New Orleans Hornets, click here.
This article is
What is the duplicate article?
Why is this article offensive?
Where is this article plagiarized from?
Why is this article poorly edited?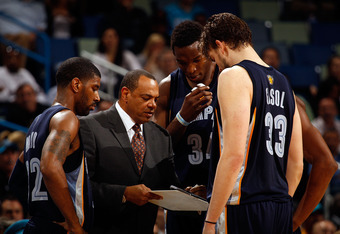 Memphis Grizzlies Lead Over San Antonio Spurs Is No Fluke, Heralds New Era in NBA
The No. 8 seed Memphis Grizzlies defeated the No. 1 seed San Antonio Spurs 104-86 last night to take a commanding 3-1 lead in their first-round series. The Grizzlies' lead is no fluke, as Tim Duncan told Fox Sports: "From top to bottom, they've outplayed us in every facet."
The Grizzlies' success illustrates a couple startling truths about today's NBA. First, the San Antonio dynasty that began when an already-solid team struck draft lottery gold in 1997 with Tim Duncan may finally be over—surprising considering San Antonio just turned in its strongest regular season in years.
Second, the strength of the Grizzlies shows the overall talent boom happening throughout the NBA right now. Eighth seeds are better today than they have been in past years and decades. The Grizzlies are talented, tough and deep—and they're taking this series to San Antonio despite having lost superstar Rudy Gay to injury for the rest of the year.
Call it strictly cyclical or credit changes like the NBA introducing a minimum-age rule of 19 in 2005, but there is no doubt the league is awash in more talent from top to bottom than it has been for some time.
While the Grizzlies still have plenty of time to choke this series away—and most likely won't survive the second round either way—their performance could herald a more wide-open era of NBA playoff basketball that could see more upsets happening for years to come.
What do you think? Are the Spurs done? Is the league deeper now than you remember? Commentate, my friends.
For more on how the Grizzlies are dominating the favored Spurs, click here.
This article is
What is the duplicate article?
Why is this article offensive?
Where is this article plagiarized from?
Why is this article poorly edited?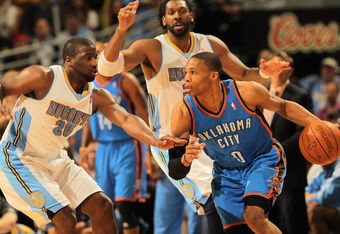 Oklahoma City Thunder Fail to Close Out Denver Nuggets in Bad Sign for Title Hopes
The Oklahoma City Thunder are confident, athletic, well rounded and well coached. They have a two-time scoring champion, one of the league's best young point guards, skilled role players and a newfound, tough defensive mentality.
They are the team that has it all, right?
Maybe not. The Thunder failed in their first opportunity to close out the Denver Nuggets in their first-round series last night, and while they will almost certainly recover from the misstep, it illustrates the one thing this powerful up-and-coming squad may lack: a killer instinct.
Everyone remembers the scare OKC gave the Lakers in last year's first round, but they still fell in six games, largely because of some crucial late-game mistakes—most notably allowing the uncontested Pau Gasol tip-in that ended the series.
Last night in Denver, in two crucial late-game possessions, the best thing Thunder could muster was two long, contested three-point attempts from Russell Westbrook. Neither attempt came close, and the Thunder let the game, and the chance to send Denver on an early fishin' trip, slip away.
It's an NBA cliche that teams must "learn how to win," no matter how talented they are—and it's become chiche because it's true.
Luckily for Kevin Durant and company, they still have a stranglehold on this series, and are suddenly staring at a second-round matchup with the young Memphis Grizzlies, rather than the grizzled San Antonio Spurs.
That means they should have ample opportunity to "learn to win" ahead of a possible conference finals rematch with the Lakers.
What do you think? Can the Thunder raise their game and get that crazy killer's eye it's gonna take to take down Kobe and Co.?
For 10 reasons why Kevin Durant and the Thunder will win Game 5 (Wed., 9:30 p.m. EST, TNT), click here.
This article is
What is the duplicate article?
Why is this article offensive?
Where is this article plagiarized from?
Why is this article poorly edited?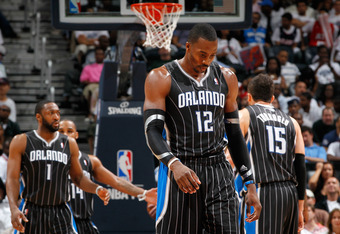 Atlanta Hawks Can Get Revenge Against Magic, but Both Teams Face Bleak Futures
If the Atlanta Hawks can beat the Orlando Magic in tonight's Game 5 of their first-round playoff series (7:30 p.m. EST, NBA TV), they will avenge a humiliating sweep at the Magic's hands last year in which they lost every game by double figures.
And that's about all we can say about that.
This series matches two teams that made widely scrutinized moves in desperate attempts to become title contenders—and it appears both teams have failed.
When Atlanta re-signed Joe Johnson to a max deal of six years and $119 million, critics argued that was far too steep a price for a player who could never be the centerpiece of a championship team.
The critics are right sometimes.
Orlando, meanwhile, swung a desperate series of trades—shipping out the likes of Vince Carter, Rashard Lewis and Marcin Gortat, and bringing in Hedo Turkoglu, Jason Richardson and Gilbert Arenas—only to see the cobbled-together squad struggle to find a consistent rhythm.
GMs do the darndest things sometimes.
Now Atlanta is stuck in purgatory between contention and the lottery, and most of the conversation about Orlando surrounds their (dwindling) chances to hang on to Dwight Howard long-term.
This series may soon be over, but the road for both teams to true NBA relevance remains long indeed.
Click here for 10 ways the Magic can get back in the series.
This article is
What is the duplicate article?
Why is this article offensive?
Where is this article plagiarized from?
Why is this article poorly edited?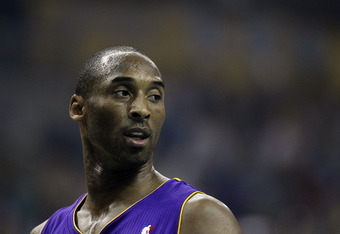 Kobe Bryant Hasn't Spoken to Press Since Leaving New Orleans, but Expect Him to Play and Produce
LA Lakers star and reigning NBA Finals MVP Kobe Bryant has been known to adopt a "bunker mentality" when dealing with injuries, often declining to discuss or even acknowledge them in the media.
The NBA's alpha dog would rather not show weakness in any form—and if the speculation adds a little a little drama to his playoff exploits, well, Kobe has shown an appetite for drama too.
In the wake of his ankle injury suffered in the waning moments of the Lakers' loss to the New Orleans Hornets in Game 4 of their first-round series—which evened the series 2-2—the Black Mamba has again adopted a policy of controlled silence that would make most military dictatorships proud.
Bryant hasn't seen or spoken to the media since a brief session in the trainer's room following Game 4—nor has he consulted with the Lakers training staff themselves, declining to take MRI or X-ray exams despite the team's wishes, according to the Los Angeles Times.
But Lakers coach Phil Jackson told the Times that Bryant is "very hopeful" to play tonight in Game 5 (10:30 p.m. EST, TNT), and given Bryant's history of battling through playoff injuries, Lakers fans should be hopeful too. In last year's playoffs, he played with a sore knee that he didn't even acknowledge until the playoffs ended, as well as a finger injury that has plagued him for years.
Perhaps the most comforting words for Kobe lovers come from noted sage Ron Artest:
"He's going to be fine. Kobe's Kobe."
For more on the Lakers, take a look at how the team's front office can preserve the dynasty.
This article is
What is the duplicate article?
Why is this article offensive?
Where is this article plagiarized from?
Why is this article poorly edited?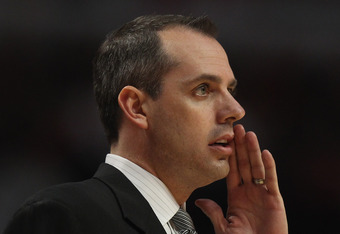 Indiana Pacers Coach Frank Vogel Says Game 5 Winner Will Take Series, and He's Right—If It's Chicago

Frank Vogel, coach of the Indiana Pacers, has been quoted by ESPN Chicago saying, "We feel like if we win tonight, we'll win this series."
(Game 5 is tonight at 8 p.m. EST on TNT.)
Vogel's emergence has been one of the interesting subplots of this surprisingly close-fought first-round battle, as his Pacers have betrayed none of the playoff jitters one might expect from such a young group, and Vogel himself has been captured in soundbites from the Pacers huddle providing calm, confident leadership—a sort of antithesis to the sweating, screaming hysterics of certain other playoff coaches (*cough* Stan Van Gundy *cough*).
But he might have gotten a little too confident with this latest statement. While Pacers star Danny Granger noted in the same story that his team has been in every game thus far and could have one any one of them, the fact remains, they haven't.
They have drawn Chicago into a physical, low-scoring series in which the Bulls have looked anything but dominant—but the Bulls have still won three of the four games. They took the top seed in a tough Eastern Conference because they are capable of winning games in a variety of ways.
Any playoff coach must walk a thin line of propping up his guys while also taking care not to disrespect and motivate their opponents—a line Vogel might have crossed by suggesting his young Pacers could take four in a row from the East's top dogs.
Look here for more reasons not to count the Pacers out.
This article is
What is the duplicate article?
Why is this article offensive?
Where is this article plagiarized from?
Why is this article poorly edited?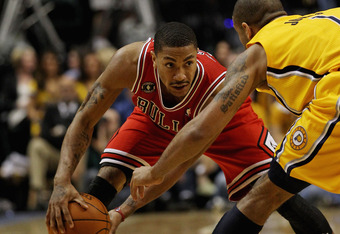 Derrick Rose Says He Expects to Be Effective Despite Ankle Injury; Other Bulls Must Step Up
Chicago Bulls star Derrick Rose told the Chicago Tribune his sprained left ankle feels "good" heading into tonight's Game 5 against the Indiana Pacers.
Rose had Bulls fans nervous on Monday when he said he would "definitely" require a painkilling injection before the game, even telling ESPN Chicago, "I really don't like shots."
But Rose reported improvement on Tuesday, telling the Tribune he "got more motion" in the ankle today and saying, "I should be able to knock down some shots today."
With Rose looking like he will take the floor at something less than 100 percent, the rest of this Bulls roster must view tonight's game as an opportunity to step up and carry their ailing superstar. Rose's supporting cast—most notably prized offseason acquisition Carlos Boozer—has been largely disappointing in a physical series that has featured mostly very close games.
If the Bulls want to prove they are true contenders for the NBA title, they must prove they are more than a one-man team. A No. 1 seed—notwithstanding the upheaval happening out West—should be able to outclass a No. 8 seed at multiple spots on the floor.
Look for the rest of the Bulls to come out fired up tonight before their home crowd and take a major step forward from the Rose-watching that they have done so far in this series. If they can contribute more and gain confidence, Rose's setback may serve as a blessing in disguise for a franchise making its first title push since the Jordan Era.
For more on the Bulls, check out this deeper look at Carlos Boozer's playoff struggles.
This article is
What is the duplicate article?
Why is this article offensive?
Where is this article plagiarized from?
Why is this article poorly edited?