Jim Tressel: Latest News and Reaction on the Embattled Ohio State Coach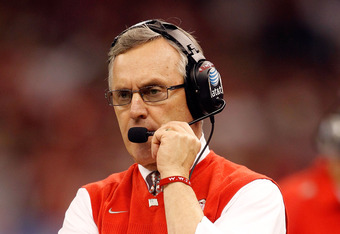 Matthew Stockman/Getty Images
A day after the NCAA's Notice of Allegations was sent to Ohio State regarding its football program, the Internet has been ablaze with talk on the status of head coach Jim Tressel.
From pundits to fans, people are debating whether the school should take more punitive action against the 10-year coach.
The facts of the case are simple. An Ohio State fan/attorney emailed Tressel to tell him that star quarterback Terrelle Pryor and several other players were selling merchandise and memorabilia to the owner of a Columbus tattoo parlor. The attorney found this out because he was privy to information that a federal investigation of the tattoo parlor owner was under way, and the OSU players came up in the investigation.
Tressel emailed the man back, saying he would get on it "ASAP."
Apparently, ASAP means something totally different to Tressel. He said nothing—and never informed his superiors. He played the players in the 2010 season, which resulted in a Big Ten crown and a Sugar Bowl title. On Dec. 7, the university was notified of the potential violations. Sixteen days later, athletic director Gene Smith went public.
Still, Tressel said nothing.
Finally, on Jan. 13 of this year, while investigating whether it could appeal the suspensions of five players caught selling the memorabilia, tOSU officials found out that Tressel knew all about this last year.
In most cases, failing to inform your superiors is grounds for dismissal. The debate over whether that holds true for Tressel rages on.
Newspapers and blogs are ablaze with columns and opinions on Ohio State football coach Jim Tressel, following Monday's announcement that the school has received a Notice of Allegations from the NCAA regarding the coach's role in Tattoo-Gate.
Tressel covered up the news that his players were involved in selling merchandise and memorabilia to a local tattoo parlor owner -- not only hiding what he knew from the NCAA, but from his superiors as well.
Here's a sampling of what some folks are writing:
From Joel Hammond, Crain's Cleveland Business: "This is big trouble for Ohio State. Here's betting that the Buckeyes force Tressel to resign in an attempt to further save themselves from the NCAA, though it won't be enough."
From Ivan Maisel, ESPN: "Tressel lacked honesty and integrity, the NCAA said. Tressel allowed ineligible players to play. This isn't going to end well for Ohio State. The question now is if it will end quickly."
From Dennis Dodd, CBS Sports: "It is compelling to finally see in print that the NCAA has officially alleged that Ohio State competed with ineligible players on the field. Beyond Tressel's unethical conduct, that is the essence of the case. USC competed with one ineligible player (Reggie Bush) and look what it got -- a two-year bowl ban and the removal of 30 scholarships over three years."
(Above courtesy of the Detroit Free Press)
This article is
What is the duplicate article?
Why is this article offensive?
Where is this article plagiarized from?
Why is this article poorly edited?
According to Columbus Business First, Jim Tressel is looking at close to $4 million in lost wages and compensation if he's fired or resigns over his role in Ohio State's Tattoo-Gate.
The newspaper obtained Tressel's contract from OSU, and the coach makes $3.7 annually from the school. But the paper also noted that university could be off the hook for paying him if the coach is found to have violated any of its termination-for-cause provisions.
In addition to the $3.7 million in annual pay, plus other benefits, the newspaper reports that the contract promises him a job as associate athletics director, at an annual salary of $150,000, when he retires as football coach. It also includes a provision that says Tressel is not entitled to further compensation or benefits if he is fired for cause. Among the termination-for-cause provisions are "fraud and dishonesty in performance of his duties or responsibilities" outlined in the contract and "fraud or dishonesty in preparing, falsifying, submitting or altering documents or records of Ohio State, NCAA or the Big Ten."
In addition, the contract says Tressel's employment can be terminated if he fails to "respond accurately and fully within a reasonable time to any reasonable request or inquiry relating to the performance of his duties" by Ohio State, NCAA or Big Ten.
Uh-oh.
This article is
What is the duplicate article?
Why is this article offensive?
Where is this article plagiarized from?
Why is this article poorly edited?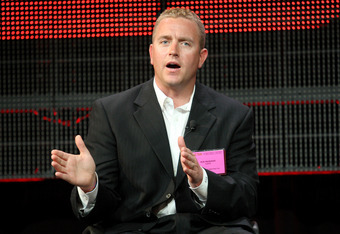 Many people have chosen to weigh in about the situation regarding Ohio State football coach Jim Tressel, whom the NCAA says in a Notice of Allegations was dishonest and deceitful in covering up the Tattoo-Gate mess at the school.
Said former OSU running back Robert Smith:"Quite frankly … the information may be there, but I haven't heard anything that in my estimation wouldn't lead to his firing," Smith told the Detroit Free Press.
Former OSU quarterback Kirk Herbstreit: "I think it would be very difficult moving forward with Jim Tressel. ... The Ohio State fan base is blindly just supporting Ohio State and Jim Tressel. It's almost gotten to the point where he beat Michigan, he wins 10 games, he goes to BCS bowl games and they'll support him no matter what he does as far as the fan base. If this would have happened to John Cooper, not only would they have fired him, they would have actually lined him up at a firing squad and fired him."
And former Ohio State linebacker Chris Spielman:"If my son's ever good enough to play for Ohio State, I want him to play for Jim Tressel. ... I think if you're a true fan of Jim Tressel and a true fan of Ohio State, you understand that there has to be action taken against his mistakes that he's made," Spielman said. "He's admitted he's made mistakes and I think … the NCAA's going to come down hard. I don't think you can have a coach who knowingly put ineligible players on the field and you're not going to take those games from them last year."
For more on those comments, click here.
This article is
What is the duplicate article?
Why is this article offensive?
Where is this article plagiarized from?
Why is this article poorly edited?

Ohio State Football: Like this team?