2011 NFL Mock Draft: Tampa Bay Buccaneers Take Adrian Clayborn at No. 20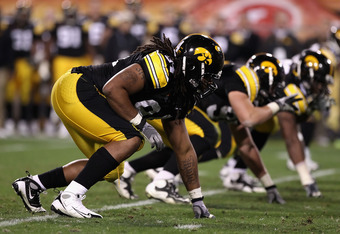 2011 NFL Mock Draft Has the Bucs Entrusting Pass Rush Woes to Clayborn
I've done a lot of mocks over the last couple months, and I think I've had the Tampa Bay Buccaneers taking a different pass rusher in every single one of them. The fact that they recorded just 26 sacks in 2010 tells me that this is a definite need, but finding the right man for the job with the No. 20 pick has always been tough.
With a couple days left until the draft, I daresay I've found a good fit: Iowa defensive end Adrian Clayborn.
According to the folks at PewterReport.com, Clayborn recently visited with the Bucs. When he was asked how it went, he sounded very enthused:
It was a great meeting. I met with the defensive line coaches and the head coach, and the GM. I really liked them a lot and feel like it would be a great fit. They did a good job of explaining to me the defense and how I would fit well into it. With Raheem [Morris] it was a great one. We talked about certain things. It looks like a good fit and I like both the [defensive line] coaches. We'll see. It was an overall good meeting and great day.
MUST READ: NFL Draft 2011 Preview: The Top 100 Prospects and Position Rankings
Now, it's typically a bad idea to buy into this kind of talk. It's entirely likely that the Bucs were just doing their due diligence, and that Clayborn is simply looking for the bigger payday that would come with being the No. 20 pick.
All that being said, I'm going to go ahead and buy into the Clayborn-to-Tampa Bay talk. We tend to be down on Clayborn because his production sagged in 2010, but his 2009 season – in which he recorded 20 tackles for loss and 11.5 sacks – goes to show that he has the capacity to be a dominant player.
If Clayborn reverts to his 2009 form, the Bucs could be a playoff team in 2011.
For More on the Draft, Visit Our Main NFL Draft Page
1. Carolina Panthers: Cam Newton, QB
2. Denver Broncos: Von Miller, OLB
3. Buffalo Bills: Marcell Dareus, DT
4. Cincinnati Bengals: A.J. Green, WR
17. New England Patriots: Cameron Jordan, DE
18. San Diego Chargers: Muhammad Wilkerson
19. New York Giants: Anthony Castonzo, OT
20. Tampa Bay Buccaneers: Adrian Clayborn, DE

5. Arizona Cardinals: Blaine Gabbert, QB
6. Cleveland Browns: Da'Quan Bowers, DE
7. San Francisco 49ers: Patrick Peterson, CB
8. Tennessee Titans: Nick Fairley, DT

21. Kansas City Chiefs: Akeem Ayers, OLB
22. Indianapolis Colts: Nate Solder, OT
23. Philadelphia Eagles: Jimmy Smith, CB
24. New Orleans Saints: Brooks Reed, OLB

9. Dallas Cowboys: Tyron Smith, OT
10. Washington Redskins: Julio Jones, WR
11. Houston Texans: Prince Amukamara, CB
12. Minnesota Vikings: Robert Quinn, DE

25. Seattle Seahawks: Jake Locker, QB
26. Baltimore Ravens: Mike Pouncey, OG
27. Atlanta Falcons: Ryan Kerrigan, DE
28. New England Patriots: Justin Houston, OLB

13. Detroit Lions: Aldon Smith, DE
14. St. Louis Rams: Corey Liuget, DT
15. Miami Dolphins: Mark Ingram, RB
16. Jacksonville Jaguars: J.J. Watt, DE

29. Chicago Bears: Gabe Carimi, OT
30. New York Jets: Phil Taylor, DT
31. Pittsburgh Steelers: Aaron Williams, CB
32. Green Bay Packers: Derek Sherrod, OT
Most recent updates:
This article is
What is the duplicate article?
Why is this article offensive?
Where is this article plagiarized from?
Why is this article poorly edited?