In what is quickly becoming a disturbing trend, the Yankee bullpen blew up yet again.
While Rafael Soriano has been the poster boy of bullpen futility, Joba Chamberlain has seen his fair share of bullpen mishaps and even the great Mariano Rivera has blown two consecutive saves.
The highly talked about and ridiculously expensive trio designed to end games after six innings has been anything but the shutdown force they were touted to be.
Bullpen failures have already cost the Yankees wins against Minnesota, Toronto and the White Sox.
While the issues with Phil Hughes and the other Yankee starters may dominate pitching discussion around Yankee fans, the bullpen issues are far more concerning.
With both CC Sabathia and AJ Burnett looking good and Bartolo Colon and Freddy Garcia showing promise, manager Joe Giradi's main priority right now should be to fix the bullpen.
While David Robertson has been lights out with no earned runs given up, the others have yet to show up. Rivera who started the season with seven consecutive saves has blown the last two, but hopefully they're more of an aberration than a trend.
The most worrying cases are that of Chamberlain and Soriano. Chamberlain, who has bounced around the last few years going from starter to reliever back to starter and now in the bullpen, has been far too inconsistent.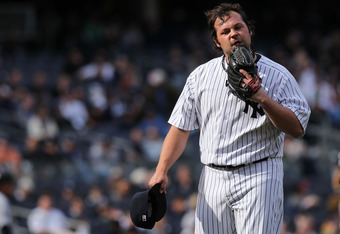 Nick Laham/Getty Images
With three extremely shaky outings already and an ERA of almost five, Joba has to quickly regain his mojo, before he is forced to retire before 35.
His velocity has noticeably dropped, and while Joba claims that is because he is "more of a pticher than a thrower," his inability to blow pitches past opposing batters has been glaring.
The biggest problem, however, has been Rafael Soriano.
The $35 million man expected to be the shutout eighth-inning guy and future closer. Soriano who was signed by the Yankees largely thanks to his amazing 2010—45 saves with an ERA of 1.73—has yet to look comfortable in a Yankee uniform.
After a promising start, Soriano blew up against Minnesota and has yet to rediscover his form. Further failures against Texas and back-to-back shaky outings against the White Sox have shown Soriano may be regressing.
WIth an ERA almost four times that of last years, Soriano has a long way to go to justify his eight figure annual salary and stop GM Brian Cashman saying I told you so.
The New York Yankees bullpen, what was considered an undeniable strength at the start of the season, has degenerated into one of their biggest weaknesses and if Joe Giradi doesn't fix it soon could derail what was looking like a great season.