NBA Playoffs 2011: Have the Mavericks Lost Control After the Blazers' Comeback?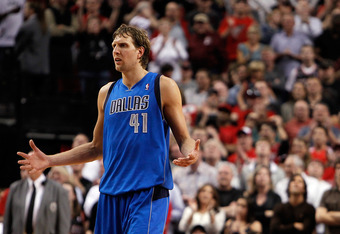 NBA Playoffs 2011 Has Seen the Mavericks Blow A Golden Opportunity
Dirk Nowitzki has seen this before.
He's been a part of teams that have had its opponent on the ropes only to watch it slip away in a dizzying flameout.
This weekend was the perfect example, as the Mavericks imploded, letting Brandon Roy run wild on them in the Rose Garden, blowing a 23 point lead and giving Portland life after a 3-1 series deficit looked all but inevitable.
It was classic Dallas, a team with all of the talent in the world but never the fortitude to finish it off when the moments were the biggest. The Mavs' implosion in the NBA Finals against Miami is stuff of legend, and now, a new legend is being crafted as the Trail Blazers have fought back from two games down to even the series as it moves back to Dallas.
It starts at the top for the Mavericks, who have a star who shrinks in the clutch and a head coach in Rick Carlisle who has proven he doesn't have what it takes to get over the top and lead a team to a championship.
MUST READ: NBA Playoffs 2011: Kobe Bryant and Each Playoff Team's Most Dangerous Weapon
If Joe Dumars thought he could get the job done in Detroit, he wouldn't have fired him after a trip to the Eastern Conference Finals and brought in Larry Brown, who led the Pistons to one title and a game away from another.
Now Portland believes. Now the Blazers have momentum and a star player who is playing like every game might be his last. That's a tough combination to stop, and that game was the moment that momentum shifted and the Mavericks lost control.
As the series shifts, all of the pressure is on Dallas. The window of opportunity is closing for this group and flaming out in the first round will be a catastrophic failure for a team that was a legit contender earlier in the year.
The Blazers are in the driver's seat and the pressure is all on Nowitzki and Carlisle. That's never been the best atmosphere for either man.
How they respond will determine the fate for this team. If they falter, it will add more to a legacy of short-comings. If they rise up and win, it will help turn the tide of popular opinion against them.
It's bigger than a series for this team. It's about a persona and it's about legacies.
Most recent updates:
This article is
What is the duplicate article?
Why is this article offensive?
Where is this article plagiarized from?
Why is this article poorly edited?