Kentucky Derby 2011: As Sport's Biggest Event Approaches, Is Horse Racing Dying?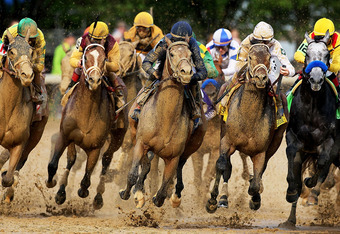 Kentucky Derby 2011 Approaches, But How Much Longer Can The Sport Survive?
Horse racing used to be a giant sport in this country.
Going to the track was one of the most popular leisure activities and is what going to a ball game is today. However, over time, other sports, other distractions have come in and worn horse racing down into a secondary existence.
It isn't a sport that gets national mainstream attention on a yearly basis. It's a niche sport now, only emerging for the biggest events. Then, and only then, does it capture the national attention span.
There have been numerous plans to save the sport, ideas to turn it around, but so far, nothing has worked.
Per Andrew Beyer of Daily Racing Form:
McKinsey has been hearing a wide range of ideas from its interviewees: The sport needs stronger central leadership. The sport needs to promote itself better. The sport needs to attract new and younger fans. The sport needs more TV coverage. Many people who love the game still dream of reviving the era when fans packed the grandstands of American tracks to cheer for their Thoroughbred heroes.

It's time for the industry to get realistic about its product. Aside from a few special places and events (Saratoga, Del Mar, Keeneland, the Triple Crown, the Breeders' Cup, and some tracks' marquee stakes races) horse racing can no longer attract large live crowds. It is unlikely to be a mainstream sport again. But the game still has one significant strength.

In a country that loves to gamble, the racing industry allows customers to play a great gambling game with unmatched convenience.
Okay sure, gambling is great. But we can also gamble on things that get a ton of attention. I could go to a sports book right now and put down money on one of tonight's NBA playoff games if I wanted to. So rule out gambling as something that can save this sport.
If anything, gambling's a lifeline. Nothing more than a respirator, keeping a dying giant alive.
The reality is that nothing can save the sport. Nothing, no matter how big can really turn the sport into a giant. Accepting that is the first step to saving horse racing. If you act like a giant, you better be able to back it up, and this sport simply can't do that.
Horse racing's day has been left behind, and scaling down operations has to be done to help preserve this sport. Throwing out watered down, small fields at tracks across America isn't something that's going to save the sport. It turns away gamblers, or in other words, the base, and only serves to hurt everyone involved.
The sport will die if the people at the highest levels don't make changes. It starts with scaling down, and setting realistic goals. If they try to be like the NFL, NBA or any of the major sports leagues, they will fail.
Nothing can compete with today's giants. Now it's a matter of recognizing their niche fan base and cultivating that.
Otherwise, years from now, we'll be talking about horse racing like a relic.
Most recent updates:
This article is
What is the duplicate article?
Why is this article offensive?
Where is this article plagiarized from?
Why is this article poorly edited?