Madden 2012: Report Has Peyton Hillis Leading Cover Vote, Is This a Good Thing?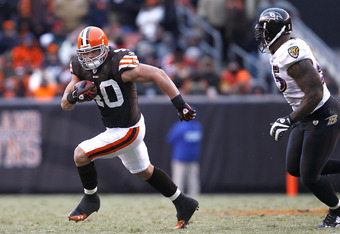 Madden 2012 Cover Vote Ends on Wednesday, But It Looks Like Peyton Hillis Might Have It Locked Up
In an unlikely twist, it looks like Michael Vick will be the next victim of the Peyton Hillis upset.
Hillis, a 10-seed in ESPN's cover vote bracket, has beaten Ray Rice, Matt Ryan, Jamaal Charles and Aaron Rodgers to get to the finals and now according to Darren Rovell of CNBC, it looks like the cover is his to lose as voting winds down.
Rovell took to Twitter yesterday to let people know inside information about how the voting was going.
Sources: If vote ended today, Peyton Hillis would be on the cover of Madden '12. Cover will be announced Wednesday.
Well it's time for the funeral for Madden Football, because if Peyton Hillis is the coverboy, the cover has officially become meaningless.
No one, and I mean no one, has ever picked up a copy of this game and wanted to play with the Cleveland Browns.
You only play with the Browns when you decided to hit the button to get a random team with your buddy and land on Cleveland. Even then, you try and get a do-over.
What player on that roster makes the team an exciting choice? That's right, none. Yet somehow, someway, Hillis is going to be the cover man for this game.
This makes Vince Young look like a brilliant cover choice after his rookie season.
The only silver lining is that we might get a game mode where we recreate all of the biggest moments in the history of the Browns. You know, like "The Drive", or driving the moving trucks to Baltimore and selecting Tim Couch with the first-overall pick.
In fact, Hillis may be the lowest rated cover guy in the history of the game. While people are going to buy the game because it's Madden, it's not like Hillis is going to have the copies flying off of the shelves. This is a player who had one good season and a part of another. Sounds like a great choice.
MUST READ: NFL Draft History: Ranking the NFL's 1st Overall Picks Since 1980
Most casual fans couldn't even tell you what team he plays for and it's stunning that he beat out players like Matt Ryan and Super Bowl MVP Aaron Rodgers to do so.
I guess the Browns and their fans have to win something. Too bad it's not football games.
When you haven't won any championships as a franchise since 1964, you'll take anything you can get, I suppose.
In hindsight, it probably shouldn't shock us that Hillis is in line to win the cover, I mean, the fans have to be fanatical about it, after all, it's the only place they can win the Super Bowl.
Most recent updates:
This article is
What is the duplicate article?
Why is this article offensive?
Where is this article plagiarized from?
Why is this article poorly edited?