Kevin Garnett: "Player X" Calls KG a Coward, Are His Claims Valid?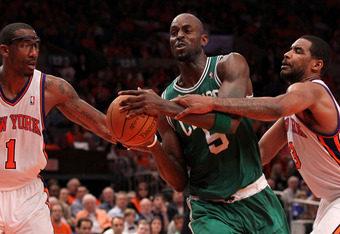 Kevin Garnett Has Been A Lightning Rod For His Mouth in the Past, Now An Anonymous Player Called Him Out In Print
You either love Kevin Garnett, or you hate him.
If you're a Celtics fan, you have to love the man because he helped bring the Celtics their first championship in a long time.
If you happen to root for any other team, you're annoyed at how Garnett constantly runs his mouth and mean mugs for the camera, playing up this tough guy persona that doesn't exist. Just ask Anthony Peeler, who jaw jocked KG years ago.
Well, ESPN has had NBA "Player X" writing for the site and he had some very pointed comments as it pertained to Garnett.
Per ESPN.com (Insider Only):
Garnett is a punk and a coward. I know, I know. Easy for me to say behind this column. Don't worry, I'll tell him to his face, too. And I'm not the only one who thinks that: If you're not on his team, chances are you hate the guy. You can learn a lot about him by watching his eyes. If he's talking to you -- and he's always talking -- he avoids eye contact. My advice to other guys in the league: Stare him down, and he'll retreat. From what I've seen, he'll never mix it up with a player who's bigger than he is. Personally, I think he's scared to fight -- like a playground bully who barks but doesn't bite.
Is Player X right? Yes. But if he says he'll say it to his face, come forward and own up to your comments. We've seen that Garnett won't do anything about it than run his big mouth and try and act tough, so just tell him what a coward he really is.
I have no problem with a player calling out another, but when you call someone a coward from behind the title of Player X, I do.
Either have the guts to have your name next to your comments or don't say anything at all. If you don't, you're just as bad as Garnett, hiding behind something so you can say whatever you want and not have to face questions for it.
MUST READ: NBA Playoffs 2011: Kobe Bryant and Each Playoff Team's Most Dangerous Weapon
Garnett is a coward. He is a phony tough guy and always has been, ever since his days in Minnesota. He always talks a bigger game than he actually possesses and never has lived up to the billing his mouth has created.
It's gotten worse since he's come to Boston and he deserves to be called out for it. Charlie Villanueva didn't back down from him and neither should Player X.
Player X, whoever he is, needs to be a man and come out of hiding. If not, he's just another coward with a big mouth who can't back it up.
Most recent updates:
This article is
What is the duplicate article?
Why is this article offensive?
Where is this article plagiarized from?
Why is this article poorly edited?