Lenny Dykstra: Former Baseball Star Accused of Lewd Conduct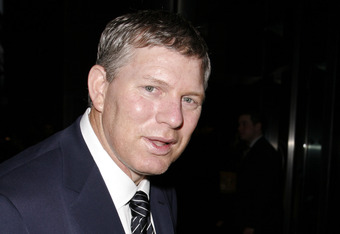 Lenny Dykstra Is in Trouble Again, This Time for Getting Naked in Front of a Woman
Lenny Dykstra just can't get out of his own way.
Dykstra, the former baseball player, has been in the news since his playing career ended for numerous things, but most importantly, his shady financial dealings. Now it's for something that I bet he wishes he could take back.
I don't know about you, but I've never gone to a job interview and had the person interviewing me strip naked and ask for a massage, but according to a criminal complaint, that's exactly what happened when a woman went to an interview to be Dykstra's housekeeper.
Per TMZ.com:
The woman told police ... when she arrived to the home, Dykstra explained that she wouldn't just have to clean the home, she would also be required to give him massages as well.

The woman claimed Dykstra then took off all of his clothes and told the woman he wouldn't be able to hire her without first sampling her skills. Smooth.

We're told the woman denied his request ... left the home immediately ... flagged down a nearby cop ... and filed a police report. She also locked down a high power attorney, Mauro Fiore Jr., to handle the case.
Classy.
My question is, how do you transition from running down the criteria of the job, to stripping off all of your clothes and asking for a massage?
Do you just stand up and start ripping clothes off? I mean, I don't want to think about it, but it's so bizarre. The crazy part, is if this is true, he somehow thought this was socially acceptable behavior. He didn't even ask if it was okay.
Smooth move, Len.
Dykstra is evidently a straight shooter and he got right down to business in the middle of the interview. It's horrible what happened to that woman, but you have to chuckle a little bit at how brazen he was in propositioning this woman. Now he's in more hot water and it's only getting worse for him.
Somehow I doubt he's getting a housekeeper any time soon. Well, that and any appointments at local massage parlors.
The word's out, Lenny's a little too forward with his desires.
Most recent updates:
This article is
What is the duplicate article?
Why is this article offensive?
Where is this article plagiarized from?
Why is this article poorly edited?