Frank McCourt: As Dodgers Flounder, Should McCourt Ever Own a Team Again?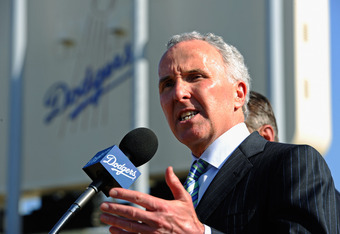 Frank McCourt Has Lost Control of His Team, But Should He Have Ever Had It?
You'd have to do a pretty terrible job to become a worse owner than Frank McCourt.
McCourt, the owner of the Los Angeles Dodgers, has had his team taken away from him by Major League Baseball and he's not going away quietly. He's fighting to keep control of his team, but the question is, why did he ever have it in the first place?
The embattled owner landed the Dodgers after countless attempts to land other sports franchises, including the Boston Red Sox. Once he landed in Los Angeles, the concerns quickly mounted.
Per Larry Stone of the Seattle Times:
Going back to 2004, Selig never should have let the overleveraged and underfunded McCourt purchase the Dodgers. Many, many people warned that he didn't have the financial means to make it work, though I don't think anyone foresaw the comedy of errors (no, that's not a Rafael Furcal reference) that was to ensue.

Dodger Stadium has been allowed to deteriorate, which is bad enough, and season-ticket sales are off dramatically this year. The Angels might actually out-draw the Dodgers for the first time.

But the capper might have been the gruesome beating of a Giants fan in the Dodger Stadium parking lot on opening day — he remains in a coma — while the Dodgers were without a full-time head of security.

The Dodgers are deep in debt and have been struggling to make payroll. McCourt had to do an end-around Selig to orchestrate a personal $30 million loan from his television partner, Fox, in order to do so — another final straw for the commissioner.
Oh, and if that wasn't bad enough, the team was backed by money from a Ponzi scheme. Brilliant.
Simply put, McCourt shouldn't keep his team, nor should any league, anywhere, allow him to own a franchise.
He has shown time and time again that he has no idea what he's doing in terms of managing finances and putting together an atmosphere that is safe and enjoyable for fans. He may fight to keep his team, but under no circumstances should he ever get it back.
MUST READ: MLB Free Agency 2011: Albert Pujols and the Top 30 Stars Who Could Be Available
The man is inept, he's delusional and out of his league. He has been since he stepped foot in baseball and McCourt has eliminated any doubt with the way he has run this historic, proud franchise right into the ground.
Bud Selig did the right thing by stripping the team away from him, and now it's time to force him to sell and get him out of professional sports for the rest of his days.
Most recent updates:
This article is
What is the duplicate article?
Why is this article offensive?
Where is this article plagiarized from?
Why is this article poorly edited?