Manny Pacquiao: Does Shane Mosley Have Any Chance at Beating Pacquiao?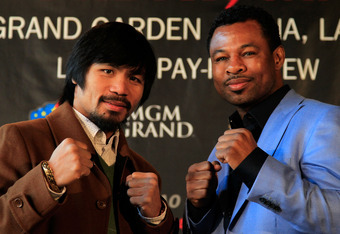 Manny Pacquiao and Shane Mosley Will Meet, But Does the Veteran Fighter Have Any Shot?
Manny Pacquiao is the greatest fighter in the game today.
Shane Mosley is a man who has seen the prime of his career go by but will have a chance to rise to the top of the mountain with an upset of Pacquiao, who has dominated opponent after opponent for the past couple of years.
With that at the front of his mind, Mosley has immersed himself in this fight.
Per Nick Giongco of MB.com:
Holed up in Big Bear, a high-altitude training camp around 100 miles from Los Angeles since early-March, Mosley has done nothing the past seven weeks but eat and breathe Pacquiao, something that has injected a sense of heavy optimism in his camp.

While Richardson remains tightlipped about their chances as he once praised Pacquiao to the high heavens as though Mosley will have to come up the ring with a crowbar that he will use to whack Pacquiao, Mosley sounds a bit more certain that he will "shock the world" next month.

"He hasn't fought somebody like me," said Mosley, who, even at his age, remains a livewire opponent owing to his vast experience, fast hands, punching power and durability.
Sorry, but I'm not buying it.
Pacquiao is a machine and he's been in overdrive in his current training regime. Mosley has a puncher's chance, but that's not exactly the best odds of winning this fight. We saw Floyd Mayweather Jr. beat him not too long ago, so what does that mean for his chances, especially when Mosley isn't getting any younger.
MUST READ: Amir Khan, Saul Alvarez and the Top 15 Prospects Under 26
This is going to be a fight where Pacquiao gets Mosley off balance and just works him with powerful jabs to the face and bone-crushing body shots. I haven't seen a fighter like him in a long, long time, and when he's in the zone, he's almost impossible to beat.
Mosley has been working hard to try and beat him, but the reality is that at this stage of his career, he doesn't have a chance to beat Pacquiao.
Most recent updates:
This article is
What is the duplicate article?
Why is this article offensive?
Where is this article plagiarized from?
Why is this article poorly edited?