NBA Playoffs 2011: L.A. Lakers vs. New Orleans Hornets Game 4 Live Blog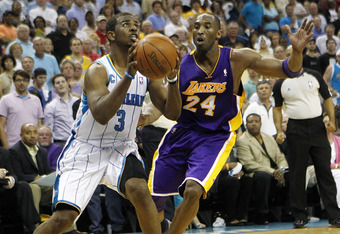 Jeff Zelevansky/Getty Images
Happy Easter, everyone. Welcome to the Los Angeles Lakers vs New Orleans Hornets Game 4 live blog. The game will be starting in roughly 15 minutes.
Tonight the Lakers will hope to take a commanding 3-1 advantage in the best of seven first-round playoff series.
With their backs up against the wall, the Hornets should play very loose, desperate basketball tonight in front of their home crowd.
After a terrific performance from Chris Paul, the Hornets stunned the Lakers by winning Game 1 in Los Angeles.
After stellar defensive performances in Games 2 and 3, the Lakers have bounced back to take a 2-1 series lead.
Although both teams are among the best in the league defensively, as the first three games have indicated, I wouldn't be surprised if tonight's game wasn't a little more high scoring.
I see the Lakers winning a relatively close game.
Lakers 108-Hornets 99
Thanks to everyone for checking in tonight. My Game 4 report card will be posted shortly.
Continue to enjoy all of the playoff action.
Hornets win the ballgame 93-88 and even the series at two games each. Game 5 will be Tuesday night in Los Angeles.
Kobe Bryant finished with 17 points and 8 assists.
Chris Paul finished with 27 points, 15 assists and 13 rebounds.
Jack hits both free throws. Hornets up by four again.
Gasol gets a quick basket to cut the deficit to two with seven seconds left.
Jarrett Jack hits a ten foot fadeaway. Hornets up 90-86 with nine seconds remaining. Looks like the Hornets are going to even the series.
Odom sinks both free throws. Hornets leading 88-86 with 33 seconds remaining.
Lamar Odom going to the free throw line. Lakers down four with 33 seconds remaining.
There is a scrum for a loose ball. Jump ball coming between Odom and Landry.
88-84 Hornets
45 seconds left.
Kobe's pass slips through Gasol's hands. Hornets' ball.
Kobe back on the court after tweaking his left ankle.
Kobe committed his fourth foul and tweaked his ankle in the process. Shannon Brown checks in for Bryant.
Hornets have four point lead with 1:32 left in the game.
CP3 hits two free throws to give the Hornets a five point lead with 2:04 left in the game.
Outside of Paul's triple double, both team's offenses have been ugly tonight.
Lakers shooting 31 % in the fourth quarter...
CP3 hits two free throws to give the Hornets five point lead with 3:23 left in the game.
Kobe makes 1-2 at the charity stripe. Lakers on a 6-0 run.
81-78 Hornets.
Kobe drives hard to the rim to draw the foul on Okafor.
Kobe hits a jumper to bring the Lakers within four. 81-77 NO.
CP3 feeding off the crowd, putting on a clinic.
CP3 gets the and 1. Hornets have built an eight point lead.
Kobe back on the court for the Lakers.
Willie Green hits a three-pointer to give the Hornets a 76-71 lead.
With Kobe and Pau on the bench, the Lakers need something from Lamar Odom.
Bynum hits a jumper. 73-71 NO.
Bynum has been limited tonight due to foul trouble.
So much for my "high scoring game" prediction.
Shannon Brown hits a long deuce to start the fourth. Game tied at 69.
End of the 3rd quarter. Hornets leading 69-67.
Kobe scored 14 points in the third quarter.
CP3 has a triple double with 13 points, 13 assists and 11 rebounds.
This article is
What is the duplicate article?
Why is this article offensive?
Where is this article plagiarized from?
Why is this article poorly edited?

Los Angeles Lakers: Like this team?