NBA Playoffs 2011: First-Round Results, Analysis and Predictions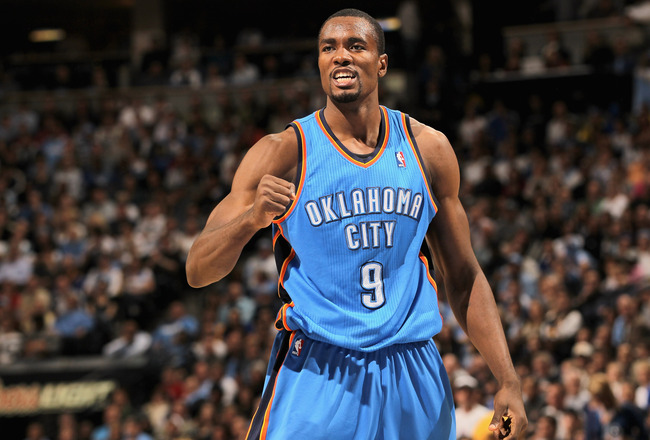 Doug Pensinger/Getty Images
The NBA postseason is a long and winding journey. There are smooth stretches, complete with winning streaks and blowout wins. Going the other direction, of course, are those bumpy moments highlighted by injuries and tough home losses. All of that said, April 23rd is kind of like the proverbial fork in the road, with four series that can go many directions.
Chicago vs. Indiana—Though these two cities are separated by just 184 miles, their respective teams couldn't be more different. The Bulls have an electric Derrick Rose and thorns named Carlos Boozer, Luol Deng, Kyle Korver and Joakim Noah. The Pacers have a more balanced offense and play steady D.
Dallas vs. Portland—The home team's won all three games thus far. And with today's pivotal Game 4 in front of the riotous Blazers fans, this tussle may have the makings of six-or seven-game series.
San Antonio vs. Memphis—In a series that's had the most shocking results thus far, the young Grizzlies have clawed their way to a 1-1 tie with the veteran Spurs. A win in front of a spirited Tennessee crowd tonight could turn this matchup in a direction no one saw coming.
Oklahoma City vs. Denver—The Nuggets fought hard in a Game 1 loss. In Game 2, they looked completely lost. If they can't get their Garmin working by Game 3's tip, this series may be headed towards being the lone sweep in the Western Conference.
Stay tuned throughout the night as we navigate around the crazy, detour-filled action...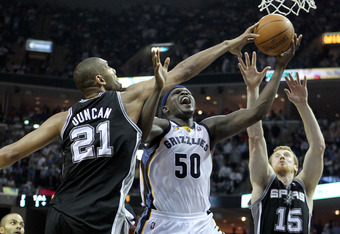 November 1948- Elvis Presley moves from Tupelo, MS, to Memphis.
September 1959- Stax/Satellite Records release its first R&B record.
April 23, 2011- The Memphis Grizzlies win their first home playoff game.
If you let that last fact soak in, you can fully understand why Grizzlies star Zach Randolph was caught dancing and singing as DJ Khaled's "All I Do Is Win" blared from the FedEx Forum rafters. The 91-88 win over San Antonio was literally music to Memphis' ears. It was a burden-lifting, critic-defying, series-shifting victory folks along Beale Street won't forget for a very long time.
But for all the smiling the Grizzlies are probably doing right now about a 2-1 series advantage over the Spurs, it almost didn't happen. San Antonio out-rebounded Memphis 48-37 and got a solid all-around effort from Manu Ginobili, who had 23 points and five rebounds. Even in the game's waning moments, the Spurs had a chance to tie things up. Ginobili worked his way to the three-point line for a last-second heave, but with Memphis' smothering perimeter D, it wasn't meant to be.
Memphis will try to write even more franchise history with a Game 4 win at home on Monday.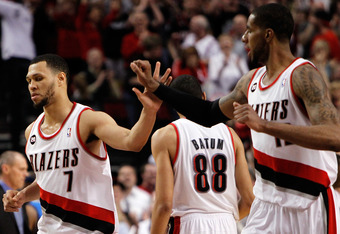 There are comebacks and then there are "Man, you really, really had to see it to believe it" moments. As you might expect, the latter doesn't happen too often. But on Saturday night, it did in historical fashion. The Portland Trail Blazers came back from an 18-point fourth-quarter deficit to stun the Dallas Mavericks, 84-82, and send this series back to Texas all squared away at two games.
The Blazers, who muffed, mismanaged and missed for 36 of the contest's 48 minutes, outscored the Mavs 35-15 in the fourth, hitting a sizzling 75 percent of their shots. The combination of Portland guard Brandon Roy's 18 points in the final frame and a throaty Rose Garden crowd powered the win, the second-biggest comeback in playoff history.
The remarkable Roy was all smiles with The Oregonian after the game.
"When we were making the comeback, I never thought we were going to win the game. But win the Blazers did, in a rally that almost had to be seen to be believed. It was an incredible game to be a part of."
And it was nearly as incredible to watch it all happen as an NBA fan.
Game 5 is Monday in Dallas. The Mavericks will do everything in their power to have the miserable taste of this meeting out of their mouths before then. Stopping the whispers about another early Dallas playoff exit, however, might prove even tougher.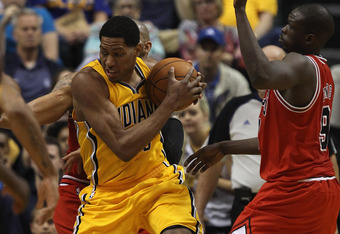 If you're looking to hand out credit for the Indiana Pacers' sweep-avoiding win over the Chicago Bulls on Saturday, you can go a couple of ways. Indiana big man Roy Hibbert was a monster. A gimpy Derrick Rose had a nightmare game. Still, if you're looking for the biggest reason there will be a Game 5 in the Windy City on Tuesday night, look no further than the Pacers' No. 33 Danny Granger.
Oh, you didn't know Granger wore No. 33? Don't beat yourself up too bad. Most folks don't know that the guy's already cracked the top 100 in career three-pointers made or that he had nine games of 30-plus points this past season either. But if you saw him in action today, you got hints to what you've been missing. Mid-range jumpers. Strong finishes at the cup. Clutch free throws. Morning headlines will gush about his 24 points, but the sub header ought to say something about the suffocating defense he played on Luol Deng and Carlos Boozer for four do-or-die quarters.
Granger spoke to reporters after the game.
"The mentality is play it like it's the last game you ever play in your life. We played like that tonight."
Who knows if this one game will prevent the Pacers from being the Bulls' eventual stepping stone? The only thing we're pretty certain of is that, with a few more clutch performances like today's showing, Danny Granger won't help but step more into the NBA spotlight.

Dallas Mavericks: Like this team?