MLB Predictions: Josh Beckett and 5 Dark Horse AL Cy Young Award Candidates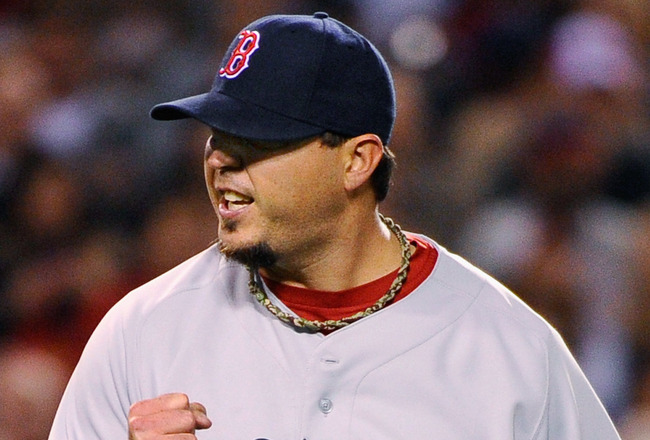 Kevork Djansezian/Getty Images
The AL Cy Young Award favorites have been struggling early in the season. Guys like Felix Hernandez, Justin Verlander and Jon Lester have been good, but not great, out of the gate.
While a new generation of starting pitchers is coming into its own in the big leagues, there are other pitchers that could have resurgent seasons.
Hernandez, Verlander and Lester are still the favorites for the award, but they will have to watch over their shoulders to see if these five guys keep on catching up.
Jered Weaver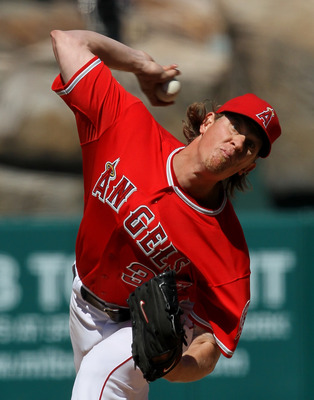 Stephen Dunn/Getty Images
Jered Weaver made a jump last year into the elite group of MLB's best, yet his name still doesn't have the cachet of other All-Stars. So while he is the least dark of the dark horse candidates, he has yet to become a name brand.
Weaver has been arguably the best pitcher in baseball so far this season. With five wins, 39 Ks in 36 innings and a sub-2.00 ERA and sub-1.00 WHIP, Weaver has been nothing short of dominant.
Weaver and teammate Dan Haren (another popular Cy Young choice) have made up the best one-two punch in baseball so far and would make the Angels a scary team to play in a playoff series.
Brett Anderson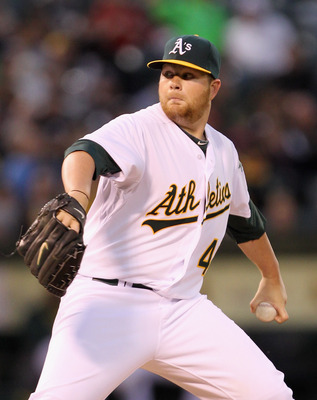 Ezra Shaw/Getty Images
Brett Anderson also had a breakout 2010 season. Although he started just 19 games due to injury, he put up phenomenal peripherals with a 2.80 ERA and 1.19 WHIP.
Anderson's successes last year have carried into this season. Although he has only won one game so far, he has pitched well in each start with an even lower ERA and WHIP than last season.
If Oakland can start providing run support and protecting leads, expect Anderson to be in contention for the Cy Young at season's end.
Josh Beckett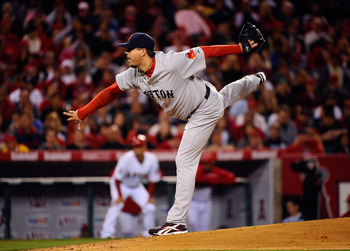 Kevork Djansezian/Getty Images
Josh Beckett used to be in the upper tier of pitchers in baseball. However, his 2010 season was so bad that most baseball experts were counting him out of the 2011 Cy Young debate.
A pattern of note for superstitious fans is that Beckett's numbers are substantially better in odd-numbered years than even-numbered years. Throughout his career, Beckett has consistently been hurt or ineffective in even-numbered years. In fact, in every single even-numbered season, Beckett has racked up a higher ERA than the odd-numbered season immediately before and after.
With that logic, 2011 should be a good season for Beckett—and thus far he has put up outstanding numbers, striking out a batter an inning to go along with a sub-2.00 ERA and sub-1.00 WHIP.
Michael Pineda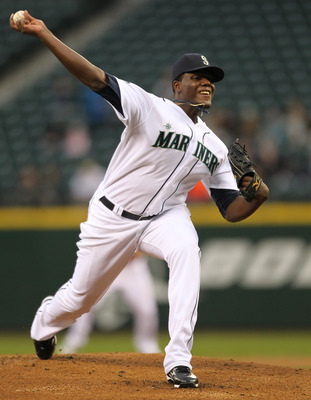 Otto Greule Jr/Getty Images
Michael Pineda has a lot in common with his teammate and Cy Young Award favorite Felix Hernandez—they both came to the majors at a young age and achieved early success.
At least it appears Pineda will achieve early success. So far, in his rookie season Pineda has started four games, gone at least six IP in each and only allowed more than one earned run once (he allowed three).
Rookie pitchers don't have a track record of sustaining success through a season, but Pineda is starting to look like one of the more exciting young pitchers in the game. While he is a long shot for this year's Cy Young Award, he might be a favorite in 2013 or 2014.
Matt Harrison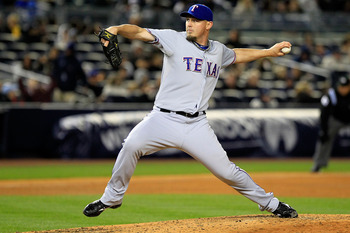 Chris Trotman/Getty Images
Matt Harrison only started six games last season, getting most of his work in a relief role. Harrison has adjusted to the starting rotation so far and has the opportunity to be one of the game's best pitchers this season.
Harrison has always had great stuff (although it doesn't show in his K numbers), but this season he's put it together with consistency. Harrison has won three games so far this season with an ERA of 1.88 and a 0.94 WHIP.
Texas has a history of weak starting rotations. Harrison's pitching leadership could bring Texas' lineup to the playoffs. If he keeps up his early-season success, his name will be thrown around for the Cy Young.
Keep Reading