NFL Draft 2011: Latest News, Analysis and Predictions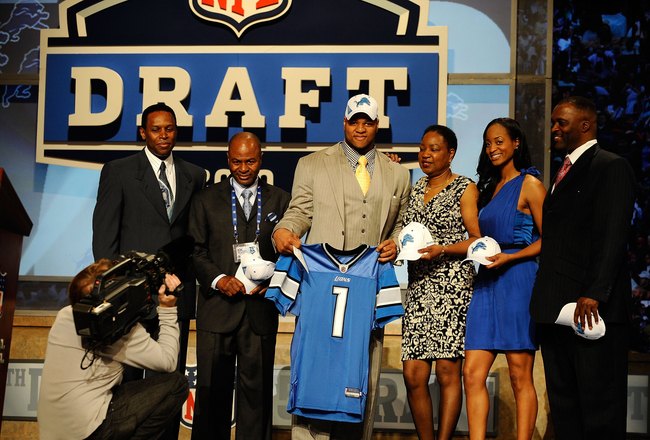 Jeff Zelevansky/Getty Images
The annual talent frenzy known as the National Football League draft is just days away in New York, and we'll keep you up to date on all the latest news (are the New Orleans Saints really thinking about trading down?), to the latest rumors, to the latest updates.
We'll also mix in a few predictions and offer up some of our own mock draft choices and analyze.
This is one of the most widely anticipated NFL drafts in recent memory, in large part due to the talent available, especially at quarterback, and in some small way due to the dark cloud above known as the labor issue.
The league is now in its fifth week of the lockout, and little progress has been made despite both the owners and payers being called back before a federal mediator.
The draft might very well end up being the last signature event for the NFL for quite a while unless the two sides can hammer out an agreement.
Every year, the final pick of the National Football League Draft is honored as Mr. Irrelevant. It's a bit of a bittersweet thing -- there's a certain ignominy in being taken last, but at least you're one of the 250+ players who are actually taken, instead of being relegated to trying to catch on as a free agent.
Last year, that player was Weber State wideout Tim Toone, who was selected by the Detroit Lions with the 255th and final pick.
So, who's this year's Mr. Irrelevant going to be?
Here's one guess: Marc Schiechl, the defensive end for the Colorado School of Mines, a Division II school. He ended his career as the Division II career sacks leader with 46. Schiechl is a pretty good player, but the operative word in all this is .... Division II. We'll have to see how NFL teams respond to that next weekend.
Brian Billick has earned himself something of a reputation as a top NFL analyst since leaving the coaching ranks.
The Super Bowl-winning mentor of the Baltimore Ravens doesn't pull any punches when it comes to opinion, and he didn't do that on Friday when he wrote on Fox Sports that Missouri's Blaine Gabbert -- NOT Cam Newton -- is the bet available quarterback in the draft.
"He may not be a franchise quarterback from the very first start, but because of the lack of overall quarterback talent in the draft, and with free agency being delayed, teams may be forced into drafting Gabbert as the savior of their franchise," Billick wrote.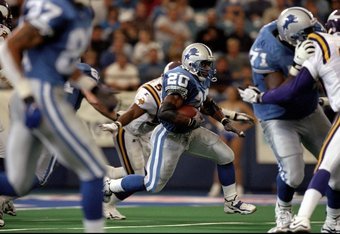 Interesting little twist by the NFL.
After Commissioner Roger Goodell does the honors on Thursday night by announcing all 32 first-round NFL Draft picks, the league has invited 32 retired stars -- one for every team in the league -- to announce the respective pick for their former team.
Here's the list:
* Arizona Cardinals, Aeneas Williams (CB)
* Atlanta Falcons, Jessie Tuggle (LB)
* Baltimore Ravens, Peter Boulware (LB)
* Buffalo Bills, Andre Reed (WR)
* Carolina Panthers, Brad Hoover (FB)
* Chicago Bears, Richard Dent (DE)
* Cincinnati Bengals, Anthony Muñoz (OT)
* Cleveland Browns, Paul Warfield (WR)
* Dallas Cowboys , Charles Haley (DE)
* Denver Broncos, Shannon Sharpe (TE)
* Detroit Lions, Barry Sanders (RB)
* Green Bay Packers, Jim Taylor (FB)
* Houston Texans, Aaron Glenn (CB)
* Indianapolis Colts, Jeff Herrod (LB)
* Jacksonville Jaguars, Donovin Darius (S)
* Kansas City Chiefs, Willie Lanier (LB)
* Miami Dolphins, Sam Madison (CB)
* Minnesota Vikings, Chris Doleman (DE)
* New England Patriots, Andre Tippett (LB)
* New Orleans Saints, Willie Roaf (OT)
* New York Giants, Joe Morris (RB)
* New York Jets, Marty Lyons (DT)
* Oakland Raiders, Willie Brown (DB)
* Philadelphia Eagles, Troy Vincent (DB)
* Pittsburgh Steelers, Franco Harris (RB)
* St. Louis Rams, Marshall Faulk (RB)
* San Diego Chargers, Natrone Means (RB)
* San Francisco 49ers, Dwight Clark (WR)
* Seattle Seahawks, Cortez Kennedy (DT)
* Tampa Bay Buccaneers, John Lynch (S)
* Tennessee Titans, Jevon Kearse (DE)
* Washington Redskins, Doug Williams (QB)
So what do the Carolina Panthers do with the No. 1 pick?
Virtually every expert and every mock draft has the team taking Auburn quarterback and Heisman Trophy winner Cam Newton with the No. 1 overall pick.
Now comes news that former Carolina executive Tony Softli predicts that the Panthers will pass on Cam Newton and take Alabama DT Marcell Dareus with the No. 1 overall pick in the draft. Softli believes there is a bigger need at defensive lineman than quarterback.
That may very well be true, but what Carolina really needs is an infusion of enthusiasm and excitement down in Charlotte in a market that is overwhelmingly preoccupied with NASCAR, college football and college basketball. It might not be in that order but, no matter what order it's in, the Panthers and pro football are still a distant fourth.
That's why drafting Newton adds some juice. The Panthers need to show their fans something on the way back relevancy, and this is a good first step.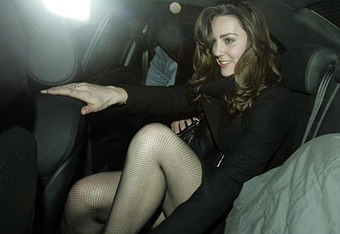 You know, come to think of it, if the second round of the NFL Draft on Friday, April 29, really did run at the exact same time as the Royal Wedding, which is on the same day, it just might be a tough call.
Because that picture right there, folks, is Kate Middleton, future Queen of England, and she has better legs than any NFL draft pick.
But, then again, that's what picture-in-picture and DVRs are for.
Yeah, she's got great legs ... but do they run a 40 as fast as Cam Newton or Julio Jones?!?!
In case you missed it, Miami Dolphins wide receiver Brandon Marshall was stabbed overnight, apparently by his wife, whom police took into custody.
Marshall was admitted to a South Florida hospital intensive care unit, although his agent said he is expected to make a full recovery.
But one has to wonder whether that changes things for the Dolphins in terms of their draft priorities. There's no question Marshall is an amazing talent. He joined Miami last year, signed a four-year, $47.5 million contract, and led the team with 86 receptions for 1,014 yards.
Problem: He's also a head case who has hid troubles on and off the field, which hastened his departure from Denver.
Miami has the 15th pick in the NFL Draft. Assuming there's a season and assuming that the next four-plus months are enough time to make a recovery, Marshall is Miami's No. 1 receiver. Or is he? It remains to be seen if this latest episode scares the Dolphins enough to make a move to trade up in the draft to try for Georgia receiver A.J. Green or Alabama's Julio Jones.
Miami's Davone Bess is a good slot receiver, and Brian Hartline is dependable, but neither is a Brandon Marshall. The Dolphins have some tough decisions to make in the next few days.
The 76th annual National Football League Draft is on the clock, and we've got your tale of the tape right here.
The draft will be held on Thursday, April 28; Friday, April 29; and Saturday, April 30.
Thursday is strictly first-round selections only and will be held in primetime beginning at 7 p.m., televised, live by both ESPN and the NFL Network. That's when the actual draft begins; between now and then we estimate there will be 7,000 hours of shoulder programming surrounding the draft, including analysis, mock drafts, previews, breakdowns, and a little bit of everything.
Friday will be rounds two and three, and will start at 5 p.m. Again, both networks will have coverage.
And Saturday's third and final round will take place starting at 11 a.m.
Here's a little video of the first 10 minutes or so of last year's draft to get you in the mood.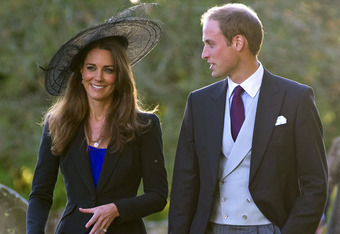 While the rest of the world's media is gearing up to head to London for the Royal Wedding of Prince William and Kate Middleton -- CNN is rumored to have 125 people on the ground in the U.K. -- the focus of football fans will be on Radio City Music Hall in New York for the NFL Draft.
But we would be remiss if we didn't point out that the two events do coincide.
Will and Kate's royal wedding takes place on Friday, April 29, while Day Two of the NFL Draft (the second and third rounds) will be held that night. Day One, of course, is Thursday night with first-round selections, and Day Three kicks off Saturday morning with rounds four through seven.
Alas, the two events do not overlap. Due to the six-hour time difference between New York and London, network coverage of the Royal Wedding actually is beginning at 2 a.m. on Friday morning, and while it certainly will carry on through the day and night, there shouldn't be much of a fuss over the remote control.