Grading Each Team's Best Player's Performance Thus Far in the NBA Playoffs
Rob Carr/Getty Images
The NBA Playoffs have always been dominated by the superstar the clutch performer: the go-to guy; the matchup nightmare; the game winners.
Every team has one in the playoffs. How well they do usually determines how well the team does in the postseason.
So, how are the star players in this year's NBA Playoffs doing so far?
SAS: Tim Duncan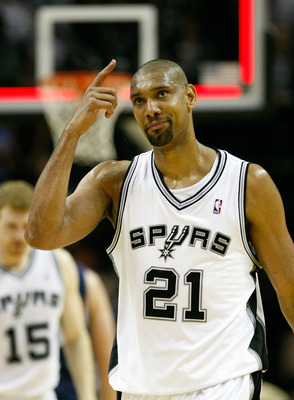 Ronald Martinez/Getty Images
Grade: A-
Duncan has always been a great player, especially when it comes to the playoffs. T
his year, he's turned back the clocks and had a great postseason to this point, with 16 PPG and 11.5 RPG.
He's helping his team out in all areas, and despite a first game slip-up, the Spurs are tied with the Grizzlies at one game a piece.
LAL: Kobe Bryant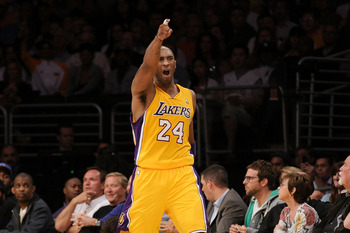 Harry How/Getty Images
Grade: B+
Kobe being Kobe.
He's scoring all over the place, as usual, averaging 22.5 PPG. He hasn't helped his team much in other categories, but Kobe never really has.
He's a pure scorer, and is ever so valuable to his team for that.
He has helped his team come back from the first game slip up against the Hornets to lead the series 2-1.
DAL: Dirk Nowitzki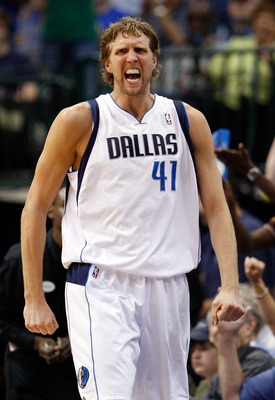 Ronald Martinez/Getty Images
Grade: A
Dirk is carrying Dallas once again. He has a staggering 28.7 PPG and 8.7 RPG.
Without him, Dallas would be losing to Portland easy, rather than leading the series 2-1.
OKC: Kevin Durant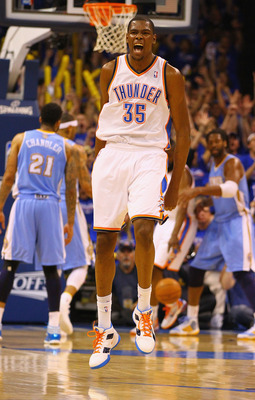 Dilip Vishwanat/Getty Images
Grade: A+
Durant has had an absolutely awesome season, and he's followed it up with an absolutely awesome postseason to this point. He has 32 PPG and 7 RPG.
He's not just helping the Thunder in the way he always does—scoring a ridiculous amount of points—but he's also helping out on the boards.
He is in large part the reason that OKC is up 2-0 against Denver.
DEN: Nene Hilario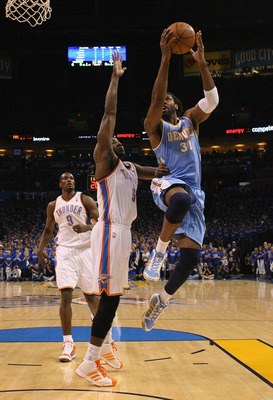 Dilip Vishwanat/Getty Images
Grade: B+
The Nuggets have been a little discouraged thus far in the playoffs, losing the first game because of a since-admitted miscall, and getting blown out by OKC in Game 2.
Still, Nene has put up good numbers, including 19 PPG and 8.5 RPG.
It's tough to say who the overall best player is on this balanced Denver team, but so far in the playoffs it's been Nene.
He'll try to help Denver bounce back at home from an 0-2 deficit.
POR: LaMarcus Aldridge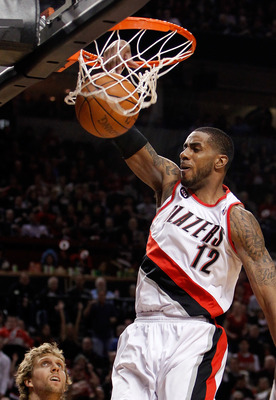 Jonathan Ferrey/Getty Images
Grade: A
In a normal season, Brandon Roy would of course be Portland's best player.
But this year, Roy is just trying to come back from injury and Aldridge is exploding onto the scene with a breakout year.
The postseason hasn't slowed him down, either. He has 23.7 PPG and 6.7 RPG.
He's helped Portland bounce back from an 0-2 deficit to make it 1-2, and will try to even the score on Saturday in Portland.
NOH: Chris Paul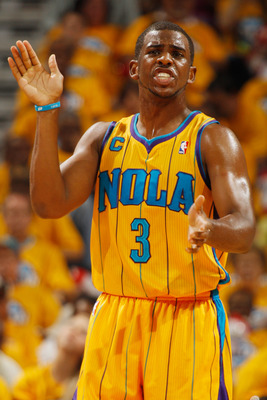 Chris Graythen/Getty Images
Grade: A
Paul has carried his team in the playoffs thus far.
He has 26.7 PPG and 11.5 APG, and was pretty much he reason for the Hornet's upset in game one over the Lakers.
Now they find themselves down 2-1 in the series, but Paul will continue to give his all, you can count on that.
MEM: Zach Randolph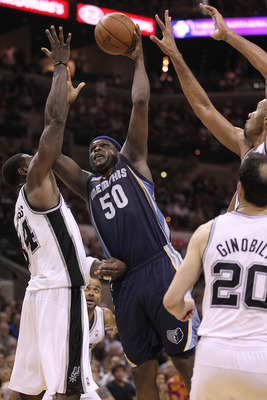 Ronald Martinez/Getty Images
Grade: A
Randolph has had a breakout season, and he's continued that great play into the postseason.
He has neared a double-double average, with 18 PPG and 9.5 RPG.
He was the main force helping Memphis to shock San Antonio in game one, and his grizzlies almost did it again in Game 2.
With the series heading back to Memphis, you can expect a great game out of Randolph.
CHI: Derrick Rose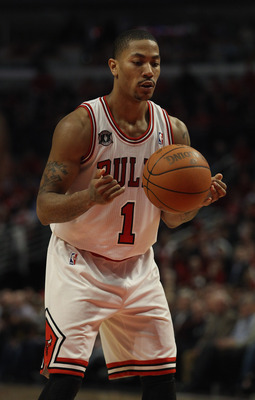 Jonathan Daniel/Getty Images
Grade: A+
If Rose isn't the MVP of this league, I don't know who is.
He's kept his fantastic play going into the postseason, and has even gotten better. He's completely taken over Chicago's offense, scoring an average of 32 PPG in the playoffs.
His 41 points in game one helped the Bulls avoid a game one upset at the hands of the Pacers with a fourth quarter run.
Now, Rose and the Bulls find themselves up 3-0 in the series, trying to sweep Indiana.
MIA: LeBron James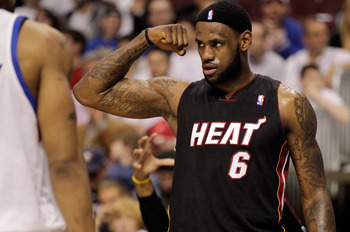 Rob Carr/Getty Images
Grade: A
Sorry Cavs fans, LeBron is not a sidekick in Miami, even with two of the other players among the league's elite by his side.
He's proved that all season, and he's proving it in the playoffs.
He has put up great numbers, including 24.7 PPG and 12 RPG. He has helped the Heat demolish the Sixers, as Miami leads the series 3-0.
The King continues to amaze; we are all witnesses.
BOS: Paul Pierce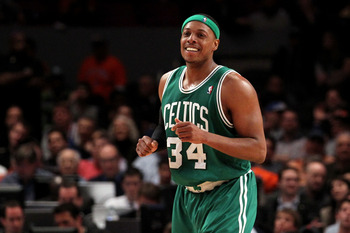 Nick Laham/Getty Images
Grade: B
With three great players around him, Pierce has flourished since the season in which the original Big 3 was brought together.
In these playoffs, he's playing well, but not amazing like he usually does.
Maybe it's because of age, or because Rondo has taken the reigns, but his numbers aren't quite what they have been in previous playoffs, with 19 PPG and no significant numbers in any other category.
Despite Paul's minor falloff, the Celtics are teaching the Knicks what a Big 3 is, taking a commanding 3-0 lead after Friday night's win.
Pierce and the C's will try to sweep NY in the Big Apple.
ORL: Dwight Howard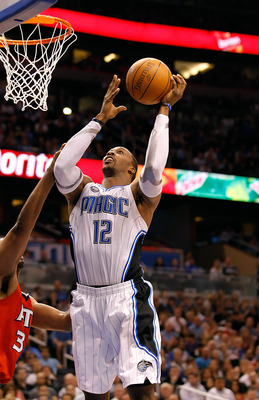 J. Meric/Getty Images
Grade: A+
Howard may come up a bit short in the season's MVP race vs. Rose, but he is definitely the MVP of the postseason to this point.
He has posted a jaw-dropping 39.5 PPG and 19 RPG in the three games he's played so far.
Somehow, though, his incredible playoffs hasn't been enough, as the Hawks are leading the Magic 2-1 in what has the makings of an epic series.
On a slight side note, I love Superman's new goatee.
ATL: Joe Johnson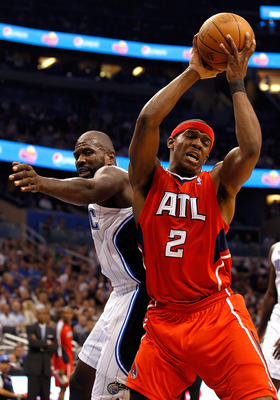 J. Meric/Getty Images
Grade: B
Johnson has a very good team around him, but he is definitely the leader of the Hawks.
In these playoffs, though, that hasn't been the case.
Although he's come up clutch a couple of times in this series vs. Orlando, he has had sub-par numbers to this point, with 19.5 PPG and, much like Pierce, no other significant numbers.
Still, he has played with a lot of heart as he always does, and is helping the Hawks hold a 2-1 series lead over Orlando.
NYK: Carmelo Anthony
Elsa/Getty Images
Grade: A
Carmelo has, as always, put up good numbers in the postseason so far.
He has 28.5 PPG and 10 RPG in the three games he's has in the postseason.
But the reason for this grade isn't his numbers, but the fact that he's played the majority of these playoffs without either of his two star companions, and a team much shallower than the one he lead in Denver for so many years.
He has played with so much determination and grit, and lead the Knicks to two nail-biting losses to the Celtics in Boston.
I don't believe in moral victories in most cases, but this is one. Good job 'Melo, keep it up.
PHI: Andre Igoudala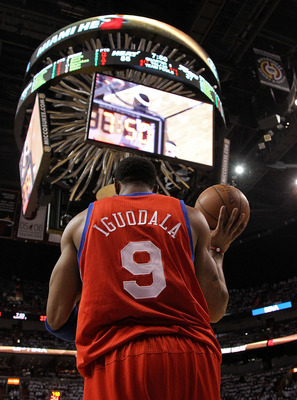 Mike Ehrmann/Getty Images
Grade: C
The second A.I. to lead the Sixers hasn't been as good as the first, but he's been close.
In these playoffs, however, he hasn't been close.
He has had shockingly low numbers, with about 6 PPG and RPG. He has lead the team morally, but certainly not performance-wise.
If he picks up his game to where it usually is, then the Sixers may have a chance to come back from this 3-0 deficit they've dug themselves into against the Heat.
IND: Danny Granger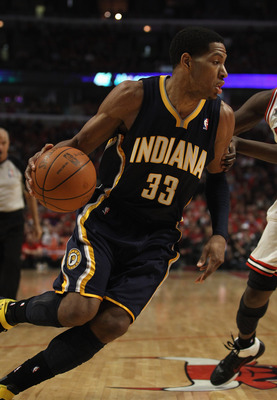 Jonathan Daniel/Getty Images
Grade: B+
Granger has been faithful to Indiana for so long, it's nice to see him finally rewarded with a trip to the playoffs.
He's performed pretty well so far in his first games after 82, with 21.3 PPG in the three games he's played.
Still, he has no significant numbers aside from that, and to get an "A" you have to have those significant numbers.
Indiana, led by Granger, will try to erase a 3-0 deficit vs. the Bulls.
Keep Reading