2011 NHL Playoffs: Anaheim Ducks vs. Nashville Predators, Live Blog for Game 5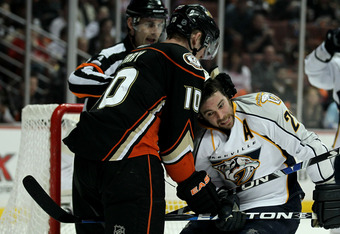 Stephen Dunn/Getty Images
Hello everyone! NHL Featured Columnist Kyle Nicolas here back with you tonight to live blog what is certain to be an intense, hard-fought Game 5 that could make or break the series for either one of these teams.
With the series tied at 2-2, there's a lot of excitement in Anaheim, especially because of the Ducks' big win in Game 4 by a score of 6-3.
Bobby Ryan will be back in the lineup for Anaheim tonight after serving a two-game suspension
For Nashville, they'll be looking to rebound from a massive collapse in the third period of Game 4, which saw them surrender three quick goals and ultimately drop a game to Anaheim in their building for the first time this season.
And another big question is, will Pekka Rinne be the man in net for Nashville again, or will backup Anders Lindback—who stopped all nine shots he saw in relief on Wednesday and has beaten the Ducks once already in the regular season—get his chance to start?
Keep it here for more thoughts and analysis as the game progresses, and of course, you can follow me on Twitter for updates, news, links and to contact me as the game progresses.
Should be one whale of a game we've got here.
One final reminder: if you enjoyed this live blog you can follow me on Twitter for news, updates, links, and other commentary from me. A link to my post-game article will be up soon.
End of Game: A late goal stuns the Ducks and the Preds are going home with a chance to win their first ever playoff series.
Stay tuned for my post-game summary and analysis that will be coming out soon on Bleacher Report.
Thanks again for following me over this game and I look forward to blogging again in game six.
Final Shots: Nashville: 3 (total: 37), Anaheim: 0 (total: 26)
Nashville Goal: Jerred Smithson ends it less than two minutes into overtime. Jordin Tootoo makes a perfect pass to the front of the net where Smithson buries it. Just like that the Ducks go from having the series lead just seconds away to being down 3-2 in the series heading to a building where they've won only once this season. It's an absolute shocker and the Preds win it by a score of 4-3.
Nashville has never won a game five in their history. But that could change with one shot right now. Here we go with the start of overtime.
End of Regulation: The Ducks aren't able to convert one final faceoff and the series is going to see its first overtime session.
Two goals each in the third period and we're going to sudden death hockey.
Third period shots: Nashville: 16 (total: 34), Anaheim: 9 (total: 26)
Nashville Goal: Shea Weber absolutely burns the Ducks off the icing call as he lets a booming shot go that Ray Emery can't find through about six bodies in front of him. It's a stunning blow and the game is tied 3-3 with less than a minute left.
Emery makes a dazzling pad save as the clock ticks down to one minute. Pekka Rinne heads to the Nashville bench.
Randy Carlyle uses his timeout as the Anaheim lineup is flat out exhausted after an icing call.
Nashville has been throwing absolutely everything they have at the Anaheim Ducks end, and the crowd is on their feet cheering. Man I love playoff hockey.
If you couldn't feel the tension before... how about now?
John Ahlers: "Buckle your seatbelts." That just about sums it up.
Anaheim Goal: Jason Blake's second of the night is an absolute dagger for the Predators. Teemu Selanne takes a hit, but still manages to turn the puck off a sleeping Pekka Rinne who kicks the rebound to a wide-open Blake. It's 3-2 Ducks and we've got a barn-burner of an end to this game coming.
The Predators number-one offensive line of Hornqvist, Kostitsyn, and Fisher has been just a huge pain for the Ducks tonight.
Nashville Goal: Joel Ward ties the game at 2-2 when a rocket off the end boards finds its way back out to the front of the net for him to bury. With the amount of pressure Nashville had been putting on the Anaheim net you know that had to be coming and we've got a lot of hockey left in this one.
Corey Perry's stick saves the day as an Anaheim turnover finds its way just feet in front of the goal crease. The shot might have gone wide, but Perry's stick still pushed it wide of the left post.
I think it's safe to say this game five has been everything it was built up to be and more.
Ryan Getzlaf and Teemu Selanne string together a dangerous 2-on-1, but Getzlaf tries for one too many passes, and the critical feed is behind Selanne and he can't get a good shot off. Remember that chance because it just might come back to haunt Anaheim with the amount of pressure Nashville is throwing at Anaheim.
Nashville is responding quickly to that goal by putting a lot of pressure on the Anaheim net, but Ray Emery is holding strong.
Can you feel the tension yet?
Ryan Getzlaf and Corey Perry have a brilliant 2-on-1 opportunity where they fake out the defenseman, but a sprawling Pekka Rinne just forces him wide and prevents the play from being made. The Preds dodge a big bullet and it's still a one-goal lead for Anaheim.
Amidst the shock and amazement at that absolutely incredible goal, the Ducks have now caused the first official lead change of the series.
Anaheim Goal: WITHOUT QUESTION THE GOAL OF THE PLAYOFFS THUS FAR! Bobby Ryan forces a turnover at the Anaheim blueline before absolutely undressing (literally) David Legwand twice before faking Pekka Rinne out of his pads and finishing it on the backhand. I'm still absolutely in shock. It's one of the prettiest goals of the entire season and the Ducks now lead 2-1.
Here we go in the extremely important third period. Easily the most important period of the season for both teams.
End of Second Period: The Predators get a great chance in the dying seconds of the period as they force a turnover behind the Anaheim net and get a pass into the slot that's barely tipped wide.
The Ducks however outshoot the Preds 9-1 and outchance them 7-1 over the last 12 minutes of the frame and we're going to the locker room even at 1-1 thanks to a Power Play goal from Jason Blake.
Second Period Shots: Nashville: 8 (total: 18), Anaheim: 11 (total: 17)
Pekka Rinne commits a little left-pad larceny as he unknowingly gets the big pillow on a point-blank shot from Bobby Ryan. The Preds are very fortunate it isn't 2-1 at the moment.
George Parros, the Anaheim enforcer and renowned tough-guy who led the league in fighting majors this season, is having himself a whale of a game so far, creating several scoring chances, including a big one back in the first period that nearly set up Ryan Getzlaf.
This is just one example of the momentum currently swinging in the Ducks favor, as they have the last eight shots on goal.
There's certainly no backing down in the hitting between these two teams so far tonight. Hits are flying liberally in all directions from both teams.
This is the first game of the series that have not seen both of the first two goals scored by the same team. However, to this point there has still not been a lead change between these two.
This article is
What is the duplicate article?
Why is this article offensive?
Where is this article plagiarized from?
Why is this article poorly edited?

Anaheim Ducks: Like this team?