NBA Playoffs 2011: Los Angeles Lakers vs. New Orleans Hornets Game 3 Live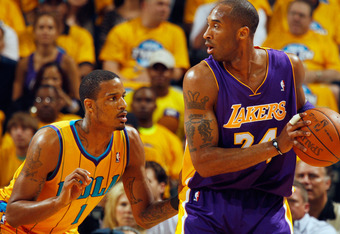 Chris Graythen/Getty Images
Hey guys, James Schmidt here live blogging for Game 3 of the Hornets against the Lakers. New Orleans took home-field advantage after a surprising win in Game 1 and after a tough loss in Game 2 they take things back to the nest in New Orleans to try and take the 2-1 series lead.
Los Angeles is still the clear cut favorite, but when you have a superstar like Chris Paul anything can happen.
Los Angeles is going to win this one 100-86 really was never a competition. L.A. takes the series lead 2-1 and showing why they are the 2 seed.
Thanks for joining me tonight guys, hope you enjoy the rest of the playoff weekend and Easter weekend.
L.A. up 16 with a minute and a half left. Not much else to say folks.
Not much else to say here other than complete domination by L.A. It's been a relatively boring game.
Nice basket there to make it a 12 point lead, but L.A. comes storming back and makes it a 14 point league again with 5:26 to go in the 4th.
With Los Angeles now up 14 it's looking like this game is getting out of reach. Even though there is still 8 minutes left... New Orleans has not shown any signs of a run in them.
New Orleans just can't cut this L.A. lead. Still up 10.
Oh wait the dunk doesn't count. Pau will be shooting 2.
New Orleans just cannot get a rebound. Little scuffle here, not sure what it was for.
Right as New Orleans makes a small run, L.A. gets right back at them and L.A. is up 10.
New Orleans is still keeping this one close, but like I've been saying in a lot of other posts all they've been doing is keeping it close. Not making any runs to take a lead.
Kobe is just taking over this game, I don't think New Orleans has much of a chance of winning this one. They can't go on a run because Kobe counters everything they do.
That Fisher elbow was pretty chippy. Should further actions be taken for that? Possibly suspension?
New Orleans is still hanging close... But still have not had that run that they need. Plenty of time to get that run though.
New Orleans is hanging around but needs to make a run to make this interesting. They are getting out-rebounded by a ton I bet.
Now that we're back, L.A. is up 10 with 11:10 left in the 3rd.
I'll start updating once the game gets started back up.
WOW! What a shot by Jamal Crawford!!!!!!!!
Can't lie guys, I'm watching the Hawks Magic game right now. It's almost half time in New Orleans anyways, I advise you to switch to that game if you haven't already.
Bynum is heading to the line with 10 seconds left in the half. L.A. is already up 8 chance to go up 10
Hornets are getting killed by the Lakers length. Boy do they miss David West.
Losing Richardson hurts bad for Magic, so is losing Pachullia for Atlanta, but losing Richardson hurts more. A technical foul has been called on Dwight Howard.
Chris Paul brings the Hornets back into this one. 45-38 Laker lead.
I know you are here for the Lakers game, but a very close game over on ESPN 2. I'd switch to that if I was you. 81-79 Atlanta lead with 2:20 left. Dwight going to the line and a fight going on. Jason Richardson is going to get something called on him, he just flipped out.
Hornets still missing their wide open looks at three pointers. Not a recipe for success.
Hornets are keeping this one close despite a terrible shooting game, if they can start shooting at a higher percentage they can take command of thsi game.
Update on the Hawks Magic game, Atlanta has a 79-73 lead with 5 45 left.
This article is
What is the duplicate article?
Why is this article offensive?
Where is this article plagiarized from?
Why is this article poorly edited?