NHL Playoffs 2011: Overtime Excitement Proves Shootout Should Be Abolished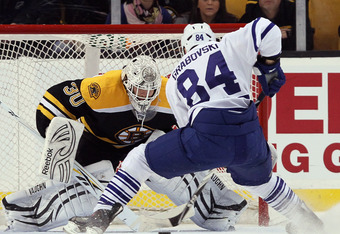 Elsa/Getty Images
If you have been following the 2011 Stanley Cup Playoffs, you have been fortunate enough to catch six exciting overtime games—many of which may prove to be the difference-maker in their respective series.

With so much excitement surrounding the overtime games, it's funny that we hockey fans so casually accept the NHL's decision to decide regular season games via the shootout.

Hockey purists have always felt that the shootout is nothing more than a gimmick designed to appease the American audience and betting services who lust for a winner for each game.

The shootout adds an element of excitement for fans as it allows players to put their offensive skills on display, while allowing the goaltenders to show off their abilities as well.

But let's be honest here—we are talking about using an element of a skills competition to decide a game, which makes little sense, right?

Case and point, fighting is a "skill," so why not decide tie games with the toughest guys from their respective teams fighting it out at center ice? Stupid, right? Exactly!
Maybe the NHL could use the fastest skater competition to decide tie games?
Perhaps the NHL could set up targets in the nets with the team that knocks the most targets down emerging as the winner?
Jonathan Daniel/Getty Images
Are you getting the point here? Let's face it, using the shootout to decide games is just as stupid, end of story.

If the shootout was such an integral part of the game, why did the NHL ignore it for upwards of 100 years? If the shootout was so integral to the game, why then not save us all a bunch of time, line up 25 players from both teams at center ice, have them each take a turn trying to beat the opposing goaltenders and call it a game after the 25 shooters get their shots in?

Because that's NOT hockey!

The shootout ignores so many elements of hockey it's laughable. I mean, where is the hitting? Where is the defense? Most importantly, where is the "team" aspect?

The shootout was initiated to help deter teams from playing trap hockey in overtime. Few games were being decided in overtime, which all but negated the excitement overtime brings and did not solve the "problem" of games finishing in a tie.

What the NHL failed to consider was initiating sudden death overtime to the regular season, which would not only afford you a winner every night, it would also allow every team to earn their wins in a hockey game rather than a skills competition.

Admit it—when a playoff game heads to overtime you are glued to the television. Few hockey fans walk away from the TV or complain about having to stay up late. Few make their way to the kitchen to fix a snack. Fact is, overtime is the most exciting part of playoff hockey, so why not have it all season long?

Those in favor of the shootout will say having overtime become a staple of the regular season would allow teams to continually play for the single point. True—but what is stopping teams from playing for a single point now?

In fact, some teams have been signing players that are blessed with superior shootout skills in an attempt to win a few extra games—what's up with that?

Of course, there is the argument that overtime games would take too much time to decide, which is simply not true. Most of the overtime games during the playoffs have been decided quickly, what makes you think regular season games would not be decided just as quickly?
Dave Sandford/Getty Images
Bottom line—who cares how long it takes for the teams to decide a winner, as long as both sides earn their points?

Besides, shootouts rarely (if ever) produce hockey heroes. Odds are, if you watched the overtime games in the playoffs you can name the player that scored the deciding goal. The bigger the game, the bigger the goal, the more likely you are to remember the player that scored the game-winner, right?
If the shootout is such a great idea, why abandon it once the playoffs arrive?
As my wife pointed out the other day—why does the NHL have two sets of rules, one for the regular season and one for the playoffs? That's stupid!
And you know what? She's right, it is stupid!
Quick—which player scored the first shootout winner for your favorite team this season?

If you cannot remember, you are not alone.

Now, if I were to ask you which player scored the overtime winner for the Boston Bruins on Thursday night almost all of you will answer Michael Ryder, which is correct!

Why do we remember overtime winners? Well, for starters it is playoff time. But there is also the element of excitement and finality that makes an overtime winner far superior to that of a shootout winner.

Sure, there is a finality to a shootout game and in some cases they can be exciting. That said, you earn your win in overtime—in a shootout you win by default more than anything else as in most cases, it is often lady luck that determines the winner. Nothing more, nothing less.

The NBA decides all of it's regular season games in overtime. You don't see NBA fans lobbying for a free-throw competition to decide games so they can get home 20 minutes earlier, do you?

I mean, NBA overtime can last an eternity, and still no complaints from any of the players or the fans.

Bottom line? The NHL needs to bring overtime back to it's regular season. The shootout is a joke, the time for change is now.

Until next time,

Peace!
This article is
What is the duplicate article?
Why is this article offensive?
Where is this article plagiarized from?
Why is this article poorly edited?

Toronto Maple Leafs: Like this team?