NBA Draft 2011: Shelvin Mack and 10 Players Who Jumped into the First Round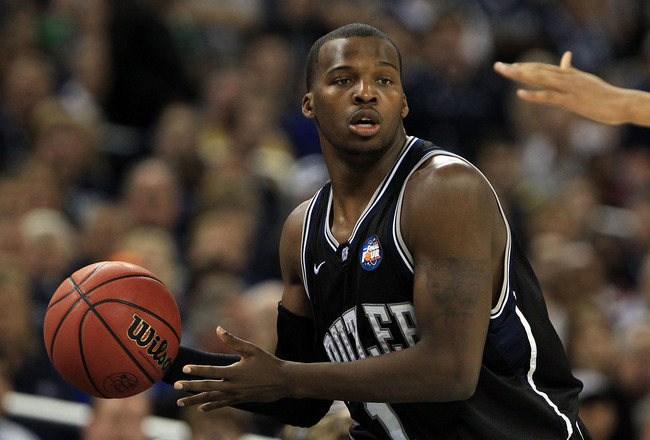 Streeter Lecka/Getty Images
March Madness is great for a number of reasons. For starters, it's unpredictable. Part of the unpredictability is not only what teams are going to advance but what players are going to make a splash.
Every year there are standout players in the "Dance." Players can go from non-existent to a national stage in less than five games. Look at Virginia Commonwealth this year. Did anyone know who Joey Rodriguez was before the tournament started?
Let's take a look at some of the guys who went from off our radar to now a possible first round pick in a preview into this summer's NBA draft.
10. Doron Lamb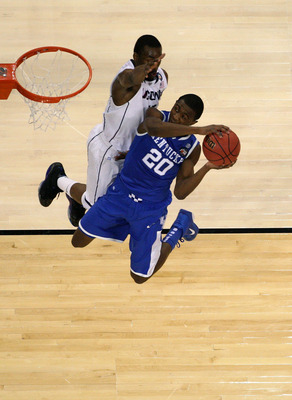 Streeter Lecka/Getty Images
This is the first Kentucky Wildcat of several on this list and rightfully so. This Wildcat team had numerous players who leaped onto the wavelength of possible first round draft picks after a final four run in this year's tournament.
Ironic that they were all freshmen again? Well, maybe.
Doron Lamb, the 6'4" freshman guard out of Queens, New York, had a monstrous tournament. He had 13 clutch points in the game against the Huskies and three three-pointers that proved to be game-changers.
Lamb averaged 12.3 PPG during the regular season. He answered when called upon on the biggest stage in college basketball.
I'm sure there are teams that will be taking a closer look at Lamb come draft time. Is he first round worthy? With this flock of talent, I think anything's a possibility.
9. Bradford Burgess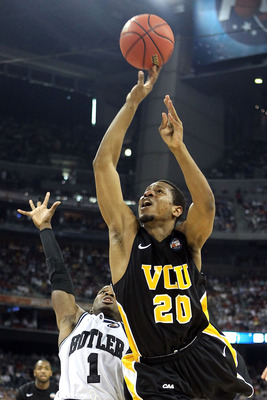 Andy Lyons/Getty Images
Bradford Burgess was the heart and soul of this year's Cinderella story. The 11th-seeded Virginia Commonwealth Rams rode a 6'6" 225-pound junior all the way to the final four.
Burgess turned it on in the tournament having games of 23, 26, and 15 points in the final four against Butler.
Bradford averaged 14.3 PPG, 6.3 RPG, and 1.7 APG this season. He's got NBA-type swag to him and he backed that up with his performances in this year's tournament.
He's only going to improve as a shooter and the thought of him as a possible first round draft pick is not too far gone.
8. Alex Oriakhi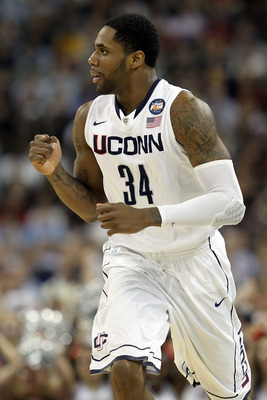 Ronald Martinez/Getty Images
People who watch Connecticut basketball are aware, but other college basketball fans may be foreign to the interior presence of 6'9" 240-pound Alex Oriakhi.
Oriakhi was an absolute menace down low in the Big East tournament as well as down the stretch during the NCAA tournament. He averaged 9.6 PPG, 8.7 RPG, and 1.6 BPG this season as a sophomore.
He plays defense, he puts a body on someone whenever he can, and his fundamental boxing out proved to be pivotal in the championship game against Butler where he hauled in 11 total rebounds.
Oriakhi still has some interior game to develop. However, to say he's not a top 32 player headed into this year's draft should decide to enter, would be ludicrous.
7. Kawhi Leonard
Harry How/Getty Images
San Diego State had a historic year in basketball this season. A large part of their success was because of 6'7" 225-pound Kawhi Leonard.
Leonard was to the Aztecs what Kobe is to the Lakers and Duncan is to the Spurs: An absolute leader by example.
Kawhi was one of the few this season who averaged a double double (15 PPG, 10.6 RPG). Every time Leonard was on the court he demanded attention, normally from more than one defender.
Some would say Leonard was one of the best players in the country this season. His play was greatly appreciated by longtime Aztec faithfuls and he's certainly deserving of a NBA roster spot next season.
The thought of him going to a team like the Clippers to replace a Ryan Gomes seems so right. First round bound? Absolutely.
6. Jeremy Lamb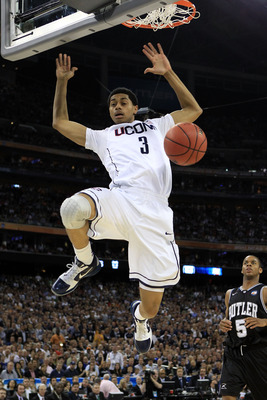 Streeter Lecka/Getty Images
One of the big time go-to guys this season was Jeremy Lamb of the NCAA champion Connecticut Huskies. Lamb burst onto the scene this season as a freshman, averaging an impressive 11.1 PPG and 4.5 RPG.
As the season went on, Lamb became more and more reliable when a knockdown shot was in order. When Kemba drew the double, he would dish it to his sidekick Jeremy, and Lamb would do the rest.
Lamb, at a lengthy 6'5" and 185 pounds, plays like he's 6'8" or 6'9". He's shown over the course of the tournament that he's clutch, gutsy, extremely athletic, and a winner.
There are not many teams that will take a pass on this soon to be NBA small forward.
5. Tyler Zeller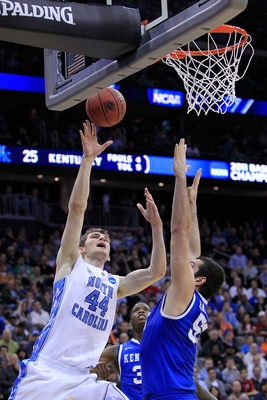 Chris Trotman/Getty Images
Some guys burst into the National spotlight their first day on the job. Others work and work and work to achieve that luxury.
Tyler Zeller, a junior out of North Carolina, was one of those guys who has gotten progressively better. Zeller went from averaging 3.1 PPG as a freshman to 15.7 as a junior.
Zeller, in the NCAA tournament, posted 32, 23, 27, and 21 points in the four games UNC played in. That's an unbelievable achievement for Zeller compared to years past.
Tyler is a 7-foot, 250-pound big man with excellent footwork, a shooter's touch, and great basketball IQ. He will be a treat for any NBA coach looking to improve their post game.
4. Shelvin Mack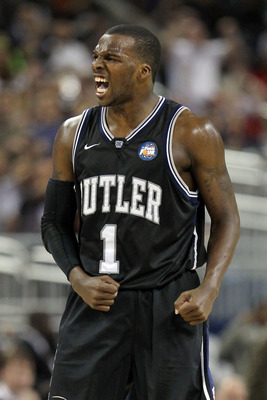 Ronald Martinez/Getty Images
Sometimes winning is the center piece to an athlete's evaluation. In Shelvin Mack's case, winning seems to be part of his genes.
Mack, the 6'3" 215-pound junior out of Kentucky, had a monstrous year for the Butler Bulldogs. He averaged 16 PPG, 3.4 APG, and 4.5 RPG. In the tournament alone, Mack put up 15 points, 30 points, 13 points, 27 points, 24 points, and 13 points in the championship.
Does that sound consistent enough to you? I hope so.
Mack has always played like he had something to prove, and the way he elevated his game this season, taking a team to back to back National Championship games, is something that should be applauded.
There is not doubt that Mack is going to be a first-rounder in this summer's NBA draft.
3. Terrence Jones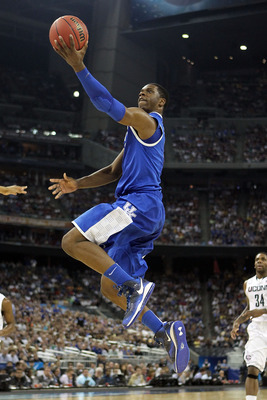 Andy Lyons/Getty Images
I like to call Terrence Jones a left-handed version of LeBron James. Obviously their basketball skills are not the same, but the 6'8" 244-pound frame that Jones struts is all too similar to the King's.
Jones, like Knight, had to fill some pretty big shoes as the new Kentucky forward this year. Boy did he answer his calling.
Jones averaged 15.7 PPG to go along with 8.8 RPG, 1.9 BPG, and 1.1 SPG this season. It's evident that Terrence knows how to be a contributor. However, the leadership qualities he evoked during the tournament put him into a whole new kind of class.
Jones is an absolute first-rounder without question.
2. Kyrie Irving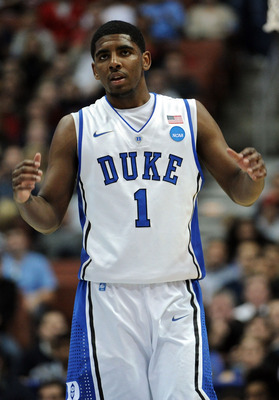 Harry How/Getty Images
Although Kyrie Irving was a sensation right out of the gates, his mid-season injury raised a lot of red flags down the stretch. Questions like...was he going to be healthy come tournament time and if so, was he going to be productive?
Irving silenced all critics in the tournament posting 14 points against Hampton, 11 against Michigan, and a whopping 28 points against Arizona.
Kyrie is 6'2" and 180 pounds and an unbelievably gifted athlete. He's got a phenomenal awareness with the rock and almost always does something productive every time he touches it.
Irving averaged 17.5 PPG, 4.3 RPG, and 3.4 RPG as a freshman for Coach K. He has all the makings of a Jason Kidd-type point guard in the NBA and after the way he played in March there is no doubt he's a first-rounder.
1. Brandon Knight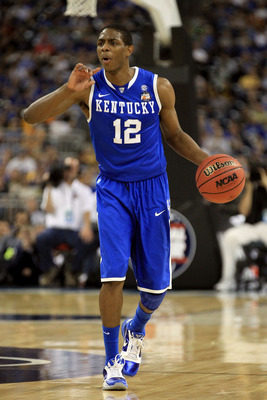 Streeter Lecka/Getty Images
Not many people can step into a role like Brandon Knight did this season. Although Kentucky came up short two seasons ago, the play of then-point guard John Wall was arguably one of the best "one and done" college performances of all time.
Then came a Fort Lauderdale freshman named Brandon Knight.
Knight stormed onto the scene this season leading Kentucky all the way to the final four in a just a one-point loss to the champion UConn Huskies.
Knight averaged 17.3 PPG this season to go along with 4.2 APG. Sure, he was a definite "NBA bound" player at some point, but his play during the tournament solidified him as a first-rounder without a doubt.
Brandon's already declared for the draft though he decided to enter with no agent. First round bound? I'm thinking top ten.
Keep Reading