Cal State Long Beach Cheerleaders: Team Loses Title After Cheating Scandal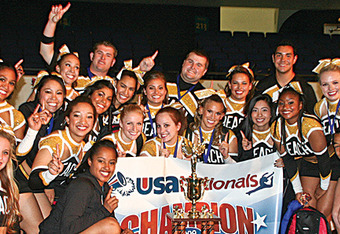 Cal State Long Beach Cheerleaders Forfeit Title After Alleged Cheating
If you have ever seen the 2000 mega hit Bring it On, you know how stressful life can be as a cheerleader. Kirsten Dunst plays Torrance Shipman, the new captain of the cheer squad.
She gets a little lax in trying to beat a rival school and ends up using pilfered routines. That type of cheating is not tolerated in that world. And neither is what took place at the recent US Nationals.
I admit, Bring it On wasn't a mega hit, but people saw it. Am I the only one? Fine. If you are going to lie to yourselves, I am going to forge ahead.
MUST READ: The 100 Hottest Action Photos in Sports
California State University at Long Beach won the illustrious title at the National Cheerleaders Association's competition in Daytona Beach, Florida, in April. They have since forfeited that title amidst a cheating scandal.
The Los Angeles Times reports that an administrator found that a former student that had already graduated performed with the team at Daytona Beach. CSULB has taken swift action. They fired their head coach, Eric Anderson, who had been with the squad for ten years.
As you can see, the world of cheerleading isn't always glam and spirit. Sometimes there are very sinister and nefarious people at work.
On the flip side, the student had graduated in December. My guess is he wanted to stay on with the team seeing as how most students that graduate in the middle of the year feel like sticking around. I don't see this as cheating so much as staying past your welcome.
Then again I have never been a cheerleader. I am much more proficient at sulking and being a grump. At least until I have had a pot of coffee.
Most recent updates:
This article is
What is the duplicate article?
Why is this article offensive?
Where is this article plagiarized from?
Why is this article poorly edited?