Frank McCourt: LA Dodgers Owner Will Lose Fight to Keep Dodgers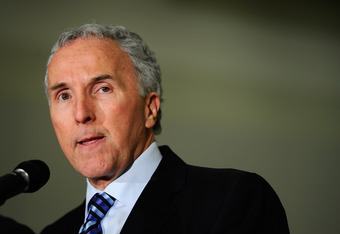 Frank McCourt Heads to Court in Losing Battle for LA Dodgers
Frank McCourt has been toeing the line of ineptitude since he purchased the Dodgers. He bought the Los Angeles Dodgers in a heavily leveraged purchase.
Dodgers fans wondered where the money would come from to actually put a winning product on the field. It is a good thing for McCourt that the Dodgers were flush with young talent and a stable of prospects on the farm.
McCourt may have had enough money to keep a semi-productive ball club on the field for years, but a divorce slashed his assets and forced him to borrow $30 million from the corporation he bought the team from.
MUST READ: The 25 Worst Events in Sports
I wonder if I can borrow money from my landlord to make next month's rent? If Frank can do it, it must be possible.
But his loan and the recent tragedy of Bryan Stow who was beaten on Opening day was enough for Bud Selig and Major League Baseball to pull the plug. The Dodgers were going into the tank financially. It was time to end the charade.
McCourt is sure to fight the decision by MLB to take over operations in court. He has always been known as a fighter. I just wish that sentiment went back into providing the Dodgers with top-tier talent.
He will not win.
A report from the Los Angeles Times describes what Frank McCourt is up against.
The courts have historically upheld the commissioner's extraordinary powers to act in the "best interest of baseball." Because of that, legal experts say Dodgers owner Frank McCourt will face long odds if he challenges the league's move to seize control of the troubled club — a fight McCourt has already indicated that he may wage.
I think we can all agree that McCourt's loss is baseball's gain. The city of L.A. has been questioning this man's assets from day one. When we have a lineup that boasts Aaron Miles, Tony Gwynn and Marcus Thames, it is hard to argue that the Dodgers have the same talent as other big market teams.
The Dodgers are a proud organization that has been squandered for too long. McCourt will soon be out, and we are glad.
They were headed down a very dark path. You never want to see a team get taken over by the league, but in this case, it was a very necessary evil.
Most recent updates:
This article is
What is the duplicate article?
Why is this article offensive?
Where is this article plagiarized from?
Why is this article poorly edited?