WWE's Snooki Reveals Remarkable Weight Loss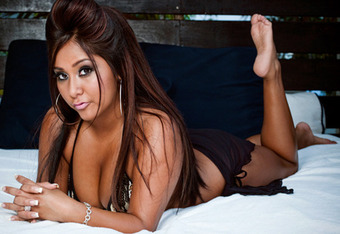 WWE's Snooki Drops Weight and Shows it Off on Twitter
Snooki has made quite a name for herself. Granted, it isn't always a great name, or one that should be revered. She does command a lot of attention, and she knows how to brand herself.
That is why I peg her as the only Jersey Shore cast member that will still be in the entertainment business five years from now. She has even delved head first into the WWE. Her gymnastic routine at this year's WrestleMania was the stuff of legends.
MUST READ: The 25 Hottest Surfers and Wakeboarders
Now we have more Snooki news to talk about. The reality star has lost a considerable amount of weight. She didn't want this news to be a secret, so Snooki took to Twitter to let all her fans and enemies know that there is a lot less of her these days.
You can see her weight loss in all its glory here.
She has some ideas about dropping the pounds that she wants to share. She tells E! News the following back in January.
I have a trainer. He kicks my ass all the time and I love it. And when I'm on the road, I go to the hotel gyms and stuff like that. I try to eat healthy. And um, I just have to quit the drinking so much. If I do drink, it's going to be like vodka and seltzer.
How novel. You have to eat right and workout to lose weight. I wonder if anybody out there will flock to this new idea of dieting. Perhaps it's just a fad.
I am quite happy for Snooki. I am glad that she feels good about herself and is taking strides to improve her image. I am also happy for the rest of mankind, because the less Snooki, the better.
Most recent updates:
This article is
What is the duplicate article?
Why is this article offensive?
Where is this article plagiarized from?
Why is this article poorly edited?