Frank McCourt, Snooki, Khloe Kardashian and Thursday's B/R Swagger Buzz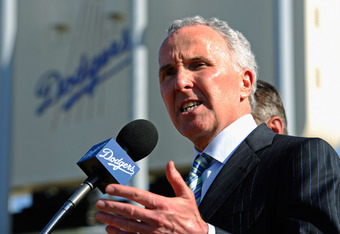 Kevork Djansezian/Getty Images
Frank McCourt may soon have to say bye-bye to the Los Angeles Dodgers for good. Major League Baseball came down hard on the owner Wednesday.
They swooped in and took control of the operations and finances for one of baseball's most storied franchises. The temperature here in Los Angeles is absolutely frigid towards Frank McCourt. Every fan with a voice is exclaiming the takeover as good news.
Yes, that is how bad things have gotten here in Dodger town.
If you can't stand the sight of Snooki, I am the bearer of good news: There is much less Snooki to go around. The Jersey Shore star has dropped a noticeable amount of weight.
We will let you in on her diet secrets. That way you can tell all of your friends that you took advice from Snooki and it worked. Their astonished faces should make it worthwhile.
On the other side of the spectrum, Khloe Kardashian is fat. That is according to her mother and manager Kris Jenner. In an upcoming episode of Khloe & Lamar, Khloe loses it when her mom questions her weight gain.
I plan to order a pizza for that episode. All of this and more are headed your way in Thursday's Swagger Buzz.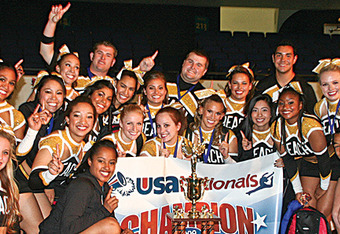 Cal State Long Beach Cheerleaders Forfeit Title After Alleged Cheating
If you have ever seen the 2000 mega hit Bring it On, you know how stressful life can be as a cheerleader. Kirsten Dunst plays Torrance Shipman, the new captain of the cheer squad.
She gets a little lax in trying to beat a rival school and ends up using pilfered routines. That type of cheating is not tolerated in that world. And neither is what took place at the recent US Nationals.
I admit, Bring it On wasn't a mega hit, but people saw it. Am I the only one? Fine. If you are going to lie to yourselves, I am going to forge ahead.
MUST READ: The 100 Hottest Action Photos in Sports
California State University at Long Beach won the illustrious title at the National Cheerleaders Association's competition in Daytona Beach, Florida, in April. They have since forfeited that title amidst a cheating scandal.
The Los Angeles Times reports that an administrator found that a former student that had already graduated performed with the team at Daytona Beach. CSULB has taken swift action. They fired their head coach, Eric Anderson, who had been with the squad for ten years.
As you can see, the world of cheerleading isn't always glam and spirit. Sometimes there are very sinister and nefarious people at work.
On the flip side, the student had graduated in December. My guess is he wanted to stay on with the team seeing as how most students that graduate in the middle of the year feel like sticking around. I don't see this as cheating so much as staying past your welcome.
Then again I have never been a cheerleader. I am much more proficient at sulking and being a grump. At least until I have had a pot of coffee.
This article is
What is the duplicate article?
Why is this article offensive?
Where is this article plagiarized from?
Why is this article poorly edited?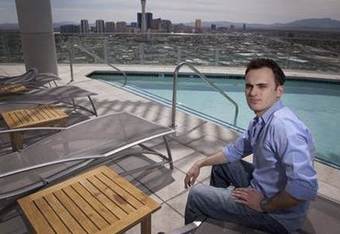 Federal Shut Down of Online Poker Sites Shuts Down a Viable Industry
The days of sitting in front of your computer for ten hours a day and rounding out an income through Poker are over. Online Poker sites have been shut down pending an investigation into fraudulent funneling of money acquired by the sites.
That means the owners of these sites will have to face a lengthy litigation process, and I will still be pretty bad at poker. But for a large group of people all over the country, their source of income and well-being has been shut down, and their money has been frozen.
MUST READ: The 25 Worst Events in Sports
Oskar Garcia filed a report for the Associated Press. In it, he spoke to an online poker player that made a living by logging in, and cashing out.
Robert Fellner is only 27, but he is now out of a job. The $250,000 he had in his online account has been frozen. The report later states that assets will most likely returned to the players.
The question of when is up for some debate. For the time being, Fellner, and people like him, are out of the only job they might have known.
Fellner has been supporting himself on Poker since he was 19. That is a long time to get good at something that is all of a sudden obsolete. Such is the life of a gambler.
He did not set out to work behind a desk and cash a check like regular workers. Poker is appealing for the rush you get. Poker players cannot be surprised when the legality of online gambling has been tenuous for years.
There may be an out. Garcia alleges that the major poker sites will have use of their domain names shortly for the sole purpose of refunding the player's money.
That is a small consolation for poker players that still love the game and the environment the online poker sites afford, but it's something.
For now, it's back to the tables.
This article is
What is the duplicate article?
Why is this article offensive?
Where is this article plagiarized from?
Why is this article poorly edited?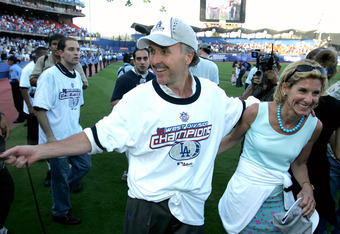 Jamie McCourt Affair Started Downward Spiral for McCourts and LA Dodgers
Take a good long look at this picture. This is the fallacy that we were all meant to buy into. The Dodgers were supposed to be a family owned operation again. Their owners were proud parents, of their own children, and the Dodgers organization.
It was all a lie, a farce, a canard.
What lay beneath was one man's wish to turn a dollar off of a proud organization, and a wife that would later stray from her marital vows. The latter is what caused the Dodgers to go from family owned, to Major League Baseball operated.
MUST READ: The 25 Dumbest Promotions in Sports History
A Los Angeles Times article dated October 29, 2009, reported on a possible affair on the part of Jamie McCourt.
The day started with a new and salacious twist, with Frank McCourt claiming in a 664-page court filing that he fired Jamie McCourt as the club's chief executive in part for having an affair with her driver, who was employed by the Dodgers. His attorneys also allege the two spent 2 1/2 weeks in France this summer and billed the team for the trip.
Greed reared its ugly head and captured an organization. The next part of the story is filth. Frank and Jaimie stake their claim on the Dodgers as if it were just any asset, but it's not. This is the Los Angeles Dodgers.
This is the same organization that brought an end to segregation in baseball, and now it was being fought over by two petulant children.
The divorce proceedings have been exhausting for Frank McCourt, emotionally, and more important, financially. It is what lead to his having to borrow $30 million from Fox just to make the first payroll of the young 2011 baseball season.
All of this muck began a long time ago when MLB allowed the McCourts to buy the team. They essentially let a family of borrowers take on a team from the second largest media market.
However, the snowball started running downhill the second the couple's marriage collapsed. Now we fans are left to hope that a better owner, and future awaits.
This article is
What is the duplicate article?
Why is this article offensive?
Where is this article plagiarized from?
Why is this article poorly edited?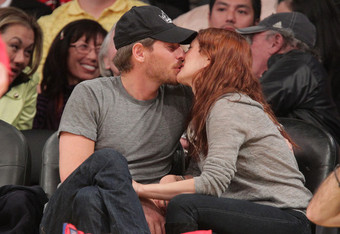 LA Lakers Game Heats Up When Drew Barrymore Has Kissing Session Court Side
The Los Angeles Lakers took on the New Orleans Hornets in game two of first round action Wednesday night.
It was a hard fought battle that saw star Kobe Bryant struggle from the field. The Black Mamba only have 11 point on the night. Still, the Lakers used tough defense late to secure the win. I have a feeling that some fans at the game couldn't even say which teams were playing.
When you are in love, things are sort of a blur around you. That is certainly true for Drew Barrymore and her boyfriend Will Kopelman, and art consultant.
MUST READ: The 25 Most Ridiculous Outfits in Sports
The two were not the only stars on the night. The usual cast of characters showed up to root on the purple and gold. None of them got as much action as Barrymore and Kopelman though.
Popsugar.com has some more celeb pics from the game as well as Drew snuggling with her beau. They agree they made quite the spectacle.
The duo put on a quite a PDA show while the action on the court wrapped up with the home team beating the New Orleans Hornets.
I have no issue with public displays of affection. What I do have a problem with is Koppelman showing up with a Kings hat on.
That is the kind of "too cool" stuff that drives me crazy here in Los Angeles. You are at a Lakers home playoff game. Either wear some team colors are go sports neutral. I don't need to see that you are dating a hot actress, and also happen to like hockey.
There really is no excuse for such behavior. I doubt Koppelman cares at all. He is too busy sucking face with the chick from E.T.
Perhaps I am taking this all wrong. The Lakers played poorly and still won on Sunday. I think we have found our rabbit's foot. Please continue the cuddle sessions for the next two months. I really want this three-peat.
This article is
What is the duplicate article?
Why is this article offensive?
Where is this article plagiarized from?
Why is this article poorly edited?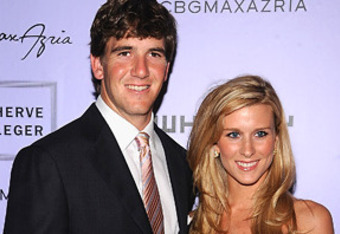 New York Giants QB Eli Manning Hits Casino with Wife Abby
Eli Manning and his lovely wife Abby welcomed their daughter Ava into the world on March 21st. A little while later, they were in a casino gambling.
Okay, so it isn't nearly as nefarious as all that. The couple have actually been by their baby's side until earlier this week.
That is when the Mannings took a much needed respite at a local casino. When all you are doing all day is changing diapers, the smoke stained walls of a gambling hall may actually be welcomed.
TMZ reports the New York Giants quarterback and his wife visited the Horseshoe Tunica Hotel & Casino on Tuesday. Abby was happy to be out in the adult world. She mentioned she hadn't left the house since she gave birth on the 21st.
MUST READ: The 25 Worst Events in Sports
The report states that the couple dabbled at the craps table before making their way over to play some blackjack. That is when a stranger asked Eli if he thought there would be a season.
Manning merely replied, "Yes." No need to worry folks. You heard it here first. There will be an NFL season. It is just too bad the passer by didn't ask the all too important follow up question of, "when?"
That is really the money question. Sure there will be a season. Now whether it starts in a timely fashion is a different matter altogether.
I am happy to see the couple shaking it up on the town. It's important to get some alone time with the wife. I am always happy to hear when an athlete can hit a casino and leave on a classy note. That doesn't always happen in the NFL.
This article is
What is the duplicate article?
Why is this article offensive?
Where is this article plagiarized from?
Why is this article poorly edited?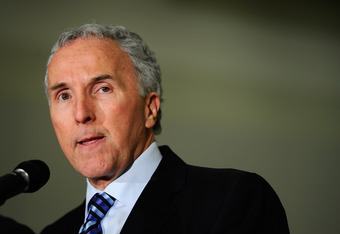 Frank McCourt Heads to Court in Losing Battle for LA Dodgers
Frank McCourt has been toeing the line of ineptitude since he purchased the Dodgers. He bought the Los Angeles Dodgers in a heavily leveraged purchase.
Dodgers fans wondered where the money would come from to actually put a winning product on the field. It is a good thing for McCourt that the Dodgers were flush with young talent and a stable of prospects on the farm.
McCourt may have had enough money to keep a semi-productive ball club on the field for years, but a divorce slashed his assets and forced him to borrow $30 million from the corporation he bought the team from.
MUST READ: The 25 Worst Events in Sports
I wonder if I can borrow money from my landlord to make next month's rent? If Frank can do it, it must be possible.
But his loan and the recent tragedy of Bryan Stow who was beaten on Opening day was enough for Bud Selig and Major League Baseball to pull the plug. The Dodgers were going into the tank financially. It was time to end the charade.
McCourt is sure to fight the decision by MLB to take over operations in court. He has always been known as a fighter. I just wish that sentiment went back into providing the Dodgers with top-tier talent.
He will not win.
A report from the Los Angeles Times describes what Frank McCourt is up against.
The courts have historically upheld the commissioner's extraordinary powers to act in the "best interest of baseball." Because of that, legal experts say Dodgers owner Frank McCourt will face long odds if he challenges the league's move to seize control of the troubled club — a fight McCourt has already indicated that he may wage.
I think we can all agree that McCourt's loss is baseball's gain. The city of L.A. has been questioning this man's assets from day one. When we have a lineup that boasts Aaron Miles, Tony Gwynn and Marcus Thames, it is hard to argue that the Dodgers have the same talent as other big market teams.
The Dodgers are a proud organization that has been squandered for too long. McCourt will soon be out, and we are glad.
They were headed down a very dark path. You never want to see a team get taken over by the league, but in this case, it was a very necessary evil.
This article is
What is the duplicate article?
Why is this article offensive?
Where is this article plagiarized from?
Why is this article poorly edited?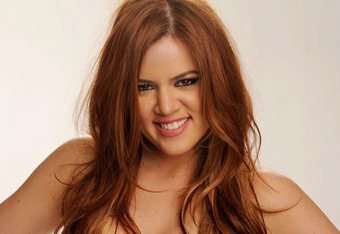 Khloe Kardashian Gets a Spot on 'Law & Order Los Angeles'
It really must be good to be a Kardashian. I don't know how this happened, but the Kardashians are the hot family of the decade. We just can't get enough of them.
Each family member seems mandated to have at least one reality series of their own, and some have spawned offshoots. When will the madness end? Not anytime soon.
Khloe Kardashian will feature on an upcoming episode of Law and Order: Los Angeles. Khloe will test her acting chops. I have to say, she is already a pretty good actor.
MUST READ: The 25 Hottest Poses in Sports
Her reality show Khloe&Lamar may be less real life and more pandering. Then again, all reality shows are the same way.
Khloe&Lamar just happens to be watchable because it features my favorite Sixth Man of all-time, Lamar Odom. Now the Lakers are a family that I just can't get enough of. Give me a show featuring Shannon Brown or Steve Blake, and I will find time to watch it.
The episode of Law and Order: Los Angeles guest starring Khloe Kardashian hits the air Monday, April 25th. That is an interesting note as she will be shooting her scene on Thursday. There won't be much time for re-shoots with just three days to go before the show airs.
Khloe took to Ryan Seacrest's radio show recently and described her character as an off-shoot of her own life. I hope that means she nails the role.
This article is
What is the duplicate article?
Why is this article offensive?
Where is this article plagiarized from?
Why is this article poorly edited?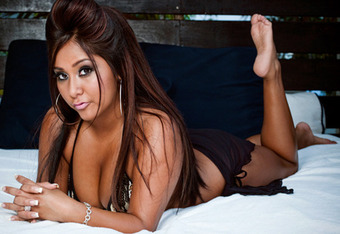 WWE's Snooki Drops Weight and Shows it Off on Twitter
Snooki has made quite a name for herself. Granted, it isn't always a great name, or one that should be revered. She does command a lot of attention, and she knows how to brand herself.
That is why I peg her as the only Jersey Shore cast member that will still be in the entertainment business five years from now. She has even delved head first into the WWE. Her gymnastic routine at this year's WrestleMania was the stuff of legends.
MUST READ: The 25 Hottest Surfers and Wakeboarders
Now we have more Snooki news to talk about. The reality star has lost a considerable amount of weight. She didn't want this news to be a secret, so Snooki took to Twitter to let all her fans and enemies know that there is a lot less of her these days.
You can see her weight loss in all its glory here.
She has some ideas about dropping the pounds that she wants to share. She tells E! News the following back in January.
I have a trainer. He kicks my ass all the time and I love it. And when I'm on the road, I go to the hotel gyms and stuff like that. I try to eat healthy. And um, I just have to quit the drinking so much. If I do drink, it's going to be like vodka and seltzer.
How novel. You have to eat right and workout to lose weight. I wonder if anybody out there will flock to this new idea of dieting. Perhaps it's just a fad.
I am quite happy for Snooki. I am glad that she feels good about herself and is taking strides to improve her image. I am also happy for the rest of mankind, because the less Snooki, the better.
This article is
What is the duplicate article?
Why is this article offensive?
Where is this article plagiarized from?
Why is this article poorly edited?