2011 NFL Mock Draft, Picks 33-48: QB Feeding Frenzy Begins in 2nd Round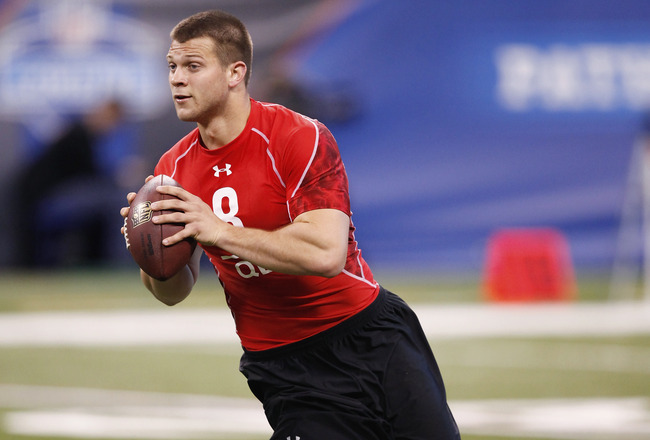 Joe Robbins/Getty Images
The second round of the NFL draft is going to feel a lot like the first round since it will be the first round started on Friday, but also because of the amount of potential franchise quarterbacks being taken at the top of the round.
Jake Locker, Colin Kaepernick, Ryan Mallet, Chris Ponder and Andy Dalton are still available, and I had several teams at the top pass on a QB, so where do these guys go?
Let's take a look.
In case you missed it, here is a recap of my first round mock.
1. Carolina Panthers: Cam Newton
2. Denver: Marcell Dareus
3. Buffalo: Von Miller
4. Cincinnati: AJ Green
5. Arizona: Patrick Peterson
6. Cleveland: Julio Jones
7. San Francisco: Blaine Gabbert
8. Tennessee: Nick Fairley
9. Dallas: JJ Watt
10. Washington: Robert Quinn
11. Houston: Prince Amukamara
12. Minnesota: Cameron Jordan
13. Detroit: Tyron Smith
14. St. Louis: Da'Qaun Bowers
15. Tampa Bay (**TRADE**): Aldon Smith
16. Jacksonville: Ryan Kerrigan
17. New England: Anthony Castonzo
18. San Diego: Muhammad Wilkerson
19. New York Giants: Mike Pouncey
20. Miami (Trade): Mark Ingram
21. Kansas City: Phil Taylor
22. Indianapolis: Nate Solder
23. Philadelphia: Gabe Carimi
24. New Orleans: Corey Liuget
25. Seattle: Jimmy Smith
26. Baltimore: Cameron Heyward
27. Atlanta: Justin Houston
28. New England: Akeem Ayers
29. Chicago: Derek Sherrod
30. New York Jets: Brooks Reed
31. Pittsburgh: Aaron Williams
32. Green Bay: Torrey Smith
33. New England Patriots: Mikel LeShoure RB, Illinois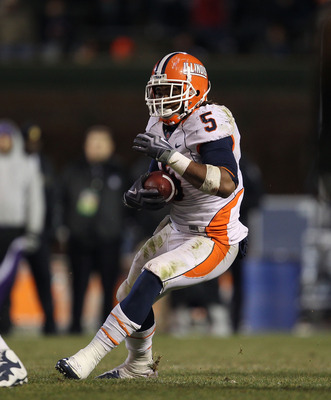 Jonathan Daniel/Getty Images
The Patriots got an offensive lineman to protect Tom Brady and a pass rushing outside linebacker, and now with this pick, they get a dominant running back that can carry the load.
Patriots fans might kill me for this because they have The Law Firm and Woodhead, but LeShoure is on another level in terms of the combination of power and speed. He has great vision and could give the Pats an elite rushing attack, something they haven't really had in a while.
Granted, they haven't really needed one with the way they run their offense, so they could look for a defensive end here, but I'm not sure that is good value here.
34. Buffalo Bills: Christian Ponder QB, Florida State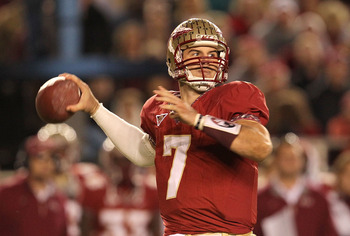 Mike Ehrmann/Getty Images
The Bills do like Ryan Fitzpatrick, but I'm not sure they are sold on his long term prospects. They get Von Miller in round one and he will make an immediate impact on defense, but with this pick, the Bills get someone they can mold into a future starter.
Ponder honestly is probably the second best QB in the class, and I evaluated him as such in my top five QB prospect list earlier this month. He was the best QB at the Senior Bowl and looked great throwing at Florida State's Pro Day.
He battled an injury in 2010, so his stock took a bit of a drop, but he's got first round talent when healthy and looks to be so now.
35. Cincinnati Bengals: Ryan Mallet QB, Arkansas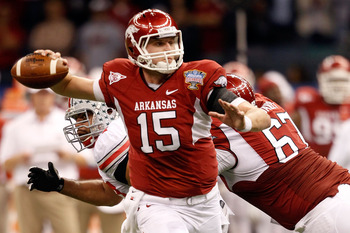 Matthew Stockman/Getty Images
The Bengals definitely need a quarterback, and with the first round selection of AJ Green, they can pair him with Mallet for a deadly deep threat combination.
The Bengals feel like the perfect team to ignore Mallet's character issues and see what he does on the field. He has brute arm strength and good accuracy. One concern is that he doesn't handle the pressure well, but he can be coached up to fix that.
36. Denver Broncos: Rahim Moore S, UCLA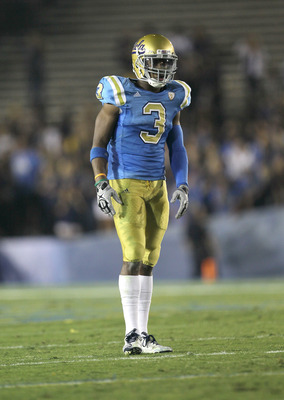 Stephen Dunn/Getty Images
Moore is the best safety in this year's class and looks like a solid player at the position. The Broncos have two veteran safeties getting up there in age, so they will need someone for the future.
Moore has the talent to come in right away a play in Nickel and Dime situations, and eventually take over the starting job when Brian Dawkins retires.
37. Cleveland Browns: Stephen Paea DT, Oregon State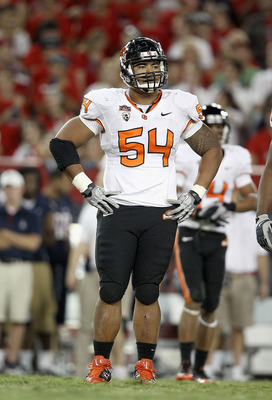 Christian Petersen/Getty Images
The Browns reached a little bit for Julio Jones in the first round to pick up a weapon for Colt McCoy, and with this pick, they get someone who can be a dominant run stuffer with their switch to a 4-3 defense.
Paea is famous now for setting the record on the bench press at the combine; he repped 225 lbs 49 times. If you look at the list of the top 10 bench pressers ever, nobody on the list was successful in the NFL (well, Mitch Petrus is still young with the Giants; he was the previous record holder with 45).
That said, Paea's film indicates that strength actually translates to the field and he is not just a weight room junkie.
38. Arizona Cardinals: Jabaal Sheard DE/OLB, Pittsburgh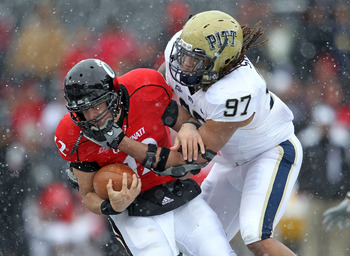 Andy Lyons/Getty Images
I expect the Cardinals to go after a quarterback via free agency, which is why I have them going defense in the first two rounds.
The Cardinals' pass rushing outside linebackers last year were a joke, and Sheard has been climbing draft boards lately.
39. Tennessee Titans: Colin Kaepernick QB, Nevada

Ezra Shaw/Getty Images
The Titans are weighing the options at QB and have speculated bringing back Vince Young, but I seriously doubt that is going to happen.
With Newton and Gabbert gone in round one, they will go QB in round two, and Kaepernick is the best available. His upside is endless and he has great leadership qualities that the Titans will be fond of.
40. Dallas Cowboys: Brandon Harris CB, Miami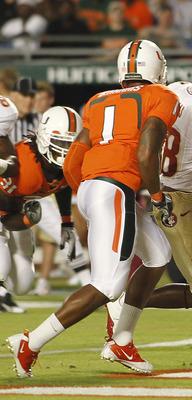 Joel Auerbach/Getty Images
The Cowboys need help on defense and it started with JJ Watt in the first round; now they get someone who can be an impact player in the secondary.
Harris doesn't have great instincts in zone coverage, but he can cover the fast receivers in the NFL, especially those in his own division like Santana Moss and DeSean Jackson.
The Cowboys have neglected the secondary over the past couple years; I believe that will change this draft.
41. Washington Redskins Andy Dalton QB, TCU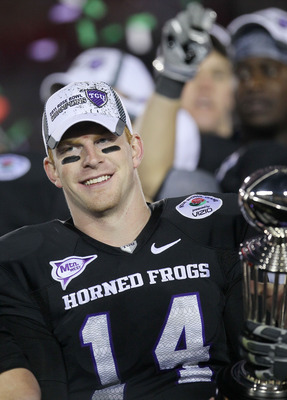 Stephen Dunn/Getty Images
With Jake Locker still available, Shanahan might go there, but whenever he reportedly likes someone, he always seems to go with someone else.
Dalton has great accuracy and is athletic, which are two qualities Shanahan values above most else. He was a winner in college and is a terrific leader. I'm not sure if he is ready to come in and be a starter from day one, but it's a definite possibility.
42. Houston Texans: Sam Acho DE/OLB, Texas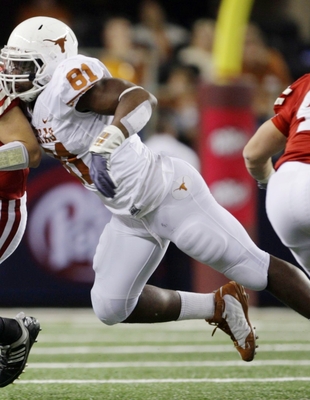 Jamie Squire/Getty Images
This would be a popular pick in Houston given that Acho is from UT, but it also fills an immediate need at rush outside linebacker in Wade Phillips' 3-4 defense.
They took Amukamara in round one, so they will almost certainly take a linebacker here.
43. Minnesota Vikings: Jake Locker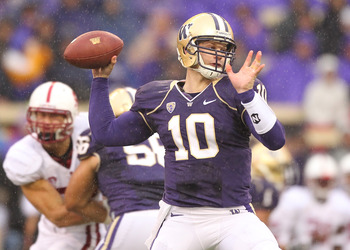 Otto Greule Jr/Getty Images
For some reason, people believe the Vikings love Locker so much that they may take him in round one. I wouldn't be surprised to see it happen considering they really need a QB, but they could wait until round two to take one.
I'm not sold on Locker at all; he doesn't have good accuracy or mechanics and makes bad decisions. He has terrific athleticism and great arm strength, though, so maybe a team will take a chance on him improving those other problems.
The Vikings could do that and play Tarvaris Jackson next year while preparing Locker to take over in 2012.
44. Detroit Lions: Martez Wilson ILB, Illinois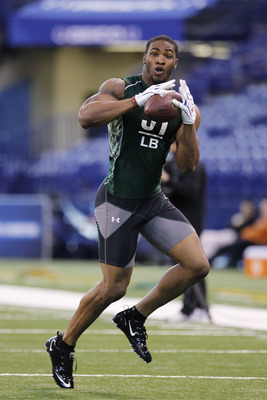 Joe Robbins/Getty Images
While Martez Wilson didn't have a good Pro Day, his combine numbers are off the chart and he looked good in the drills on that day.
The Lions will take the best available pick here, and Wilson is a borderline first round prospect.
45. San Francisco 49ers: Chris Carter DE/OLB, Fresno State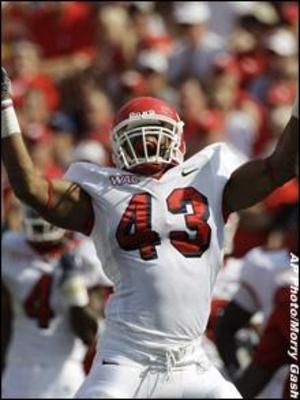 It's no secret the 49ers need help at the rush linebacker position; Manny Lawson has not panned out the way they had hoped.
Chris Carter had a fine career at Fresno State and had 10 sacks in 2010. His 10-yard split was 1.59 seconds, which is very good for a defensive end.
He has good quickness off the line and can fight off blocks very well.
46. Denver Broncos: Adrian Clayborn DE, Iowa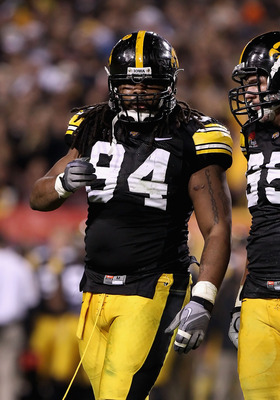 Christian Petersen/Getty Images
I'm not sure John Fox is sold on Kevin Vickerson or Justin Bannon as a starting defensive end. With the Broncos getting Marcell Dareus in round one, they will look to grab either a middle linebacker or defensive end.
With Wilson gone to the Lions, I bet they would take Clayborn, who has slipped out of the first round due to character concerns. I wouldn't pay much attention to that; Clayborn is an outstanding player.
Iowa had one of college football's best defenses in 2010, and Clayborn was a huge reason for that. He is one of the best defensive ends in terms of stopping the run, which is what the Broncos will be looking for with Elvis Dumervil playing the other end spot.
47. St. Louis Rams: Randall Cobb WR/KR, Kentucky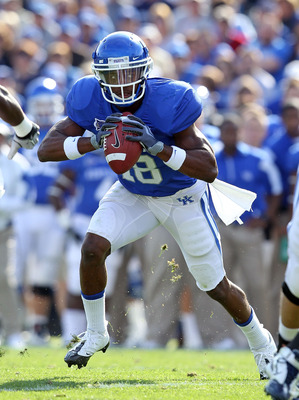 Andy Lyons/Getty Images
Randall Cobb is an incredibly versatile player. Much like Dexter McCluster, he was a receiver, running back and punt return for the Wildcats.
The Rams need wide receivers for Sam Bradford, and they may already have a deep threat with Donnie Avery and Danario Alexander; with Cobb, they get someone who can work the middle and be a third down threat for Bradford.
48. Oakland Raiders: Stefen Wisniewski, C/G, Penn State

Jamie Sabau/Getty Images
This pick makes a lot of sense, because not only do the Raiders need an interior lineman with Robert Gallery leaving, but Wisniewski's father played 13 seasons with the Raiders.
Why does that mean something? His father was hired as an assistant coach this offseason.
Keep Reading