Boston Red Sox: 8 Biggest Concerns in Beantown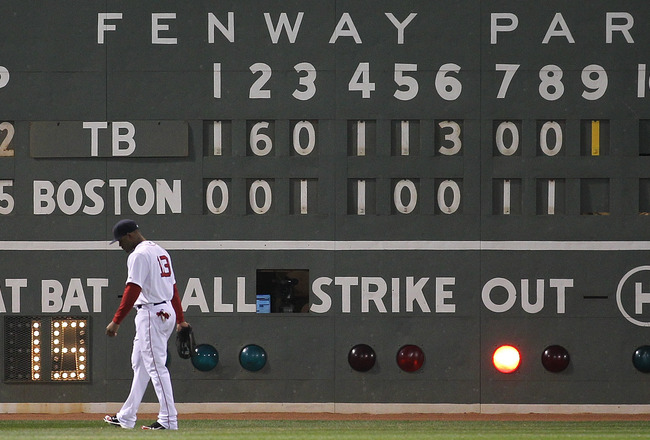 Jim Rogash/Getty Images
They may have taken four out of their last five games, but there is still plenty to cause beads of Beantown sweat to form on the foreheads of Red Sox fans.
No team is perfect, but the 2011 Red Sox have shown us that even those clubs suspected to be great just have greater expectations to fill. And we all know, great expectations just means you have a greater chance of being let down.
Pitching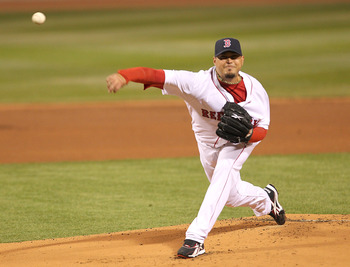 Jim Rogash/Getty Images
At the start of the 2010 season, everyone in Boston was talking about how incredible the rotation was going to be. And then Beckett bombed, Lackey was lackluster and Dice-K was...well, he was Dice-K.
Fast forward a year and the pressure on the pitching had subsided due to the increased offense that was suspected from acquisitions Adrian Gonzalez and Carl Crawford. Only, the offense has yet to really find its groove and the pitching, other than this week, has been bordering on God-awful.
If the 2011 Red Sox hope to compete in the AL East, they're going to need to get more out of their starters, particularly Beckett, who has been the one shining beacon of hope so far this season. If the arms can find their way, this team will sail into the postseason, even after its depressing start.
On-Base Percentage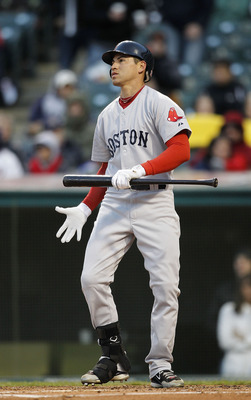 Leon Halip/Getty Images
Nobody doubts the speed that players Jacoby Ellsbury and Carl Crawford bring to the table, but what good are their legs if they can't get on base?
Ellsbury was on a complete tear during spring training, and after a solid Opening Day performance, he hit a wall, unable to find his way to first with any frequency.
Crawford has looked absolutely uncomfortable at the plate, swinging at pitches no major leaguer should ever take a crack at.
Manager Terry Francona has attempted to jump start these two speedsters by shifting them around in the batting order, but so far they haven't been able to turnover their offensive engines. If this team is going to score runs with any frequency, they need two of the fastest players in the game to get on base and make opposing pitchers uncomfortable. Until then, every game is up for grabs.
Catching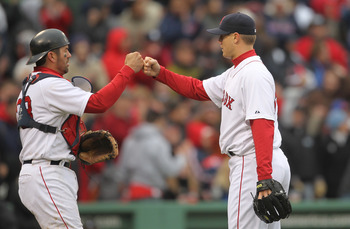 Jim Rogash/Getty Images
Jarrod Saltalamacchia was about the only player entering the 2011 season expectation-free. Nobody was expecting him to hit like Joe Mauer or Brian McCann, they just expected him to be serviceable.
Now, after three weeks, even his serviceable skills may be in question.
Clearly, the pitchers have been more comfortable with Jason Varitek, someone who they have all worked with before and respect, not only for his game-calling abilities, but for his leadership as well. These are two qualities they don't seem to be getting out of Saltalamacchia.
And therein lies the conundrum wrapped in the mystery folded into the puzzle. Defensively, Varitek looks like your better choice, but offensively he can't seem to catch up to even the slowest of fastballs. Offensively, Saltalamacchia has shown traces of the potential that followed him in his minor league days, but defensively he seems incapable of capturing his pitchers' trust.
If this team is going to get the ship righted and floating towards the playoffs, they're going to need some consistency behind home plate to help build the pitching staff's confidence. Let the rest of the lineup worry about the offense and let the catchers catch.
Team Dynamic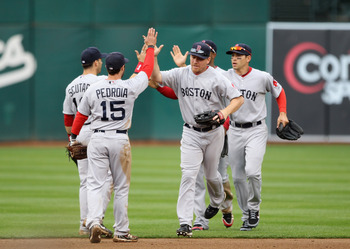 Ezra Shaw/Getty Images
Every team has its own personality, and so far, it's difficult to decipher exactly what the 2011 Red Sox will become. Aside from the occasional postgame interview, where a player will talk up their support of one another, there isn't a great sense of unity coming out of that clubhouse.
Yes, it's difficult to ride the silver lining while you're on the losing side of it, but if this club is going to gel, they need to remember that there is no "I" in team. Come together as a unit and the wins will come to the unit.
Finding the Spark
Elsa/Getty Images
Sometimes all it takes to ignite a team is that one exciting moment that kicks the tires and starts the fires. So far, that moment hasn't arrived for the 2011 Red Sox, and maybe that has less to do with the baseball gods and more to do with the club's inability to hit with runners in scoring position.
For years Big Papi has been known as Mr. Clutch, ringing in walk-off dramatics with a single swing of his bat. If this team hopes to find the momentum they need to ride to the top of the AL East, they're going to need more highlight reel moments to inspire and excite an otherwise downtrodden team.
The team needs you back, Mr. Clutch.
Shuffling the Deck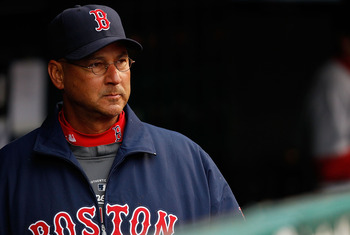 Jared Wickerham/Getty Images
You can understand what Terry Francona is trying to do when he continuously shuffles the lineup day in and day out, but how can players get comfortable in their roles when they don't know what role they're playing?
Whether it's done by design due to the opposing pitcher they're facing, or done to get a batter more (or less) at bats, this team needs to limit the roster rearranging and allow players to find their own individual groove. If baseball is a game of averages, Francona needs to give these guys a bigger serving size before he changes the menu.
Desire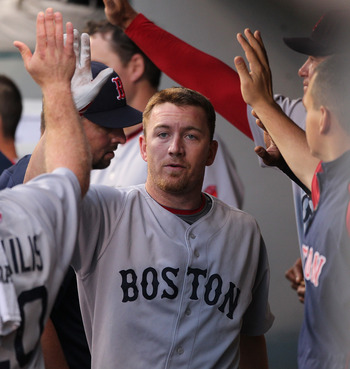 Otto Greule Jr/Getty Images
Much like team dynamic, desire is another stat that you can't measure and won't find on the back of a baseball card. However, it's also just as important as OBP and RBI.
Yes, we're only three weeks into the season, but aside from the occasional Pedroia or Youk pep talk, the 2011 Red Sox have showed little desire to be out on the diamond. It's as if a race of emotionless J.D. Drews has body-snatched the entire team, leaving them expressionless and devoid of baseball passion.
If this team hopes to rise to the top, each individual member is going to need to bring desire out on the field along with their gloves. Remember, boys, effort inspires effort!
Sweet Caroline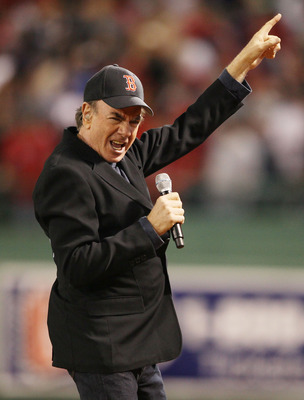 Elsa/Getty Images
We get it. Playing Neil Diamond's Sweet Caroline before the bottom of the eighth inning is fun for people, particularly those a few beers deep. But it's also starting to feel old and like a forced tradition crammed down our Fenway Frank-clogged throats. Please stop.
Please?
Keep Reading

Boston Red Sox: Like this team?