2011 NFL Mock Draft: 7-Round Look at What Pittsburgh Will Do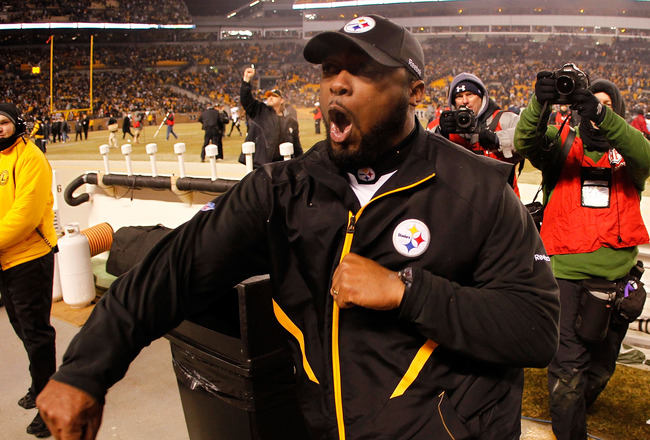 Gregory Shamus/Getty Images
The Pittsburgh Steelers were one final drive away from picking up their seventh Super Bowl victory in franchise history. They know now that the team needs just a few pieces to make a championship run again and will look for those pieces early on in the draft.
The Steelers have set starters at just about every position and will be looking to add quality depth to their defensive and offensive lines in the 2011 NFL Draft. The Steelers will have to find cornerbacks that can come in and compete as soon as they take the practice field. The best time to find cornerbacks with this potential would be early on in the draft. The Steelers have already used four late draft picks on cornerbacks in the Mike Tomlin era, and only William Gay has found any sort of success.
The Steelers could also look for an offensive tackle early on in the draft, a position that will be more in need next year than in 2011. Flozell Adams could still return as the team's right tackle, and there is still the opportunity for Willie Colon to return as the right tackle or possibly the right guard.
General Manager Kevin Colbert has already come out and said he likes this year's group of tackles, which could allude to two different scenarios. Either Colbert is saying he likes the tackle prospects so much he will go at them early, or he likes the depth at the position and will wait until later to draft a tackle.
The Steelers may not have a choice in drafting a tackle early on in the 2011 NFL Draft. The Steelers' top two prospects at the position, Derek Sherrod and Nate Solder, could both be gone by the time AFC North Rival Baltimore picks at No. 26.
Where the Steelers will go in this year's draft is purely speculation at this point because predicting the NFL Draft is like playing roulette with worse odds. The Steelers could always look into trading out of the first round as well...
Round 1: Aaron Williams, CB, Texas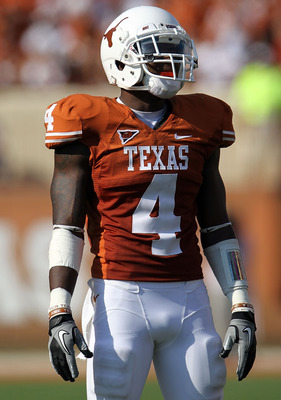 Ronald Martinez/Getty Images
The Steelers would rather take either Derek Sherrod or Nate Solder as their right tackle of the future, but won't have a chance at drafting either of the two offensive tackles. Aaron Williams is likely the third choice of the three, so the Steelers will still get a cornerback they value.
There is still the possibility that the Steelers could trade down in the 2011 NFL Draft, and there are a few teams that could make the trade work. If they do stay where they are, and both Sherrod and Solder are gone, then Williams becomes your front runner to become the No. 2 cornerback.
Williams is your prototypical Steelers cornerback. He is bigger than most cornerbacks, gets involved in run support and is very good at not getting beat deep. The Steelers could have their choice of either Aaron Williams or Brandon Harris with this pick, but I think they choose Williams as he is just a better fit.
Scenario 2: The Steelers have their choice between Brandon Harris and Aaron Williams, and this time take Harris. The Steelers won't change the rest of their picks here because they were still able to draft a valuable cornerback.
Scenario 3: Missing out on Sherrod or Solder could hurt the Steelers coaching staff so much that they decide they still want their tackle of the future. The best tackle available here would be Marcus Cannon of TCU which would also be a bit of a reach at No. 31.
Cannon is best at run blocking, so he still has some value to the Steelers but it is his toughness and improved awareness that will make him a draft prospect for the Steelers.
Round 2: Benjamin Ijalana, OT, Villanova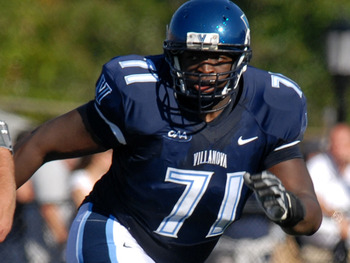 It is no secret that the Steelers could use an upgrade on the offensive line. Doug Legursky filled in admirably at multiple spots on the interior of the offensive line, so the Steelers could try and find their future right tackle in the second round of the 2011 NFL Draft.
The Steelers will have the benefit of adding depth and skill by selecting Benjamin Ijalana, an OT from Villanova. They won't have to play him right away if Flozell Adams comes back from injury, giving him time to learn the system. If there are as many injuries on the offensive line this year as there were in 2010, Ijalana could still take the field and is a pretty strong backup option.
Scenario 2: The first round has some very strong defensive line prospects, and some very good prospects that could fall towards the end of the second round, if only because the position is so deep. The Steelers don't have an overly pressing need to draft a defensive tackle this high, but they do need to add young depth to a unit that features one player under 30 years old.
If the Steelers go this route they could select the best lineman available, Jarvis Jenkins of Clemson. Jenkins has the size to play both defensive tackle and defensive end for the Steelers, although his pass rush skills will need work if he wants to play defensive end for the Steelers.
Scenario 3: The Steelers could miss out on finding an offensive tackle in the second round and be forced to address the offensive guard position. At worst the Steelers add sorely needed depth to their offensive line in this spot. I think the Steelers have their choice between James Carpenter of Alabama or Orlando Franklin of Miami.
The Steelers allegedly were very impressed with Franklin at the Miami pro-day, but he isn't your average Steeler prospect. Franklin has been called "uncoachable" and has even been called lazy in his college career. Franklin also comes with some injury concerns, which the Steelers don't need any more of on the offensive line.
Round 3: Marcus Gilchrist, CB, Clemson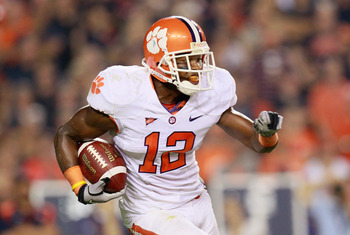 Kevin C. Cox/Getty Images
The Steelers will go after two defensive backs early on in the draft as insurance. There is no guarantee that Ike Taylor will be back next year. That would leave the team with Bryant McFadden, William Gay and Anthony Madison as their best three corner backs.
Marcus Gilchrist is the most likely corner back prospect to be available at this point. They drafted their future No. 2 cornerback in Aaron Williams; now the Steelers need to find a cornerback that can help primarily as a nickel back. Gilchrist has played just about every position in the defensive backfield, so he won't be confused when used as a nickel back in the NFL.
Gilchrist will get involved in run support, but draws similarities to Ike Taylor in his ball skills. Gilchrist had only one interception in college, but had many opportunities for more. He can play the ball well, but he just can't hold onto it.
Scenario 2: Curtis Brown of Texas should be the highest rated cornerback to be available around the time the Steelers make their third selection. The chances of him falling this far aren't great and that is why I feel Gilchrist is the more likely scenario.
If Brown were to fall, the Steelers could have a tough choice between him and Gilchrist. Brown is taller and a more natural cover man with superior hands. Brown isn't as strong against the run, however, and will need to add some muscle to his frame.
Scenario 3: The Steelers should have addressed their need for an offensive tackle by now, but if not I think Chris Hairston of Clemson would be a great addition. The Steelers offensive line added a jolt of speed with Maurkice Pouncey and it improved in some of their rushing attacks to the outside. Hairston is one of the fastest offensive tackle prospects in the draft and could make for some interesting run plays in 2011 if paired with Pouncey.
Hairston was a hard worker in college, but could be passed up by the Steelers because of a college career with too many injury concerns. The Steelers don't need any more injury prone offensive linemen.
Round 4: Austin Pettis, WR, Boise St.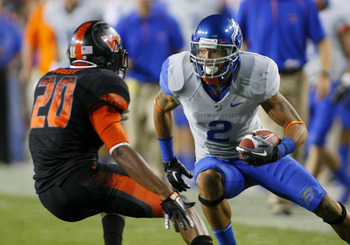 Geoff Burke/Getty Images
The Steelers will be looking for a possession receiver capable of taking over for Hines Ward in the future. Austin Pettis is a pretty good choice here.
Pettis has very sure hands and isn't afraid to go across the middle. Pettis displays similar toughness to Ward and under his tutelage could transform Pettis' game in to a regular NFL starter. Pettis won't burn anyone deep, but he is big enough to break a tackle and to push a defensive back around.
Pettis is a very good choice for the Steelers who will have to look for Hines Ward's replacement sooner than later. Last year's two rookie wide receivers, Emmanuel Sanders and Antonio Brown, are both up and coming players, but serve different purposes on offense than a player like Pettis.
Scenario 2: The Steelers could find a very capable defensive end in Lawrence Guy in this round. Guy played defensive tackle for the Arizona St. Sun Devils, but could easily convert to defensive end in the Steelers' system. Guy is tall and fast and has great toughness to play through pain.
Guy is solid against the run, but will need to improve his pass rush skills. Steeler defensive ends never accumulate many sacks in a season, but it is necessary for them to apply pressure on the quarterback when the linebackers drop back in coverage.
Scenario 3: If there were only one position the Steelers could draft for the rest of time, it would be a linebacker. They got to see firsthand just how good Clay Matthews was last year, and because of that, they will give his younger brother Casey Matthews much more thought in this year's draft.
The Steelers will likely lose Keyaron Fox to free agency, and James Farrior isn't getting any younger. Farrior is the leader of the defense and fellow inside linebacker Lawrence Timmons is becoming one of the best linebackers in football. The Steelers drafted Sylvester Stevenson last year and he has the ability to become a starter someday. Adding solid competition at the position isn't a terrible idea, however.
The younger Matthews is a bit small for an inside linebacker, but is incredibly smart and has great football acumen. The Steelers could benefit from an intelligent linebacker in the middle of the field calling out the plays.
Round 5: Sione Fua, DT, Stanford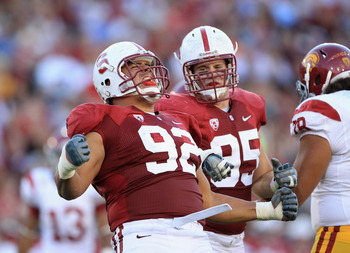 Ezra Shaw/Getty Images
Depending on how the draft pans out, the Steelers may not have the chance to draft Stanford defensive tackle Sione Fua. Fua isn't the average height for an NFL defensive tackle, but he fits the bill for the Steelers. Fua never missed any time while in school and is active in community service, making him an ideal Steeler.
Playing nose tackle for the Steelers isn't a job that reaps many benefits. Casey Hampton has made his trips to the Pro Bowl, but will never have the stats to back up a career as strong as his. Fua will have to play the same role with the Steelers if he wants to succeed. Fua has poor endurance, but that will work out well with the Steelers as they have recently had a penchant for moving around their defensive linemen.
Fua plays with a mean streak and is very good against the run. His pass rush skills aren't great, but he will be asked more to pick up multiple blockers than to rush the quarterback.
Scenario 2: The Steelers want to find a capable third down back in this year's draft to replace Mewelde Moore. Moore was capable as a receiver but his speed diminished so much that he became more of a pain to Steeler faithful. The Steelers want home run speed more than anything in their next back and that is Kentucky Running Back Derrick Locke's strong suit.
Locke is small, but incredibly fast. He plays the ball well in the air and can make adjustments. Locke is pretty small, however, and could cause some serious mismatches when paired against a team like the Ravens.
Scenario 3: The Steelers will continue to look for offensive line talent to add depth. Former Pitt Panther Jason Pinkston is one of the few tackle prospects with any chance of a solid NFL career left, and he will likely be gone before the Steelers have a chance to draft him.
Pinkston is the best pass blocking tackle remaining at this point in the draft and the Steelers will have to take him here if he were to slide this far.
Round 6: Da'Rel Scott, RB, Maryland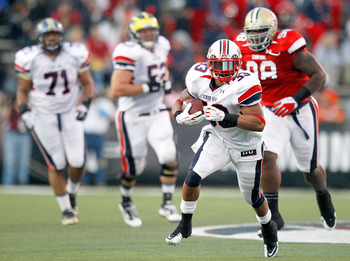 Sean Gardner/Getty Images
Da'Rel Scott draws many similarities to former Steeler running back Willie Parker. Both backs had phenomenal breakaway speed in college, but didn't get the credit they deserved thanks to some diva-like qualities.
Scott can help immediately in the passing game. Scott will almost always make the catch and can make a defender or two miss after the catch as well. This Terrapin is smaller and could get pushed around in the trenches as a third down back asked only to catch the ball; however, Scott is a great addition to the Steelers.
Da'Rel has some injury concerns the Steelers will have to look over before they make him their pick. Scott missed a total of nine games in his first three seasons with the Terrapins, but as a backup running back for the Steelers could last a little longer.
Scenario 2: The Steelers have drafted a total of four cornerbacks in the Tomlin era and only one has brought anything to the table (William Gay). The Steelers have to at least consider the idea of life without Ike Taylor, and then realize that Taylor, Bryant McFadden and Anthony Madison are all 29 or older.
The Steelers could look to add a few names to keep competition alive, and Cortez Allen of Citadel would be an excellent choice. Allen comes from a Military school and a Military family so a strong work ethic has been beaten into him. Allen is tall and fast enough to make it in the NFL.
Allen isn't great at recognizing the play in front of him and will have to do some learning and quick if he wants to make the active roster. His ball skills overall are above average but he will need to improve his run support if he wants to be a Steeler.
Scenario 3: Shaun Suisham worked out pretty well for the Steelers after Jeff Reed talked himself out of Pittsburgh. Suisham doesn't exactly have the best track record, however, and it could force the Steelers to consider drafting a kicker.
Alex Henery of Nebraska is the best kicker in this year's draft and would be a good addition to the Steelers. The team loves punter Daniel Sepulveda but he has two season ending injuries already in his young career. Henery's strong suit is as a place kicker, but has had experience punting the ball as well. Henery averaged 43.2 yards per punt and had 26 punts downed inside the 20 last year.
Round 7: Mike Mohamed, ILB, California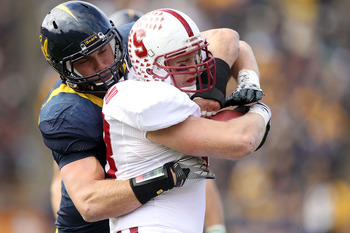 Ezra Shaw/Getty Images
Mike Mohamed is a tall and very fast young linebacker. Mohamed plays with a never ending motor and mean streak with a penchant for laying big hits. Mohamed will need to add bulk to his frame or else he will have trouble taking on bigger blockers in the NFL.
Mohamed's real value to the Steelers would be on special teams. His tenacity could make him a formidable foe on kick coverage similar to that of Clint Kreiwaldt, a former Steeler special teams stand out. Mohamed could be as much of a liability in kick coverage because of his tenacity, however. Mohamed can miss a tackle or two in the open field because he will try for the big hit and over pursue.
Scenario 2: The Steelers drafted a talented punter when they took Daniel Sepulveda in the fourth round. Sepulveda has suffered two season ending injuries in his time as a Steeler, however, and the team must be getting wary of his long term prospects. In the case they are thinking about replacing Sepulveda, they could take the best punter in the draft and select Ryan Donahue of Iowa.
Scenario 3: The Steelers don't use their tight ends as receivers much, and when they do they only use Heath Miller. The Steelers do find ways of using multiple tight ends as blockers, however, and Daniel Hardy of Idaho could be that fresh face. Hardy gives great effort in blocking and has the size to support it. His height and size combination are average.
Keep Reading

Pittsburgh Steelers: Like this team?