2011 NFL Mock Draft: Philadelphia's Draft Strategy Without a New CBA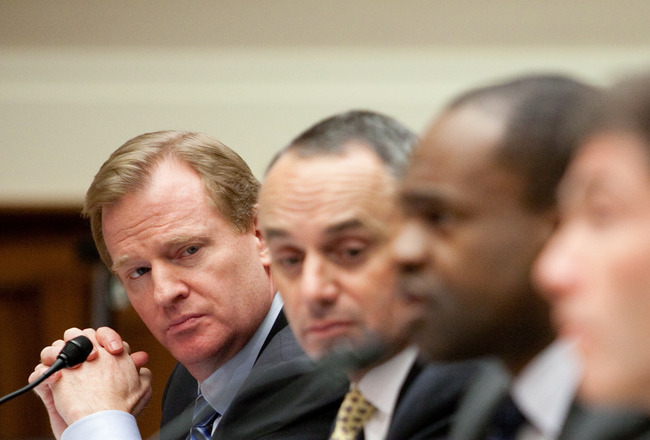 As they debate on the new CBA, other teams worry about how to come about this year's draft.
Brendan Hoffman/Getty Images
The Eagles have a tremendous amount of holes for such a talented team. Unfortunately, without a CBA, they will need to address these needs in the draft so I created a mock draft for who the Eagles should select with all their picks to ensure improvement starting next year.
With all the talent coming out, the Eagles will have a handful of scenarios: but I've laid out the blueprint that would be perfect for this team.
Round One: Addressing the Right Side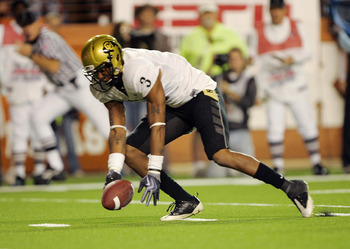 Brian Bahr/Getty Images
Round 1 (pick 23): Jimmy Smith CB Colorado- This talented corner has been compared to the likes of Nnamdi Asomugha, in terms of being a physical, big corner with tremendous ball skills. At 6-2 and 210 pounds, his only issues are with his character, but he has started to comfort teams. He would be a good quality pick for the eagles, and should provide immediate help on the right side of the defense.
Other Options:
Gabe Carimi OT Wisconsin- Solid Tackle that could come in and help the Eagles right away on the right side.
Martez Wilson ILB Illinois- This may be a reach, but this physical specimen could be the steal of the draft.
Corey Liuget DT Illinois- The Eagles could always use help up front, and new DL coach Jim Washburn would bring out the best in Liuget.
Round Two: Stefen Wisniewski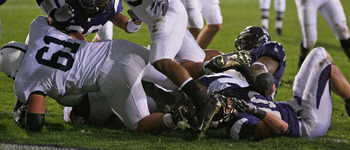 Wisniewski laying a nice black to help his back Brandon Beachum find space
Jonathan Daniel/Getty Images
Round 2 (pick 54): Stefen Wisniewski OG Penn State- The Eagles need help on the offensive line, specifically at the RT and RG spots. I have them taking a good OT later in the draft that I think will be a steal, but Howard Mudd will have something to work with in the hard working Wisniewski. Wisniewski started every game in his senior season at Right Guard, and was named to the All-Big Ten team. He also has experience at tackle and center, so he is versatile.
Other Options:
Brandon Burton CB Utah- This corner could go anywhere from the second to fourth round, but he would add a physical presence on the other side of Asante Samuel. Also, the Eagles need major depth at corner, which he can add.
Quan Sturdivant LB UNC- A first team all-ACC selection, this smaller linebacker could add a willing tackler to the team. He is coming off a thigh injury, yet still finished 3rd on the team in tackles. He also ranked 20th in the country in tackles per game with 9.4.
Round Three: The Physical Specimen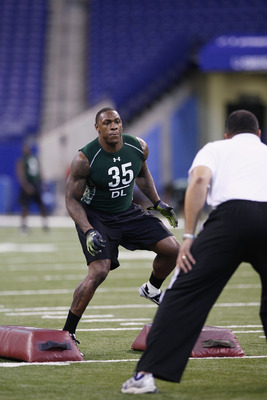 Moch working at the combine
Joe Robbins/Getty Images
Round 3 (pick 85): Dontay Moch LB Nevada- This physical specimen at linebacker would do wonders for the Eagles on the weak side. With Ernie Sims most likely gone, they will need a replacement. Now, at 6-1 and 248 pounds, he doesn't have superior height, but has good weight. He is also a freakishly athletic player, as he ran a 4.4 40 time at the combine. The eagles love faster linebackers, and this project could turn into a very good NFL player one day.
Other Options:
Allen Bailey DE Miami- Bailey's stock dropped during his awful combine and pro day, but has still shown potential to be a good pass rusher off the edge in the pros. He has huge size, at 6-3 and 285 pounds. He also has experience going inside on third downs, which the Eagles love to do.
Jurrell Casey DT USC- An honorable all-Pac ten mention, this 300 pound DT loves to bang with the best of them as he hopes to be a third round selection.
Jaiquawn Jarrett S Temple- The need for help in the secondary can justify this local kid pick. He has experience on special teams as a blocker and chaser, as well as starting all 13 games at safety. He was selected to the all-MAC team and has never missed a game in his collegiate career.
Round Four: Two Selections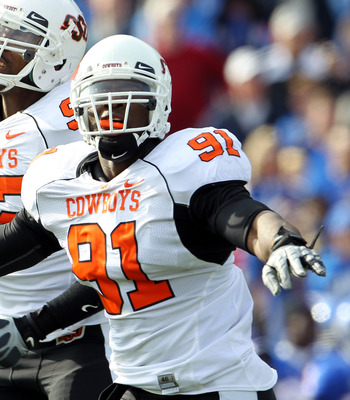 Jamie Squire/Getty Images
Round 4 (pick 104): Ugo Chinasa DE Oklahoma State- Another freakish athlete for the Eagles, at 6-5 and 261 pounds, new DL coach Jim Washburn will do wonders with this project. He ran a 4.63 at the combine, and has shown potential to be a speed rusher in college.
Round 4 (pick 120): DeMarcus Love OT Arkansas- This 6-4, 315 pound tackle is another project, but should fit in with the Eagles passing scheme. Howard Mudd will put him right to work, and could end up developing Love into a good starting right tackle.
Round Five: Best Players Available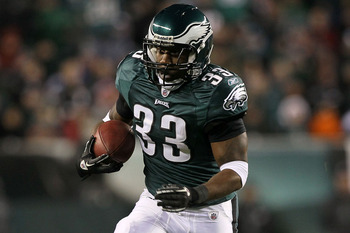 Jerome Harrison
Jim McIsaac/Getty Images
Round 5 (pick 149): Alex Green RB Hawaii- Jerome Harrison is a free agent, and the Eagles may choose to find his heir in the draft. Alex Green is the best player available at this point, and plays with a good blend of size and speed.
Round 5 (pick 153): Chris Culliver FS South Carolina- This pick is extremely simple. This team needs depth in the secondary, as well as a Kick returner, and Culliver can provide both.
Round Seven: Three Picks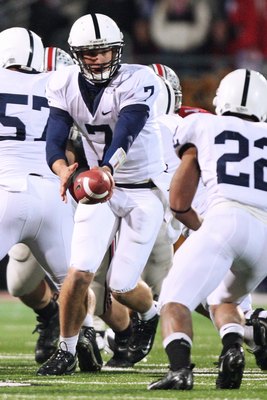 Pat Devlin before he transferred from Penn State
Jamie Sabau/Getty Images
Without a 6th round pick, the Eagles have three seven round picks.
Seventh Round (pick 227): Pat Devlin QB Delaware- Devlin is a local kid, whom the Eagles have worked out. He has great size and a good arm, but he has a lot to put together. If Kolb gets traded, Devlin will give some insurance not named the weak-armed Mike Kafka.
Seventh Round (pick 237): Ryan Winterswyk DE Boise State- This DE out of the Blue (pun intended) will add another body to try out on the defensive side of the ball.
Seventh Round (pick 240): Scott Lutrus OLB Uconn- Again, this is for depth.
Keep Reading

Philadelphia Eagles: Like this team?