Mike Leach: CBS Analyst Joins the Mad World of Twitter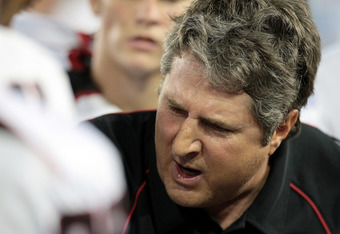 Mike Leach Finally Drops His Social Media Phobia and Opens Twitter Account
It wasn't that long ago that then Texas Tech head coach Mike Leach banned his players from using Twitter. The man who would later be fired by the Red Raiders program wanted no sign of his student-athleets to touch that particular social media tool.
What a difference two years makes. What was true in 2009 is more so today. Every single person in the media has a Twitter account.
That is just the way news breaks in the modern era. Leach had to get on board or sink to the bottom of the pile of football analysts.
MUST READ: Worst Facial hair in Sports History
Leach has opened a Twitter account. I will say that this is less about hypocrisy and more about necessity. Leach left his gig at Texas Tech and took up with CBS. They have no qualms how Leach allegedly treats players with a concussion.
His job as college football analysts mandates that he not only be aware of the breaking news of the day, but that he himself form some sort of following in the cyber world.
So now the man with a deathly fear of Twitter, took to the site and published this little gem.
So I only get 140 characters on this thing?...That's it?! This is going to be tough. Hello Twitter world.
I am just glad Leach knows how to operate a computer or smart phone. Whatever he used to post his first tweet ever, I am sure he called it a gizmo or gadget.
Welcome to 2011 Mike Leach, please let us know if you have trouble using the DVR on your cable box. Oh, you probably still use antennas. My bad.
Most recent updates:
This article is
What is the duplicate article?
Why is this article offensive?
Where is this article plagiarized from?
Why is this article poorly edited?