MLB Trade Rumors: New Info on Felix Hernandez, Grady Sizemore and Brett Myers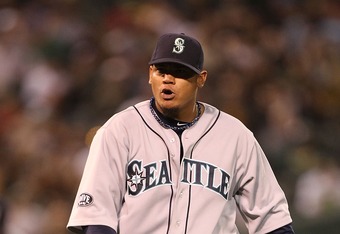 Jed Jacobsohn/Getty Images
Among baseball fans, everybody wants to know who's going where at the trading deadline. Seattle ace Felix Hernandez, Cleveland outfielder Grady Sizemore and Houston starter Brett Myers are three of the most bandied-about names.
Unfortunately, teams are mostly still in a holding pattern, and early in the year GM's prefer to play mind games with their rivals to drive up the price on their trade chips.
Yet, despite the prevailing atmosphere of conservatism, a few significant nuggets about potential trades (or non-trades) slipped out today.
On the Felix Hernandez front, Geoff Baker of the Seattle Times reported today that King Felix will NOT be traded this year. The reason? According to Baker, ownership won't risk the fan revolt that a Hernandez deal could cause.
Attendance at Mariners games is already among the lowest in the league, and ownership is afraid that by dealing their best player, they'd also be dealing their main attraction and an important signal of the team's intention to improve.
However, Baker also notes that in a year from now, it will be time to "start paying real close attention" to the trade rumors. At that point, Seattle's other young talent may have matured to the point that they could deal Hernandez, get a boatload of prospects back and still have enough juice at the major league level to stay competitive.
Bob Levey/Getty Images
Given the patchwork nature of the New York Yankees rotation at present (they start Bartolo Colon tomorrow), it's natural that tongues are wagging about starting pitchers the Yankees might look to acquire.
Astros starter Brett Myers is commonly mentioned as a possibility. He threw 223 innings last year with a 3.14 ERA -- exactly the sort of innings-eating production the Yankees could use. And he's off to another strong start this year, posting a 2.39 ERA in his first four starts.
But Myers is posting his numbers in the National League West, a far cry from the ultra-competitive American League East. According to a scout who talked to ESPN's Jayson Stark, Myers' stuff won't play in the AL East. Said the scout:
If he's in the AL East, he's a fifth starter. I don't see him being a [difference-maker]. The only thing he'd have working for him, besides his curveball, is lack of familiarity with him over there.
Stark points out that the average velocity on Myers' fastball is 87.7 miles per hour. Yankee fans know all-too-well from the struggles of Phil Hughes what happens to pitchers with batting practice fastballs in the AL East.
Does this mean the Yankees definitely won't look to trade for Myers? Not necessarily, but Yankee fans should be prepared that Myers wouldn't be a savior. At best, he'd be a productive third or fourth starter.
This article is
What is the duplicate article?
Why is this article offensive?
Where is this article plagiarized from?
Why is this article poorly edited?
Jared Wickerham/Getty Images
More news on the trade front, as Cleveland Indians' GM Chris Antonetti told ESPN's Jayson Stark that he won't be looking to trade oft-injured outfielder Grady Sizemore.
Antonetti explained:
If we had been the team we wanted to be in 2008, we wouldn't have traded CC [Sabathia]. … So this year, if we play up to our expectations, if we're a contending team, we'll be looking to acquire guys, not trade guys [like Sizemore] away. Our focus is, let's get back to winning and start bringing in guys at the deadline.
The key phrase there is "if we play up to our expectations." Antonetti is leaving himself plenty of wiggle room to turn around and deal Sizemore (or any of his other players) if the team falls out of contention again.
Sizemore was activated off the DL on Sunday and hit a home run. But he's not in tonight's lineup because the Indians are still easing him back in.
Sizemore's performance over the next couple of months -- as well as the Indians' overall performance -- will go a long way to determining where he plays in the future.
This article is
What is the duplicate article?
Why is this article offensive?
Where is this article plagiarized from?
Why is this article poorly edited?

Seattle Mariners: Like this team?