2011 NFL Schedule: Philadelphia Eagles Open at St. Louis Rams on Sept. 11th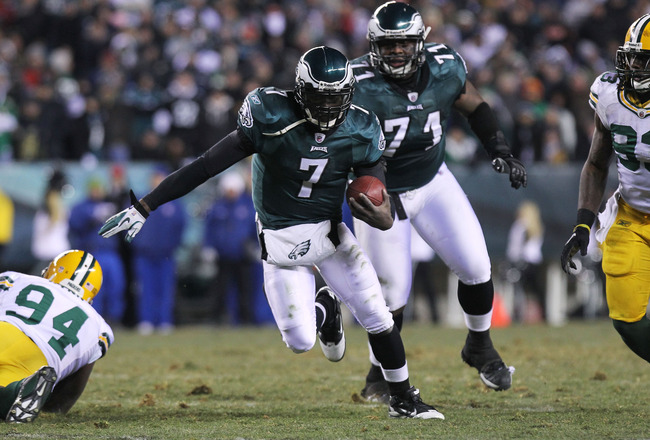 Nick Laham/Getty Images
While the CBA is still being discussed and the lockout going into its 40th day, the NFL still released its schedule for the "upcoming" 2011 NFL season.
Schedules for all 32 teams were released tonight on the NFL Network's broadcast.
The Philadelphia Eagles look to rebound from a tough NFC Divisional Round exit last year.
Slated to play the AFC East this season, the Eagles will be in for some tough games.
Here is a look at the match ups and what kind of record we can expect out of the 'Birds this season.
Week 1: @ St. Louis Rams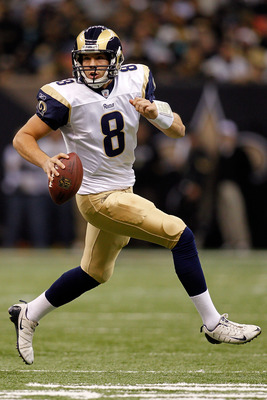 Chris Graythen/Getty Images
Week 1 is a rematch of the season opener from 2008, only this time, it is in St. Louis.
Three Eagles WR's got over 100 yards as the Eagles torched the Rams 38-3.
This is a different Rams team though. The Eagles will get their first look at rookie phenom Sam Bradford.
Bradford impressed many as the No. 1 pick went on to win the NFL Rookie of the Year.
The Rams only advantage in this game would be in their running game. Steven Jackson always has the opportunity to have a big game, especially against a poor Eagles' run defense.
Prediction: Eagles
Week 2: @ Atlanta Falcons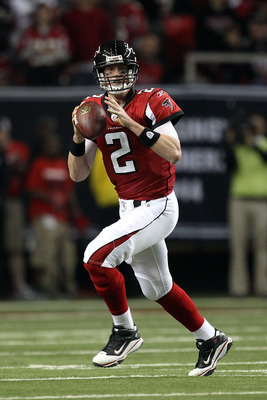 Streeter Lecka/Getty Images
In Week 2, the Eagles will face off against Matt Ryan and the Atlanta Falcons in an NBC prime-time game.
The more important side-plot to this game is the return of Michael Vick to Atlanta.
Vick will return to face his former team for the first time as the Eagles' starting QB.
The Georgia Dome is a tough place to play in and now, with the return of Vick, the fans will be more raucous than ever.
And it will all be on national television, so get your popcorn ready.
Prediction: Falcons
Week 3: NY Giants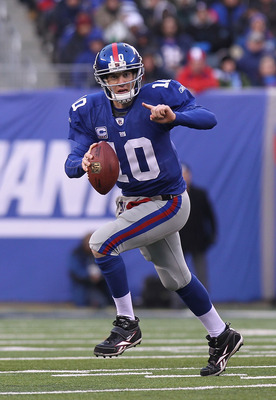 Nick Laham/Getty Images
The 2011 home opener faces off the Eagles against their bitter NFC East rival.
Going 10-6 in 2010, the Giants unfortunately could not secure a playoff birth. Losses to the Eagles and Packers late in the season cost them a trip back to the postseason.
The Giants are always a dangerous team to play. Eli Manning can be on fire and torch defenses, or he can look like he has no clue what is going on and throw three picks.
The Eagles and their fans will be ready for their home opener.
Prediction: Eagles
Week 4: San Francisco 49ers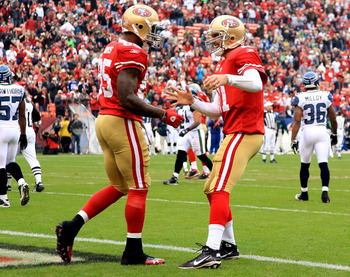 Jed Jacobsohn/Getty Images
Last year, it was a game that the Eagles were supposed to win handily.
It did not turn out that way as the Eagles barely pulled off the win over the 49ers in Week 5 last season.
This time, the 49ers are coming to the Link.
Right now the 49ers do not know what to do with their QB situation for next season. We do not know if we will see Alex Smith, Troy Smith or someone new on October 2nd.
Prediction: Eagles
Week 5: @ Buffalo Bills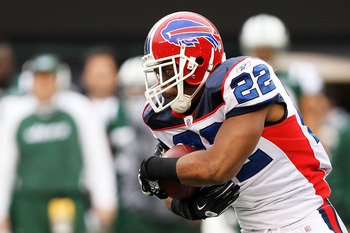 Michael Heiman/Getty Images
This game was rumored to be held in Toronto. It will in fact be in Buffalo at Raymond James Stadium.
The Bills come into this season looking for some signs of improvement and some signs of a bright future for the franchise.
With the third overall pick in the draft, they may get that glimmer of hope. The Eagles might see themselves lining up against Cam Newton or Blaine Gabbert in Week 5.
Either way, Eagles have the upper hand.
Prediction: Eagles
Week 6: @ Washington Redskins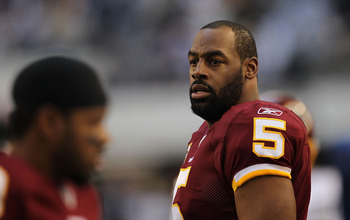 Ronald Martinez/Getty Images
Chances are slim to none that Washington will keep Donovan McNabb for the entire 2011 season.
If he plays the full season, he is due a massive bonus on his contract.
McNabb will likely be traded or released, but will it be by Week 6?
With questions surrounding their current QB position, the Redskins have to decide on what they want to do for the future.
Prediction: Eagles
Week 7: Bye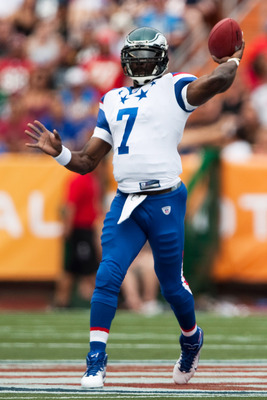 Kent Nishimura/Getty Images
The Eagles get the bye early in the season. Time for Mike Vick to rest up and get healthy.
Week 8: Dallas Cowboys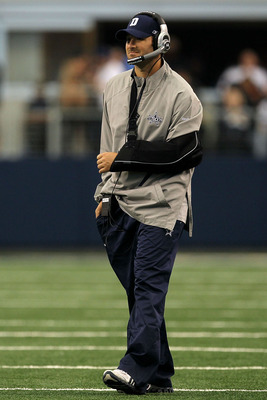 Stephen Dunn/Getty Images
After a win over the Colts last season, Andy Reid is now 12-0 as the Eagles head coach following their bye week.
A perfect record. I do not expect anything to change this season.
Having two weeks to prepare for their hated rivals will prove to be the key this week.
Tony Romo should be back on the field for Dallas.
Prediction: Eagles
Week 9: Chicago Bears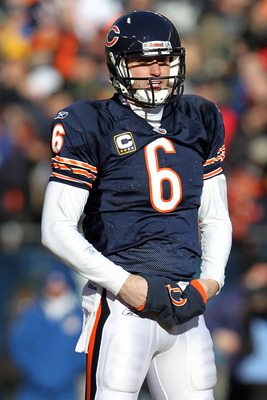 Jamie Squire/Getty Images
Jay Cutler lit up the Eagles secondary last year in their 31-26 victory over the 'Birds.
The Bears defense limited the Eagles offense to the big plays they had grown accustomed to having over the course of the season.
I liked how the Bears contained Mike Vick and how they were physical with him.
Unless the Eagles secondary makes significant improvements, the Bears prevail again.
Prediction: Bears
Week 10: Arizona Cardinals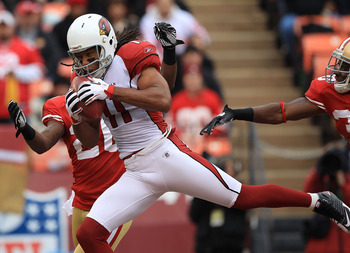 Jed Jacobsohn/Getty Images
Larry Fitzgerald should have a new QB to open the 2011 season with.
Arizona, in my opinion, will probably draft either Blaine Gabbert or Cam Newton with their first pick.
If they cannot get one of them, they should look for Ryan Mallet or Andy Dalton in Round Two.
It will be interesting to see the connection that the new duo makes up.
Prediction: Eagles
Week 11: @ NY Giants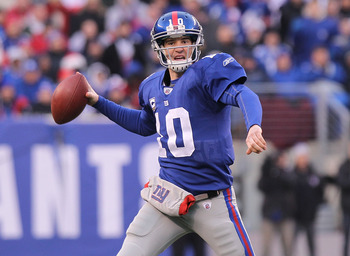 Nick Laham/Getty Images
After three straight home games, the Eagles will travel up the Turnpike to face off against the Giants for the second time in Week 11.
Eli Manning at home is totally different than an Eli Manning on the road.
Last year at home, Manning completed three percent more pass attempts and threw nine less picks at the new Giants Stadium.
Prediction: Giants
Week 12: New England Patriots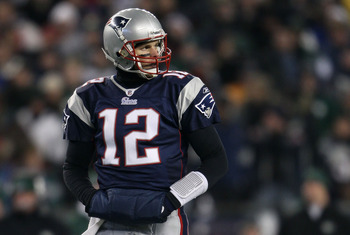 Elsa/Getty Images
The second of the AFC East opponents are the New England Patriots.
Tom Brady and co. come to Philadelphia for the first time since 2007.
Brady will carve up the Eagles' weak secondary, and I am sure that Bill Belichick has some things up his sleeve to slow down Mike Vick.
Prediction: Patriots
Week 13: @ Seattle Seahawks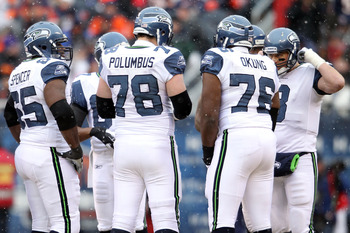 Andy Lyons/Getty Images
Week 14: @ Miami Dolphins
Marc Serota/Getty Images
After a disappointing loss in Seattle, the Eagles should come out ready to play against Miami in Week 14.
The Dolphins have a lot of questions surrounding their offense going into 2011.
Who will take snaps under center, and who will be in their backfield?
It is early on in the offseason, but the Eagles have the edge in this matchup.
Prediction: Eagles
Week 15: NY Jets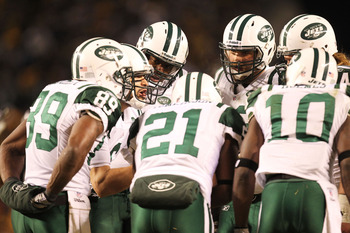 Ronald Martinez/Getty Images
No matter how ugly they look during games, the New York Jets still find ways to win football games.
Mark Sanchez looks to rebound from a tough AFC Championship game.
Sanchez and the Jets will be back there again next season.
Rex Ryan always has this team fired up and ready for the next challenge ahead of them.
Prediction: Jets
Week 16: @ Dallas Cowboys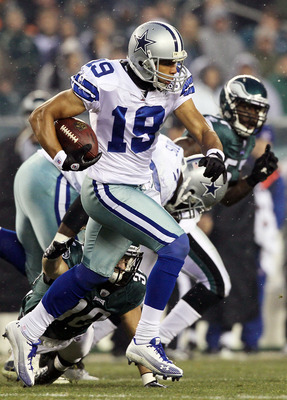 Jim McIsaac/Getty Images
The Eagles travel to Dallas on Christmas Eve to play Dallas for the second time in 2011.
Tony Romo will be on the hot seat in 2011 and will look to bounce back from an injury that kept him out most of last season.
Dallas should be a scary team in the NFC East this season.
They were supposed to be Super Bowl contenders, but the injury to Romo really hurt them.
Now they have a top draft pick to select perhaps a very good CB.
Prediction: Dallas
Week 17: Washington Redkins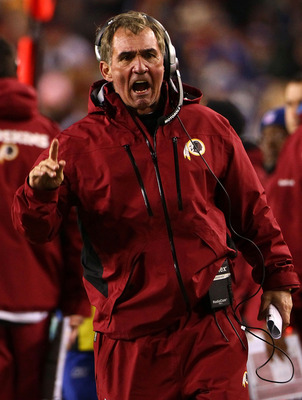 Win McNamee/Getty Images
By my counts, the Eagles come into the last game of the season at 8-7.
A win may get the Eagles into the playoffs as a wild card. A loss sends the Eagles back to Philadelphia for the summer.
Regardless of how the Redskins are playing in 2011, Mike Shanahan will have his team playing hard in their final game of the season.
This game will be a brutally physical NFC East game, as they always are. It will come down to who wants it more.
Prediction: Eagles
Record: 9-7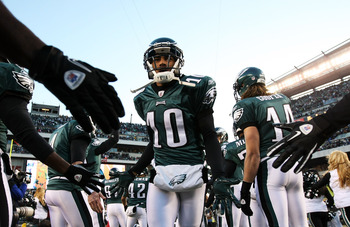 Al Bello/Getty Images
2011 Season record: 9-7 (2nd place in the NFC East)
Will 9-7 be good enough to get the Eagles back to the playoffs?
Only time will tell.
Mike Vick needs to have another good and healthy year in order for the Eagles to compete in 2011. Opposing teams will soon draw schemes around how to stop him from scrambling so much.
Vick must continue to develop his pocket passing.
Keep Reading

Philadelphia Eagles: Like this team?