NFL Mock Draft 2011: Could Ryan Mallett, and Jake Locker Sneak into First Round?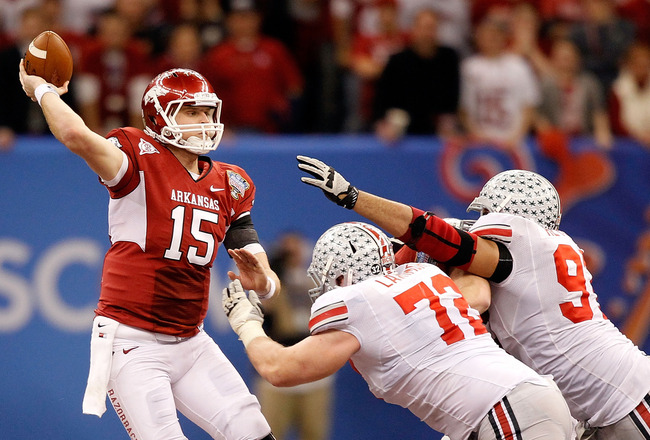 Matthew Stockman/Getty Images
The general consensus around the NFL is that this is a weak QB class. But in a QB driven league, there's a great chance teams will take a chance on talented prospects like Arkansas' Ryan Mallett or Washington's Jake Locker.
Sure, Mallet has questions of pocket presence and mobility—but he has one of the strongest arms in recent draft history. Despite being called the "most overrated offensive player in this year's draft" on SportsCenter by Mil Kiper, the Patriots and Dolphins hold midround picks and appear to be interested.
Locker may have issues of accuracy, but he is that rare athlete at the QB position, and a gifted runner. The Seahawks appear interested at pick No. 25.
It's going to be a wild first round, with the draft being aired prime time Thursday night for the first time ever. Here is a complete first-round mock draft.
1. Carolina Panther: Alabama DT Marcell Dareus
Draft Needs:
Carolina certainly has a lot of needs to fill on both sides of the ball.
Some say that the Jimmy Clausen experiment has already failed, while others point out the lack of talent surrounding him.
There's still the defense that was 26th in the league in points allowed.
Why Dareus:
Carolina needs to rebuild it's defensive line after losing Julius Peppers. Dareus is a great athlete for someone his size, and is the best run-stopper in this year's class.
Considered a "safe" pick, Dareus is not an astonishing prospect (he lacks great pass rushing skills), but will help the Panthers fill many areas of need on their front seven.
2. Denver Broncos: LSU CB Patrick Peterson
Draft Needs:
Denver's defense was just plain awful last season.
They allowed 29.4 points a game and 390.8 yards a game, both worst in the league.
They also need to figure out the team's future on offense. Which QB will be the starter on offense, Kyle Orton or Tim Tebow? Whoever new coach John Fox chooses, he will have to help build the offense around them.
Why Peterson:
Champ Bailey was once a great corner, but age seems to have finally caught up to him—it has been four years since he had over three interceptions.
Peterson is a freak at corner, tall, fast, and strong. He is considered by NFL draft analyst Scott Wright as the top prospect in this draft. He would be a great addition to the Denver secondary and would have a great teacher in Bailey.
3. Buffalo Bills: Texas A&M LB Von Miller
Draft Needs:
Although talented on offense, the Bills were just 28th in the league in points and 25th in yards.
Their defense is equally bad, so management must decide which side of the ball is more important. Some say to reach for a QB, while others want to rebuild from the inside out.
Why Miller:
It would be unwise for a franchise with as many holes as Buffalo to reach on a QB—they should play it safe with the third pick.
The Bills have no pass rush—they were just 27th in the league in sacks this past season. Recent first-round pick Aaron Maybin is already being called a bust, so the Bills need a pure pass rusher.
Enter Miller. He played LB in college, but has the ability to switch over to DE (some think he would work even better playing as a DE because of his suspect pass coverage skills).
4. Cincinnati Bengals: Georgia WR AJ Green
Draft Needs:
Cincinnati might not even have a QB as Carson Palmer is threatening to retire if not traded.
T.O. and Chad Ochocinco are both free agents as well, and are not worth the headaches to resign. A receiver is needed.
Why Green:
AJ is the most complete offensive player in this draft.
He is an excellent route runner, has great hands (unlike the inconsistent Julio Jones), and a tall, lean frame. He is an excellent red zone threat.
Whoever will be playing under center for the Bengals next season will need a talented receiver to throw the ball to, and Green certainly fits that bill.
5. Arizona Cardinals: Missouri QB Blaine Gabbert
Draft Needs:
Arizona's defense was pretty bad last season—they were 29th in yards allowed and 30th in points allowed.
They also had to start three different QBs last season, and were last in the league in rushing.
Why Gabbert:
Larry Fitzgerald is the most talented, most important player on the Cardinals, and they need to find a QB who can get him the ball.
Gabbert, while far from perfect, is the best option to do so. He is mobile and very good at throwing on the run. He is also very accurate and can scramble if needed.
6. Cleveland Browns: UNC DE Robert Quinn
Draft Needs:
The Browns may have found their QB of the future in Colt McCoy, but does he have enough help on offense?
And the defense, while young and talented, was still 22nd in yards allowed and have lost defensive coordinator Rob Ryan.
Why Quinn:
The Browns need a player who can generate pressure on the QB by himself—the Browns had just ten sacks last season when not blitzing, second worst in the league.
Despite not playing at all last season because of NCAA violations, Quinn is still a premier athlete.
With DaQuan Bowers facing injury issues, Quinn is now the top rated DE on the board, and would be a good value for the Browns at pick No. 6.
7. San Fransico 49ers: Clemson DE DaQuan Bowers
Draft Needs:
New coach Jim Harbaugh must decide if Alex Smith will be given another chance to be the starting QB for this team—the former No. 1 pick may be running out of chances to prove himself.
The Niners will be tempted to take Heisman winner Cam Newton with the pick.
Why Bowers:
Gabbert is already off the board, and Newton does not fit with Harbaugh's offensive scheme. The Niners should take the best player left on the board.
Bowers does fill a need for San Francisco—former first-round pick Manny Lawson has not been the pass rusher the Niners expected, and they need one to be able to blitz off the edges in their 3-4 scheme.
Their secondary is physical, but can struggle in man coverage. A good pass rush would give allow them to play up and disregard the deep ball.
Bowers lead the NCAA in sacks last season and despite numerous (injury, inconsistency, etc.) concerns, he is the best fit.
8. Tennesse Titans: Auburn DT Nick Fairley
Draft Needs:
QB, WR and CB are all areas of need for the Titans.
Vince Young is not expected to return next season, the defense was 29th in passing yards allowed, and the team might need to find another receiver, as Kenny Britt keeps facing legal trouble (he was recently arrested for obstruction of justice and eluding an officer).
Why Fairley:
The loss of Albert Haynesworth was devastating to this team, but Fairley would be a great replacement
They face a lot of the same issues—questions of maturity, laziness and low football IQ. But Fairley is too good of a pass rusher for the titans to pass up.
9. Dallas Cowboys: Florida OG Mike Pouncey
Draft Needs:
Despite having a trio of talented RBs, Dallas was just in the middle of the pack offensively in rushing statistics (15th in yards per carry, 16th in yards per game).
Their secondary is also getting older, underperforming last year by allowing the seventh most yards through the air.
Why Pouncey:
Pouncey recently stated that he "would be shocked if he wasn't in a Dallas uniform next year" via his Twitter account. Why should we doubt him?
Dallas has more pressing needs on defense, but Jerry Jones is often unconventional when drafting players. If he finds a prospect he becomes enamored with, he often goes after them.
Pouncey is a bit of a reach at pick nine, but there are always draft day surprises. At least he would shore up the offensive line, which is always a plus.
10. Washington Redskins: Auburn QB Cam Newton
Draft Needs:
The Donovan McNabb experiment has failed, so the team needs to look for the answer at QB.
The team is also devoid of skill players—Clinton Portis and Santana Moss are both past their prime.
Then there's the defense, which allowed the second most yards in the league, and set a dubious NFL record after giving up 59 points to the Eagles, the most in MNF history.
Why Newton:
Redskins owner Dan Snyder has made some poor decisions since taking over the team (the Albert Haynesworth contract and the Donovan McNabb trade chief among them). I see new GM Bruce Allen following the trend and making a bold decision come draft day.
The Redskins do have a need at QB, and Newton's charisma and athleticism would help with ticket sales.
It's a bit of a reach, and Washington should upgrade their skill positions instead. As Newton is a younger, more athletic version of the QB they just traded for, Washington is clearly looking for a dual threat at QB.
11. Houston Texans: Nebraska CB Prince Amukamara
Draft Needs:
Put simply, the Texans need to fix their awful secondary.
They allowed the most yards through the air, were the only team that opposing QBs had a QB rating of over 100 against, and only managed 13 interceptions.
Why Amukamara:
If the Texans ever hope to defeat Peyton Manning and win the AFC South, they have to improve their pass coverage.
While no Patrick Peterson, Amukamara is a hell of a player in his own right. He has great height and speed, with great instincts and ball skills.
A top 10 talent, he must be the pick if still available come draft day.
12. Minnesota Vikings: Miami CB Brandon Harris
Draft Needs:
Does Minnesota think Tarvaris Jackson or Joe Webb can be the future at QB? If not, QB is a major area of need, as they need a strong signal caller so teams won't stack eight in the box to (try and) stop Adrian Peterson.
A replacement DT is also needed for the almost finished Pat Williams (at 38, he can't have much left in the tank).
Why Harris:
Locker and Mallett would both be major reaches at this point in the draft, and there are really only OTs and DEs at the top of the board at this point in the draft.
Illinois' Corey Liuget is an option, but I see the Vikings providing a talented corner to play opposite talented veteran Antoine Winfield.
Paired with talented DEs Ray Edwards and Jared Allen, the Vikings would have a very strong pass defense by adding Harris.
13. Detroit Lions: Missouri DE Aldon Smith
Draft Needs:
Upgrading the offensive line has to be a concern for the Lions who started three different QBs last season. If Matthew Stafford is the future at QB, the Lions must find a way to keep him upright.
The defense could also be improved, 21st in yards allowed and 19th in points allowed.
Why Smith:
While still raw, Smith would give Detroit arguably the best defensive line in the league paired with star DT Ndamukong Suh.
Sure, the Lions were sixth in the league in sacks, but most came from Suh. Adding another edge rusher to pair with the promising Cliff Avril would give the Lions a nasty d-line.
Smith has as much upside as any player in the draft, and is good value at pick 13.
14. St. Louis Rams: Alabama WR Julio Jones
Draft Needs:
The Rams need to surround star QB Sam Bradford with talent.
Their leading receiver(s) had under 700 yards and three touchdowns.
Why Jones:
Jones is a top 10 talent the Rams would be happy to have at pick 14.
Faster than Green, Jones is a big, physical athlete who is already a polished route runner and an excellent deep threat.
If still available, the Rams should jump on him.
15. Miami Dolphins: Alabama RB Mark Ingram
Draft Needs:
The QB position needs improvement—Chad Henne has just 27 touchdowns to 33 picks in 27 career starts. Furthermore, the Dolphins have had to start 15 different QBs since Dan Marino retired.
The RBs also need to upgrade. There are always injury concerns with Ronnie Brown and Ricky Williams is in the twilight of his career
Why Ingram:
He is the best RB in this class and fits a major area of need.
The Dolphins average of 3.7 yards per rush was the second worst in the NFL, and their RBs had just eight rushing touchdowns.
Ingram has great strength and vision, and fits in very well with the Dolphins blocking scheme.
There are rumors that the Dolphins are interested in Ryan Mallett, but Ingram should be the choice.
16. Jacksonville Jaguars: California DE Cameron Jordan
Draft Needs:
The Jags have issues at CB, WR and on the defensive line.
The Jags have tried to address their porous defensive line recently by drafting Tyson Alualu and signing Aaron Kampman.
Still, this team finished with only 26 sacks, second worst in the league.
After releasing Mike-Sims Walker, depth is needed at the receiver position as well.
Why Jordan:
Although 28th against the pass, rookie CB Derek Cox was a third-round pick and showed promise with four interceptions.
The Jaguars need to generate a pass rush, and according to ESPN draft analyst Todd McShay "no one could guard him (Jordan) at the senior bowl." He should be the pick.
17. New England Patriots: Wisconsin DE JJ Watt
Draft Needs:
The Patriots have a talented, young defense that led the league in interceptions and were eighth in points allowed.
But they finished eighth worst in yards per game, and have no true pass rusher. And while Jerod Mayo is a stud at middle linebacker, their outside linebackers could be improved.
On offense, they could use upgrades at every skill position.
Why Watt:
Wyatt is a hardnosed player who thrives under the coaching of Belichick. He has a great work ethic and has improved greatly from his freshman to junior season.
He is in the mold of former Patriot Richard Seymour—a good, but not great, sack artist who can also defend the run.
18. San Diego Chargers: Purdue DE Ryan Kerrigan
Draft Needs:
Although a poor rushing team, they just spent a first-round pick on Ryan Matthews. An offensive lineman could be added to try and improve the run game.
Their defense was great, finishing first in yards allowed per game and 10th in points allowed. Still, more talent could be added on the defensive line.
Why Kerrigan:
Kerrigan is a pure athlete at the DE position who could help generate a pass rush for San Diego.
Kerrigan was third in the FBS in sacks this past season and his work ethic is very impressive—Kerrigan never takes plays off.
The unanimous All-American also tied the FBS career record for fumbles forced, with 14.
19. New York Giants: UCLA LB Akeem Ayers
Draft Needs:
The Giants were very balanced on both offense and defense last season, but their negative three turnover margin was 18th in the NFL and Eli Manning led the league in interceptions.
A lineman could be added to give Manning more time in the pocket.
Keith Bullock is not getting any younger, so a linebacker could be added as well.
Why Ayers:
He is a bit of a reach, but he fits a major area of need.
He is very polished, good in a lot of areas but not great in any one. He is already very good in pass coverage.
The Giants must hope Manning can eliminate the turnovers on his own, and should instead draft to improve their defense.
20. Tampa Bay Bucs: Iowa DE Adrian Clayborn
Draft Needs:
The Bucs had the second fewest sacks in the NFL last season, so they need to find a pass rusher.
Ronde Barber is getting older and Aqib Talib is facing legal trouble (aggravated assault) and could be suspended. A corner could be added to provide depth.
Why Clayborn:
Clayborn was a top 10 pick going into the season, but his sack total fell from 11.5 last year to 3.5 this season.
Still, he is a talented player and is good against the run. NFL coaching should help him regain his dominant form, and he would pair nicely playing alongside last year's first-round pick Gerald McCoy.
He is a risk-reward pick, but is fairly good value in the mid first round, especially if he produces like he did two years ago.
21. Kansas City Chiefs: USC OT Tyron Smith
Draft Needs:
Dwanye Bowe is great, but the Chiefs don't have a No. 2 receiver behind him.
Their defensive line is full of high draft picks (Glen Dorsey, Tyson Jackson) that have underperformed. More help could be added there.
Their offensive line is good, but the tackles could be improved.
Why Smith:
He is the best tackle in this class, and very good value at pick 21.
He is the most athletic tackle, although he could add some weight. But his strong arms and quick feet make him a very effective pass blocker.
He still has a lot of upside as well.
22. Indianapolis Colts: Boston College OT Anthony Castonzo
Draft Needs:
The Colts were 25th in the league in yards per carry and 27th in rushing, so the rushing attack needs to be improved. A RB or OL could be added.
Receiver is also a possibility. Pierre Garcon and Austin Collie battled injuries last season, so depth could be added. Reggie Wayne is also a free agent, and it's unsure if the Colts will be able to afford him with Peyton Manning a free agent as well.
Why Castonzo:
The consensus No. 2 tackle has great height, athleticism and technique.
He was a four-year starter and team captain, and holds the record for most starts in BC history with 54. Running behind Castonzo, RB Montel Harris lead the ACC in rushing yards this year.
With his experience and maturity, he should be able to step in and start from day one.

23. Philadelphia Eagles: Wisconsin OT Gabe Carimi
Draft Needs:
The offensive line for Philadelphia is an issue. Despite leading the league in yards per carry, the Eagles allowed the fourth most sacks in the NFL. That should not happen with a QB as elusive as Michael Vick.
Their secondary needs improvement as well. Ashante Samuel is a beast, but their second corner, Dimitri Patterson, struggled.
The Eagles gave the second worst yards per attempt down the left sideline, where the No. 2 corner plays.
Why Carimi:
CB is a huge need, but the Eagles have to keep Vick healthy.
Carimi was a starter for four years at Wisconsin, and is a giant at 6'8, 315 pounds. While there is not much upside left, Carimi should be a starter in the league for years to come.
He is a very safe pick.
24. New Orleans Saints: Notre Dame TE Kyle Rudolph
Draft Needs:
The Saints were last in the league in interceptions with 10, so help could be added in the secondary.
Jeremy Shockey has already been released, and Jimmy Graham is recovering from injury and has rather inconsistent hands. The offensive minded Saints could look to add a TE.
Why Rudolph:
He is the elite TE in this class, with good size, great hands and is a good route runner.
He has the speed to be able to line up in the slot, and his high football IQ will help him understand the complexities of Sean Payton's offense.
25. Seattle Seahawks: Washington QB Jake Locker
Draft Needs:
The QB situation is unresolved with Matt Hasslebeck still a free agent. Charlie Whitehurst has shown promise, but with just two starts, it's unsure whether the Seahawks are ready to fully commit to him.
The defense also has issues ranking 27th in yards allowed and 25th in points per game.
Why Locker:
The local product is still a work in progress but has as much upside as any player in the draft.
Locker is a great athlete from the QB position, with 29 rushing touchdowns in his collegiate career.
Locker's passing game still needs major work however. He has never completed more than 58 percent of his passes in a season, so his accuracy is a major question mark.
Still, Locker would have been the No. 1 pick had he declared for last year's draft, so getting him late in the first round is certainly good value.
26. Baltimore Ravens: Pittsburgh WR Jon Baldwin
Draft Needs:
At 37, last year was probably Derrick Mason's last in the NFL.
Donte Stallworth and T.J. Houshmandzadeh are also free agents, so the Ravens could get another receiver for Joe Flacco.
A linebacker could be added, as Ray Lewis is getting older as well.
Why Baldwin:
Flacco has never had great weapons while in Baltimore—it's time for the Ravens to give him one in Baldwin.
Baldwin is the biggest receiver in this year;s class, similar to a Vincent Jackson or Brandon Marshall.
He has the size to go up and get those jump balls, and is a great red zone threat.
A bit of a risk with questions of maturity and laziness, Baldwin just has too much potential for the Ravens to pass up.
27. Atlanta Falcons: Illinois DT Corey Liuget
Draft Needs:
The Falcons were very balanced offensively and defensively, finishing fifth in points scored and points allowed. They have a variety of options on draft day.
They could add explosiveness on offense, as there is no true No. 2 receiver behind the talented Roddy White.
While John Abraham is a stud, he could still use help on the defensive line.
Why Liuget:
The Falcons allowed 4.6 yards per rush, sixth worst in the NFL. Liuget could help solve that problem.
He has ideal height, strength and is surprisingly quick. While not a great sack artist, he has improved that aspect of his game.
28. New England Patriots: Georgia LB Justin Houston
Draft Needs:
The Patriots have a talented, young defense that led the league in interceptions and were eighth in points allowed.
But they finished eighth worst in yards per game, and have no true pass rusher. And while Jerod Mayo is a stud at middle linebacker, their outside linebackers could be improved.
On offense, they could use upgrades at every skill position.
Why Houston:
Houston is a great blitzing LB that would fit in great playing in the Patriots' 3-4 scheme.
He has a quick burst off the snap plays with a high motor. He still needs work in pass coverage however.
29. Chicago Bears: Colorado OT Nate Solder
Draft Needs:
The Bears offensive line allowed 56 sacks this past season, worst in the NFL. The need for help on the line is huge.
A nose tackle could be added on defense with the release of Tommie Harris.
Why Solder:
Solder would help open holes in the run game and give Jay Cutler more time to throw downfield to speedy receivers Devin Hester and Johnny Knox.
He is giant at 6'8, and played every snap for the Buffaloes this past season, allowing only one sack.
30. New York Jets: Oregon State DT Stephen Paea
Draft Needs:
Kris Jenkins has been placed on IR the last two seasons, so durability is a concern—it may be time to look for a replacement.
Both Braylon Edwards and Santonio Holmes are free agents, so a receiver is a possibility as well.
Why Paea:
The Jets offense is still young, and should be given time to develop. They should instead focus on perfecting the defense.
Paea is a three-year starter who won the Pac-10 DPOY award this past season.
He played big against the Beaver's top competition this year as well, totaling eight tackles and two sacks against Stanford, and six tackles and a sack against USC.
31. Pittsburgh Steelers: Mississippi State OT Derek Sherrod
Draft Needs:
The defense is set—this pick should be used on an offensive player.
The line needs improvement—they allowed 43 sacks, 25th in the NFL. Flozell Adams has played 14 NFL seasons and is showing signs of wear and tear.
Why Sherrod:
The best lineman left, Sherrod has good speed and size but is not as strong as the other lineman in this class.
He was a three-year starter with great instincts and football IQ. While a good pass blocker, he still needs to improve his run blocking.
32. Green Bay Packers: Maryland WR Torrey Smith
Draft Needs:
Donald Driver will be 36 next season, and had a major drop off in production this year. The Packers need to find Rodgers another WR to throw to besides Greg Jennings.
They could also use another pass rusher so teams won't be able to double team Clay Matthews.
Why Smith:
The WR from Maryland had over 1000 yards receiving and 12 touchdowns this past season, and would give Aaron Rodgers another deep threat to showcase his strong arm.
Smith can be a dominating force—in Maryland's regular season finale against NC State, Smith had 14 catches for 224 and four (yes, four!) touchdowns.
He is very polished, with good hands, speed, and intelligence. He compares favorably to a Reggie Wayne or Roddy White.
Keep Reading