2011 Philadelphia 76ers: What Exactly Is the Fans' Problem with Andre Iguodala?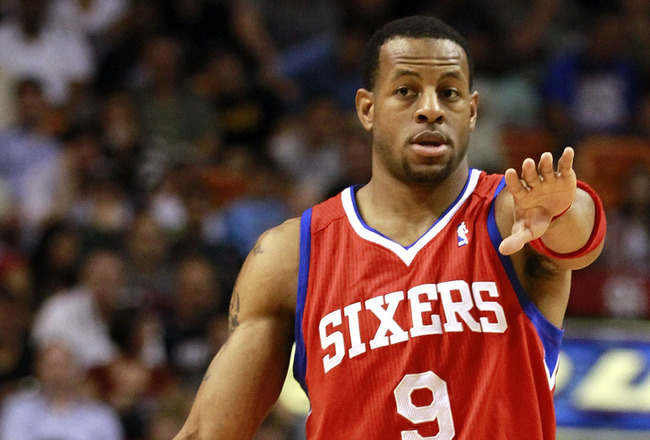 Marc Serota/Getty Images
Andre Iguodala is a quality NBA player. Anyone who says otherwise does not understand the game of basketball.
Having said that, I can more than understand the problem that the 76ers' fan base has with its "star" player.
There are many things that Iguodala does well for a player of his particular size and position. He rebounds well, can finish with the best of them, and is a top-notch defender.
Why is it, then, that he is almost vilified in Philadelphia?
I would be lying if I said that money had nothing to do with it. In ways, money has everything to do with it. Let me explain.
The money that "Iggy" makes is normally reserved for the superstar player, the one that can put the team on his back, and, at times, score at will. Andre Iguodala is a lot of things as a player, but that, he is not.
In essence, Iguodala is a "rich man's Bruce Bowen." As I stated earlier, his defensive skills are tremendous for his size and positioning. One thing that has become evident in the Miami Heat playoff series is that Andre has done an admirable job defending one of the NBA's greatest players, if not the greatest player.
Before everyone gets up in arms about the previous statement, consider the terminology. He has done an admirable job on James. The only player capable of completely, and consistently, stopping LeBron James is LeBron James. Iguodala, I contend, has done as good a job on LeBron as anyone can.
What team would be the best fit for Iguodala?
Here is the rub. A great defender does not a maximum contract make. I believe Iguodala to be a great defender. Obviously, his skill set does not stop there, as I said earlier. He is an outstanding finisher on the fast break, can handle the rock, and pass it well for a small forward.
With that said, Andre Iguodala is not the man, nor will he ever be. He would make a fine addition to an already strong team who needs a strong defender at the three to handle the LeBron James' of the world. Without the pressure to shoot and score, he would probably be looked upon as a real asset to whatever already-solid team acquired him.
Unfortunately, the way the 76ers are stacked presently, I do not see any scenario in which he will be anything more than what he is considered by Philly fans to be, someone who is actually standing in the way of success.
Is it an unfair assessment of Iguodala in Philadelphia? Probably. Will it ever change as long as he is here? Probably not.
I actually like Andre as a player. There are quite a few things to like about him. Nobody can blame him for taking that big payday. We can, however, blame a 76ers organization that should have seen his limitations.
Perhaps that already-solid team will come along during the offseason, and the 76ers can begin to grow in the Iggy aftermath. In this writer's opinion, it would be the best for all involved!
This article is
What is the duplicate article?
Why is this article offensive?
Where is this article plagiarized from?
Why is this article poorly edited?

Philadelphia 76ers: Like this team?