2011 NFL Schedule: Complete Schedules and Predictions for the AFC North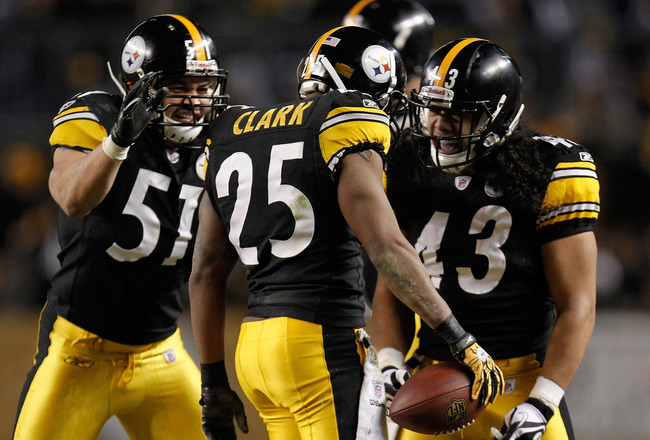 Gregory Shamus/Getty Images
2011 NFL Schedules and Predictions for All AFC North Teams
The 2011-12 NFL regular season schedule is set to be released tonight at 7 p.m. EST, and NFL fans everywhere are getting a little taste of a something they've been craving since the Super Bowl:
Football!
The Pittsburgh Steelers are still licking their wounds after a tough Super Bowl loss to the Green Bay Packers, and with an aging roster, Steeler Nation is definitely hoping for some quality draft picks to breathe some life into the team.
The Baltimore Ravens face the same kind of issues with their own fading stars (Ray Lewis is no spring chicken after all), and this team simply cannot afford to waste a single pick in this year's NFL draft.
As we move on over to the fine state of Ohio, we'll break down the Cleveland Browns' season as fans hold out hope that a team, which showed promise last year, can reach the next level.
Then across the state, we'll find the Cincinnati Bengals. This team...well, they're the Bengals.
The absence of reliable receivers and uncertainty at quarterback (I feel you, Carson—I'd be packing my bags too) have left the Bengals borderline pathetic, but luckily they'll be able to pick up some wins against the lackluster NFC West.
I'll be here with updated schedules and predictions as we look forward to this NFL season.
Read on for the latest.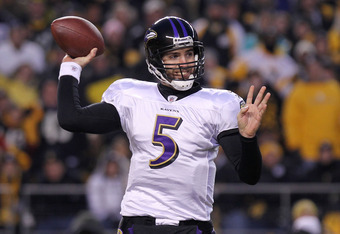 2011 NFL Schedule for Baltimore Ravens is a Piece of Cake
Boy did the Baltimore Ravens luck out here! A perennially dominant team, the Ravens face the 31st-hardest schedule in the NFL, second only to the Arizona Cardinals.
The Ravens finished the 2010 season 12-4 as they fell to the Pittsburgh Steelers in an AFC divisional showdown in the postseason, and they will have their chance to settle the score starting in Week 1 as they play host to Steeler Nation.
When the Ravens play the Steelers, fans are always in for some down and dirty AFC North football, and a win for either team will start the season off right.
But what's this? Ravens vs. Steelers at 1 o'clock?
Something about kicking off the 2011 season without showcasing one of the most bitter rivalries in the NFL just doesn't seem right to me. ESPN's James Walker agrees:
It's surprising that the Week 1 matchup between the Ravens and Steelers turned out to be a 1 p.m. start. This is the best rivalry in football and will involve two likely playoff contenders. At the very least, this could have been a highlighted by television networks for a later, 4 p.m. start.
Full disclosure: I am a Steelers fan, so I may be a bit biased. But really?
I'm sure that many fans could make a case for putting that exciting Dallas Cowboys vs. New York Jets rivalry on display, but it wouldn't be a very convincing one.
Here's a look at the rest of the Ravens' schedule:
For More NFL Schedules, Check Out our Schedule Release Live Blog

Week 1: vs. Steelers

Week 2: at Titans

Week 3: at Rams

Week 4: vs. Jets

Week 10: at Seahawks

Week 11: vs. Bengals

Week 12: vs. 49ers

Week 13: at Browns

Week 6: vs. Texans

Week 7: at Jaguars

Week 8: vs. Cardinals

Week 9: at Steelers

Week 14: vs. Colts

Week 15: at Chargers

Week 16: vs. Browns

Week 17: at Bengals
Bye: Week 5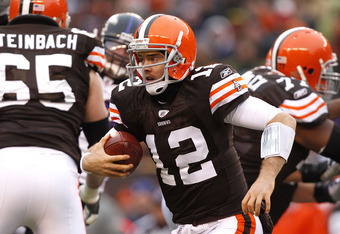 The 2011 NFL Schedule Will Test the Browns' Staying Power
Last season, we witnessed something we hadn't seen from the Cleveland Browns in a very long time: Talent.
Though the Browns' record was less than stellar, some new additions like Colt McCoy and Peyton Hillis showed glimmers of hope, and NFL fans everywhere are anxiously waiting to see what this football team can accomplish in 2011.
Cleveland will start the regular season hosting the Cincinnati Bengals, and a win here will set the tone for the entire year. A quick trip to Indianapolis and an early bye week will keep the Browns rested and comfortable as the weather gets colder.
The most crucial game on the Browns' schedule during the 2011 season?
Week 10 vs. St. Louis Rams. NFL.com tells us why:
Shurmur gets to face his former team and pupil Sam Bradford for the first time, at home. Shurmur knows Bradford as well as anyone, and this could be an opportunity to take advantage of that knowledge. McCoy was taken 84 picks after Bradford, and gets a chance to prove he's a winner.
Expect McCoy to be extremely prepared for this matchup. Use some smart draft picks to add some new weapons at receiver, and expect him to give Sam Bradford a run for his money.
Here's a look at the rest of the schedule:
For More NFL Schedules, Check Out our Schedule Release Live Blog

Week 1: vs. Bengals

Week 2: at Colts

Week 3: vs. Dolphins

Week 4: vs. Titans

Week 10: vs. Rams

Week 11: vs. Jaguars

Week 12: at Bengals

Week 13: vs. Ravens

Week 6: at Raiders

Week 7: vs. Seahawks

Week 8: at 49ers

Week 9: at Texans

Week 14: at Steelers

Week 15: at Cardinals

Week 16: at Ravens

Week 17: vs. Steelers
Bye: Week 5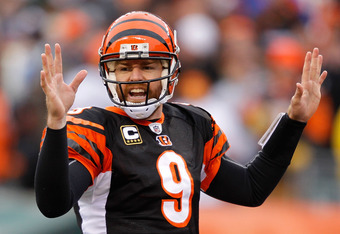 2011 NFL Schedule Will Give Cincinnati Bengals a Much Needed Break
We all feel a little sorry for the Cincinnati Bengals, don't we? This is a team that went from an aggressive playoff contender in 2009 to a mediocre-at-best hodgepodge of reality shows, touchdown celebrations and super hero nicknames.
But that's enough talk about the Bengals receiving corps.
The real problem for this football team is its obvious state of denial when it comes to Carson Palmer. Like the ex-boyfriend who still insists on texting you at 5 o'clock in the morning, the Bengals need a serious reality check:
He's not feeling it.
He's not going to start.
Draft a new one, and move on. There are plenty of fish in the sea, Cincinnati!
MUST READ: 2011 NFL Schedule: Reacting to Schedule Release
I know the thought of starting a new season with a rookie quarterback can be scary, but if the Bengals are going to do so, this season is the perfect opportunity.
Since the Bengals will face NFC West teams in four of their games this season, a newbie will be able to ease his way into the NFL instead of getting thrown to the dogs. Now NFC West fans, I honestly mean no offense. Just ask Browns quarterback Colt McCoy...
I bet he would much rather have started his first NFL game against the Seattle Seahawks than the Pittsburgh Steelers.