WWE's Bad Guys: 10 WWE Heels That Need to Remain Heels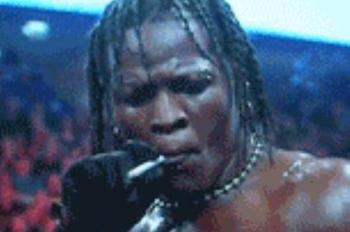 The WWE currently possesses a hefty list of heels. Some would say that both Raw and SmackDown are too heel-heavy.
A lot of fans think a draft would shake things up and place heels on different shows so they can start new feuds.
A lot of other fans think a possible solution would be to turn some heels into faces. That might be a good idea for some, but a horrible idea for others.
As I watched R-Truth's heel turn unfold on Raw, I realized that this was the right move for his career. R-Truth had grown incredibly stale as a face in the WWE. And with the annual roster cuts looming, he was in danger of losing his job with the company. That all changed with a few actions on Monday night.
The day after the event took place, the social media was appalled at R-Truth's actions. R-Truth lit a cigarette, smoked it, and then blew smoke all over his former friend John Morrison.
Some looked at the cigarette smoking as offensive and despicable. I thought it was brilliant and epic.
This is the kind of action that a heel needs to take. It was a step in the right direction for R-Truth, heels of the WWE, and the WWE itself.
The WWE has a great set of heels. Some of the heels they have can change their characters if they want to and it wouldn't necessarily be a bad idea. But there are others that cannot change.
Here's my list of current WWE Superstars that have to remain heel.
10. Jack Swagger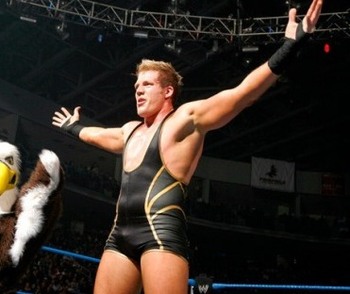 Can anyone picture this pompous ass as a face? I certainly can't.
Swagger's mic skills are bad enough as it is. They say that when you go from heel to face, your mic skills deteriorate. This is absolutely true.
There's no doubt that Swagger can wrestle. He's a great wrestler and we have to give him at least that. But he doesn't have a heroic personality.
Besides, he looks exactly like Biff from Back to the Future. 'Nuff said.
9. R-Truth
Ah, the newest heel in the WWE.
I was more than pleased with the heel turn of R-Truth. As I stated in the introduction, he needed this to save his career.
His turn couldn't have come at a better time. The WWE roster cuts are coming very soon and R-Truth was gonna be a possible victim of Vince McMahon.
The WWE Universe grew very tired of the rapper who came out singing the same damn song every week, shouting the name of the city and getting it wrong, and then yelling, "What's up!"
Something new had to be done and he knew it. So he decided to repackage himself as a heel and guess what, it worked.
I give R-Truth all the credit in the world for his actions on Monday Night Raw. What he displayed on that night was more than just a heel turn, but a huge step towards progression in the WWE.
8. Cody Rhodes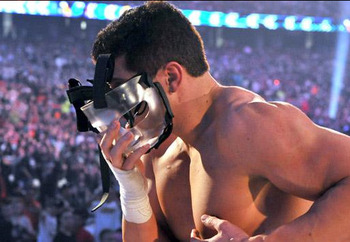 Cody Rhodes is my second example of someone who has been a face, but made the change to a heel.
Rhodes turned heel a long time ago and never went back. There's a good reason for that.
Rhodes makes a great heel and there's no question. He recently has been growing on the IWC for his wrestling, and his new character.
I personally liked the old "dashing" character a little better, but this new one has been growing on me as well. It's not a horrible gimmick for him, but I hope it's a temporary phase.
At the point he is with his character and his position with the fans, it would be odd to see him make a turn to get him out of the heel picture.
7. Drew McIntyre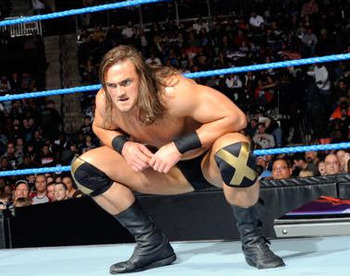 Am I the only one with such high regard for Drew McIntyre? Am I the only one who thinks he should be in contention for the World Heavyweight Championship? I feel like I am.
There are a lot of members of the WWE Universe that feel like something has to change with Drew McIntyre.
Many believe the problem solver for his would be to move to Raw. Or, the possibility of a face turn could do well for him.
Neither of these is what the Chosen One needs. What he needs is a simple push. He needs to get over on someone and they haven't been doing it for him.
By the way, his character in no way shape or form fits the bill of a hero. Cold-blooded Scot seems much more appealing to me than nice guy Scot.
The current state he's in right now is exactly the way he needs to be when he finally wins the big one.
6. Dolph Ziggler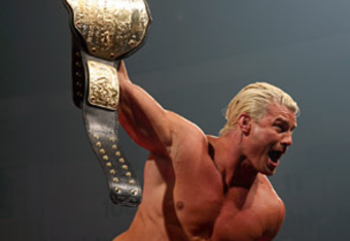 Man I wish that picture was a reality. If this was a discussion of who hasn't yet won the big one and who should, Dolph Ziggler would be near the top of the list.
Dolph Ziggler is the heel version of John Morrison. Both are incredibly exciting to watch perform, but one's a heel and one's a face.
A better example would be to call Dolph Ziggler the modern day Mr. Perfect.
Mr. Perfect was, well, perfect. He was a superb wrestler and guess what kind of character he was? Mr. Perfect was a heel. And it was a great thing to because it would have been a waste of his talent for him to be a face.
Ziggler is the exact same way. I think it would be a waste for Ziggler to be a face because he makes such a great heel. And can anyone picture a face coming out to a song that says, "I am perfection!"?
5. Sheamus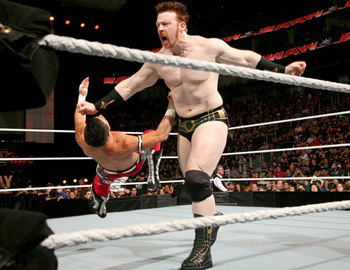 How exactly would one describe the gimmick of Sheamus? I would put it as simple as an angry, really white Irishman.
Has anyone seen a movie or read a book where the hero was an angry, really white Irishman?
Neither have I. 'Nuff said.
4. Wade Barrett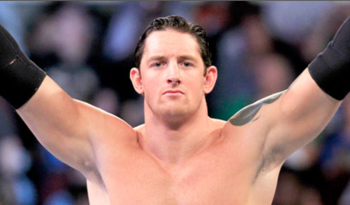 Wade Barrett—the WWE's ultimate super villain. At least he was when he was the leader of the Nexus.
But times have changed. 2010 was so last year.
Barrett is a bona fide heel. From what I've seen last year when he was the leader of the Nexus, I thought he was one of the best villains I've ever seen in wrestling.
The Nexus was the hottest thing during the Summer of 2010 and for one reason and one reason only—their leader.
I can't picture Wade Barrett as a face at all. Not only can I not picture him as a face, I can't see him as not being the leader of an incredible heel faction.
Wade Barrett is not only a great heel, but a great villainous leader.
3. CM Punk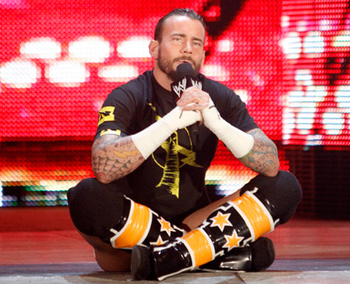 Although he hasn't held a championship in quite some time, some fans regard CM Punk as the top heel in the WWE. Punk has been a face before, and a good one I might add. But he makes a sick heel.
Punk is great on the mic no matter what character he's portraying. What some members of the WWE Universe might not know is that CM Punk has been around a few organizations in the past and hasn't always been a hero.
When he was on the Indy scene in places like Ring of Honor, CM Punk was a heel. It's not to my knowledge that he wasn't a face until he hit the WWE.
He's always carried around the gimmick of a straight edge messiah, and that's a gimmick that works both ways.
What's so special about CM Punk as a heel is that he has the ability to make the face in the feud look like an absolute saint. The acclaimed feud he had with Jeff Hardy in 2009 was so special because Punk did his part as a heel.
In the wrestling world, it's not how good you make yourself look, it's how much better you make everyone around you. CM Punk does a great job of this. That's why he needs to stay heel.
2. Alberto Del Rio
I think this is a pretty safe bet. I don't think we'll ever see the day where Alberto Del Rio turns face. But if he does, it will be a very bad idea.
Alberto Del Rio's gimmick can be described as a rich, cocky Mexican aristocrat. He does a great job of portraying the rich jerk with a whole bunch of cars. Why change it?
Ever since he broke on the scene, he's immediately been listed as one of the company's top heels.
Why would anyone want to mess with a character that's moved to the top of the biggest wrestling company in the world so fast?
His gimmick has also been done before by guys like the Million Dollar Man Ted DiBiase and John Bradshaw Layfield. One was a corrupt billionaire and the other was a rich, conservative businessman.
One thing they also had in common was that they were both great heels.
Let Del Rio sink a little Latino flavor in the cocky rich man gimmick. Keep him heel.
1. The Miz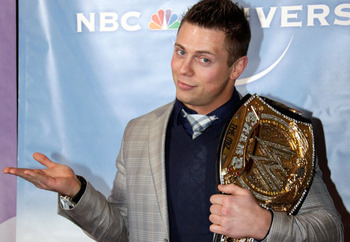 No one else can even come close to No.1 on this list. Not only is The Miz the reigning WWE Champion, he's the top heel in professional wrestling.
When we're breaking down the list of the best heels in WWE history, it's a pretty illustrious list.
As of now, The Miz has made a name for himself as one of the great heels in not only the WWE, but the entire sport today. There's no doubt he will appear on the all time greats list very soon.
There's been speculation floating around the internet that there are long-term plans for The Miz to become a face. There are a thousand reasons why that's a horrible idea, but I'll just give you the basics.
Reason No.1 is Randy Orton. Not that the Viper makes a bad face, because I think he makes a good one. What I'm talking about is the big IWC backlash on Orton after his sudden faceness.
Orton is looked at in the same picture as John Cena. Do I think he should get as much heat from the fans as Cena? Absolutely not. I'm just afraid that if The Miz were to do the same thing, he would get the heat that Randy Orton is getting now.
The Miz is a born and bred heel and he does a better job of playing a pompous ass than anyone else ever has.
His catchphrase is "I'm The Miz and I'm awesome!" What's his face catchphrase gonna be, "I'm The Miz and you're awesome!"?
Keep Reading