Manny Pacquiao: Odds, News and Predictions for Pacquiao vs. Mosely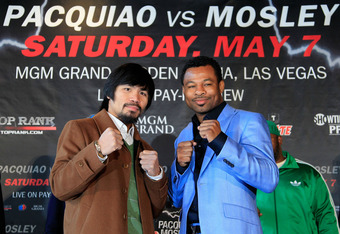 Chris Trotman/Getty Images
Manny Pacquiao and Shane Mosley will battle on May 7th in Las Vegas for Pacquiao's WBO welterweight championship.
Pacquiao will be completely focused on his match with Mosley, even though the only fight that the boxing world truly wants to see is Pacquiao against Floyd Mayweather Jr.
But the more we hear and read and see, the more that fight seems destined to never take place.
As expected, Pacquiao is a heavy favorite to defeat Mosley in Las Vegas. Currently, Pacquiao is a -$800 money line, meaning you have to wager $800 just to make $100 on Pacquiao. Mosley is going off at a +$500, which means that you would put up $100 to win $500 on Mosley.
Regardless of how enticing it sounds to bet on Mosley, the smart bet will be on neither man. You simply have to put up too much to have a shot at making anything on Pacquiao. And unless distractions run rampant on fight night, I don't see Mosley having a chance to pull off the upset.
While this fight will draw a lot of media attention, it may not turn out to be a great boxing match. Mosley has spiraled downward since his loss to Mayweather almost one year ago. Now, he has to fight someone who is in even higher regards.
Either way, the bout will take place in just over two weeks. It will be one that the world will be watching—just not as much of the world had Mosley been replaced Mayweather in the ring.
That would be the fight of the century.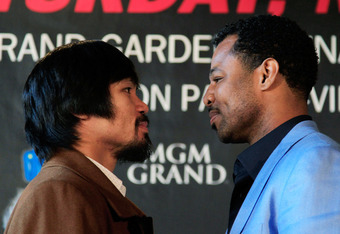 Manny Pacquiao and Shane Mosley will battle on May 7th in Las Vegas for Pacquiao's WBO welterweight championship.
Pacquiao - as expected - is a heavy favorite to retain his championship, and there is no conceivable reason to think he will not be able to come out victorious.
Unless, of course, you listen to Mosley, who says that all of the pre-fight hype surrounding how much better Pacquiao is and how Mosley is washed up is 'garbage.'
According to Lance Pugmire of the Los Angeles Times, Mosley told everyone "Don't believe the garbage some of these writers are saying."
That would be great, but like Pugmire is quick to point out, has Mosley been hit so hard that he forgets his past two fights?
"Only if you didn't watch any of his last 22 rounds — in his unanimous-decision loss to Floyd Mayweather Jr. last May and his sluggish draw against Sergio Mora in September — could you not believe the 'garbage,'" says Pugmire.
Mosley obviously says that he believes he can beat Pacquiao, which is no surprise. He has to hype the fight, as it only benefits everyone involved. He can't come out and say,that he has no idea what the hell he was thinking accepting a match against Pacquiao, because he is the far superior fighter. Of course he is going to come out and say that he can win this bout.
Yet according to Pugmire, the more surprising remark me be when Mosley came out and said that "What concerns me is how nothing concerns me about this."
Just what I thought - too many hits to the head for Mosley.
For that, he should be concerned.
"Watching those tapes, I saw how I took it to the body and head, used my long jab," said Mosley, who's never been stopped. "Lately, I've been dealing with bigger guys, monsters. To have a guy with a smaller frame in front of me this time, he doesn't intimidate me at all."
Just how hard has Mosley been hit in recent matches? This could turn into a massacre.
But it won't, and do you know why? Pacquiao observes the mercy rule. There are many opponents in the past who he could have knocked out, yet he does not always have that killer instinct. I do not think that it will be a factor here, but once time, allowing his opponent to continue will come back to haunt him in the middle of the ring.
I just don't think that that time will come against Mosley.
Pugmire wrote that "The Mosley camp is pinning its hope on the fact that Pacquiao (52-3-2, 38 KOs) never yields in a fight, that he'll charge rather than backtrack and try to fatigue the older man in the early rounds to batter him after the sixth."
The Mosley camp may be pinning its hope on that fact, but it may be scraping their fighter off of the canvas following another victory by Pacquiao.
But even if that does happen, it does not appear as if we will see Pacquiao move on to fight either of the top challengers who would result in a huge pay day.
We already know that Mayweather appears to be an unlikely opponent, but you may be able to cross Amir Khan off of that potential list as well.
Pacquiao told BoxScoreNews.com that he will never fight Khan.
"Amir Khan and I are good friends and he will find his own way to superstardom without me. Amir is going to be the greatest fighter of his era. A fight between Amir and me will never happen"
Well, that makes boxing fans 0 for 2 in a way.
So, to recap, Mayweather will not fight Pacquiao. Pacquiao will not fight Khan. To use somewhat decent logic, it remains unlikely that Mayweather will fight Khan.
This article is
What is the duplicate article?
Why is this article offensive?
Where is this article plagiarized from?
Why is this article poorly edited?