NFL Draft: What Reid and the Eagles Should Have Done in Previous 1st Rounds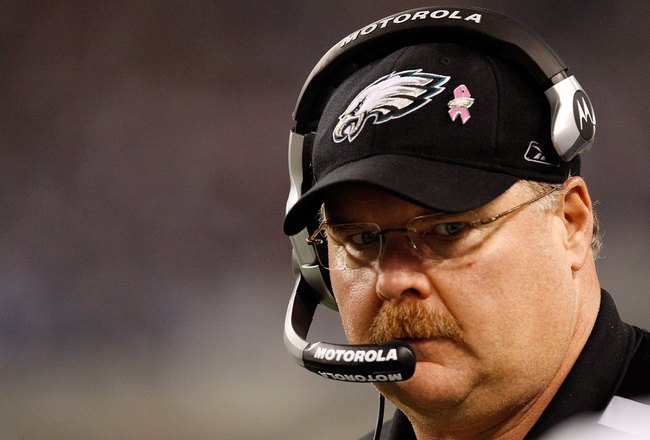 Ronald Martinez/Getty Images
In the NFL, there are three types of head coaches: the builder, the game planner, and the game day coach. The builder is the coach who makes great draft choices and builds a great team that eventually wins a championship. The game planner is the coach who makes OK draft choices but writes a smart playbook that enables an average team to achieve an above-average record. The game day coach is the coach whose draft choices seem irrelevant but always seems to make the right choices in the midst of the game and lead their team to wins.
Bill Cowher would be the builder. He drafted Hines Ward, Troy Polamalu, and Ben Roethlisberger and led his team to a Lombardi Trophy in 2005 after a long wait.
Sean Payton would be the game day coach. He coaches games like he's playing Madden, and his gutsy choices always seem to be right. Who will ever forget the onside kick to start the second half of Super Bowl XLIV?
Andy Reid would be the guy in the middle. He never had great squads (with the exception of 2004) and even the most casual Eagles fan can tell you that he is a poor game day coach. Having said that, his Eagles have made the playoffs in nine out of his 12 seasons, and I believe that this shows his talent as a great game planner. He has said in the past that he believes first-round picks are overrated and truly believes he can win the Super Bowl with execution and not talent.
In this article, I will play the what-if game and examine how Andy could have built an A-team with his first-round picks. For every draft, I'll list the player we drafted and the player we should have drafted. All the players on this list are still active NFL players and theoretically could still be in Eagle green.
I don't know if these players would have all materialized the way they did in our system, but it's fun to think about. So sit back and enjoy the ride. It should be a good one.
1999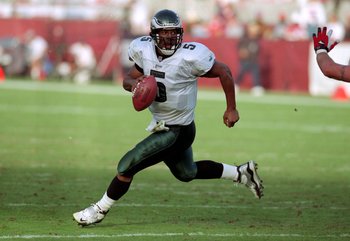 Harry How/Getty Images
Player Drafted: Donovan McNabb, QB
Player Who Should Have Been Drafted: Donovan McNabb, QB
I am not a Donovan McNabb fan. Having said that, this was the best pick Reid could have made in the position he was in. The people of Philadelphia wanted Ricky Williams in this draft, but the fact is that it just wasn't going to happen.
Jeffrey Lurie hired a quarterback guru to take over as the next head coach of the Eagles, and Andy knew he was drafting the next franchise quarterback with the second-overall pick of that draft. Timmy Couch was taken first-overall by Cleveland, which left McNabb, Akili Smith, Daunte Culpepper, Cade McNown, and Shaun King on the board for Andy. Smith, McNown, and King were dismal failures in the NFL, and McNabb had a better career than Daunte Culpepper. Reid made a good pick here.
Had the Eagles gone with Ricky Williams in the first round of that draft, we would have probably wound up drafting Chad Pennington in 2000 to be the next franchise quarterback. I'll pass.
2000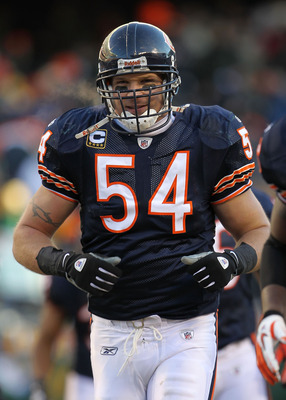 Jamie Squire/Getty Images
Player Drafted: Corey Simon, DT
Player Who Should Have Been Drafted: Brian Urlacher, LB
If Donovan McNabb was chosen to be the face of the franchise's offense in 1999, then Brian Urlacher should have been picked to be the the face of the defense. Corey Simon was an okay player, but there is no comparison of him to the ferocious middle linebacker.
While Corey was out of football by 2007, Brian is as feared today as he was on day one, despite a 2009 injury that sidelined him for the season. If you don't believe me, let's take a look at the numbers:
Simon: 32 sacks, 0 INT, 9 forced fumbles, 3 fumbles recovered, 192 tackles.
Urlacher: 41.5 sacks, 18 INT, 9 forced fumbles, 11 fumbles recovered, 913 tackles.
Like I said, no comparison.
2001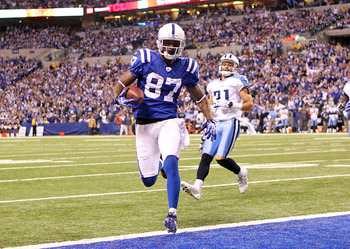 Andy Lyons/Getty Images
Player Who Was Drafted: Freddie Mitchell, WR
Player Who Should Have Been Drafted: Reggie Wayne, WR
I'll be honest, this was a tough call for me. This draft contained three future franchise wideouts in Reggie Wayne, Chad Ochocinco, and Steve Smith (Carolina). I eliminated Smith first since he didn't go until the third round and he was probably the biggest surprise of the three in that draft.
I finally chose Wayne over the man formerly known as Johnson because of the locker room effect the latter may have had. A man similar to Chad in many ways already destroyed one of Andy Reid's clubs, and Chad may have gone the same way.
The one thing that is certain is that any of these three guys would have been better picks than Freddie Mitchell. While I don't know if Reggie would have caught that famous 26-yard pass against Green Bay, I do know that Donovan would have gotten to mature along with a No. 1 receiver, and he would have had a 1000-yard guy to throw to for years to come.
2002
Jim McIsaac/Getty Images
Player Drafted: Lito Sheppard, CB
Player Who Should Have Been Drafted: Clinton Portis, RB
2002 was the year the Eagles drafted arguably the best running back in franchise history, Brian Westbrook. Brian was drafted in the third round, at 91st-overall. I was a big fan of Westy, and there were games in which he looked like O.J. Simpson (in a good way).
Having said that, the Eagles missed a great shot to draft one of the most consistent running backs of the decade, in Clinton Portis. While Brian Westbrook was a great halfback, his career pales in comparison to Clinton's.
Portis had six 1000-yard seasons, where Westbrook only had two. Clinton also had four seasons in which he scored 10-plus rushing TDs, where the most Brian ever scored in one season was nine. While both battled injuries at times in their career, Portis was more blessed when it came to health, starting in 108 games over eight seasons compared to Westbrook's 90.
This isn't to say putting Portis in midnight green would have eliminated Westbrook's existence. If we would have drafted Clinton in the first round and then drafted Brian where we did, we may have had the most feared ground attack in recent memory.
2003
Al Bello/Getty Images
Player Drafted: Jerome McDougle, DE
Player Who Should Have Been Drafted: Troy Polamalu, DB
Ah, we arrive at the worst draft pick in Andy Reid's history and one of the biggest busts in the history of the franchise. The reason that this was such a horrible pick was not only because McDougle had an injury-riddled, underachieving career. The worst part about this pick was who was passed up for him.
In addition to Polamalu, McDougle was picked ahead of Dallas Clark, Nnamdi Asomugha, Anquan Boldin, Osi Umenyiora, Lance Briggs, Jason Witten, Visanthe Shiancoe, Asante Samuel, and Robert Mathis. If Jerome can brag about nothing else, he can brag that he was thought more highly of than 10 men who would go on to have productive NFL careers. Or maybe that is something that Andy Reid should be terribly ashamed of.
Because of all the potential that was passed over for McDougle, this was the toughest choice to make. In the end I chose the most fearsome player in the NFL today over this non-player. I doubt I'll get much disagreement on this slide.
2004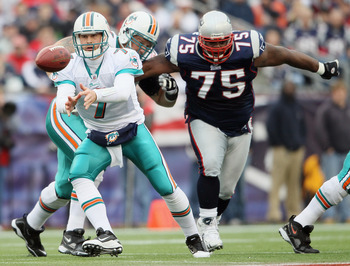 Elsa/Getty Images
Player Drafted: Shawn Andrews, G/T
Player Who Should Have Been Drafted: Vince Wilfork, NT/DT
Shawn Andrews has had a strange career. He was drafted amid high hopes in 2004 and the Eagles thought he could be one of the best offensive linemen in the NFL. He had a great preseason, but then suffered a season-ending injury on Opening Day. He then went on to have three Pro Bowl seasons with the team, but then suffered back-to-back season-ending injuries in 2008 and 2009, in addition to going AWOL from the team in the 2008 preseason. Andrews was finally released after the 2009 season, never realizing his full potential. It is because of this dichotomy in his career that I can't really call Andrews a bust, but he was not a great first round pick and produced more drama for the team than he did wins (Interestingly, the Eagles failed to make the playoffs in two of his three successful seasons, but qualified in all three of his non-seasons).
Vince Wilfork has been one of the most steady pieces of the Patriots defense since he came into the league, and he is often regarded as the best nose tackle in the game today. 2004 wasn't an earth-shattering draft class overall, but I think Wilfork would have been a better all-around pick.
2005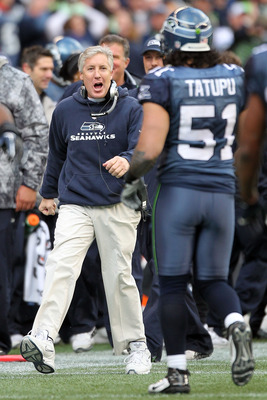 Otto Greule Jr/Getty Images
Player Drafted: Mike Patterson, DT
Player Who Should Have Been Drafted: Lofa Tatupu, LB
When you are a defending conference champion, you get the runt of the litter on draft day. That is the nature of the beast. So when the Eagles went to the Super Bowl following the 2004 season, nobody really expected them to hit pay dirt in the 2005 draft. For this reason, Mike Patterson can't be considered a bad pick. Having said that, Lofa would have been a much better pick than Mike. Tatupu had made the Pro Bowl three times in his six seasons while Patterson has been basically mired in mediocrity since day one.
I am sure Andy Reid was reminded of this in that Seattle game in 2007 when Tatupu picked off A.J. Feeley three times.
Mike Patterson recorded a half-sack in that game.
2006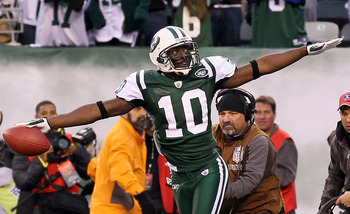 Jim McIsaac/Getty Images
Player Drafted: Brodrick Bunkley, DT
Player Who Should Have Been Drafted: Santonio Holmes, WR
In football, the only good thing about ending a season with a losing record is that you get a great draft pick the following spring. To his credit, Andy Reid has not received this consolation prize too many times, as he has only had two losing seasons in his time as the Eagles coach.
The 2005 season was a total disaster for the team, and they ended with a 6-10 record. For this, the Eagles received the 14th-overall pick in the 2006 draft.
They blew it.
They drafted the underachieving Bunkley while leaving future stars Antonio Cromartie, Santonio Holmes, DeAngelo Williams, Joseph Addai, and Devin Hester on the board. While all these guys would go on to have good careers in the NFL, I chose Holmes because I thought he could have been a great target for an aging McNabb.
Santonio doesn't have amazing stats for a wideout, but he has played for two run-centered offenses, and the quarterbacks he's had (Roethlisberger and Sanchez) are not the best passers.
He also made a pretty famous tip-toe catch in the end zone. Remember that?
2007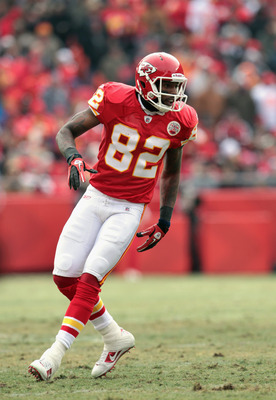 Jamie Squire/Getty Images
Player Drafted: None. Traded 22nd-overall pick.
Player Who Should Have Been Drafted: Dwayne Bowe, WR
Here is a guy who I think could have been the next Terrell Owens had he come to Philadelphia. No, not the next Terrell Owens as in the next locker room cancer to tear the team apart. The next Terrell Owens as in the next receiver to put up a 1000-plus yard, 10-plus TD season in midnight green.
Here are his stats for his three complete seasons in the NFL (He was slowed down by injury in 2009):
2007: 70 catches, 995 yards, 5 TD
2008: 86 catches, 1022 yards, 7 TD
2010: 72 catches, 1162 yards, 15 TD
Those stats come out of a run-based Kansas City offense, with Matt Cassel throwing to him. Can you imagine the numbers this kid could have put up in our system?
But don't worry—we got Kevin Kolb in that draft.
2008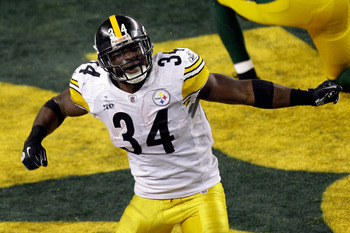 Rob Carr/Getty Images
Player Drafted: None. Traded 19th-overall pick.**
Player Who Should Have Been Drafted: Rashard Mendenhall, RB
The Steelers saw the potential for this guy to be their next franchise horse and the Eagles should have jumped on this opportunity. I am happy to have LeSean McCoy, but drafting Mendenhall in 2008 would have put him a year ahead of where LeSean is now.
The Eagles were obviously looking to move past the Westbrook era when they drafted Shady, so they should have taken Rashard while he could still have had more time to learn under Brian.
**It is interesting to note that the Eagles were officially eliminated from playoff contention for the 2007 season at 6-8. They tried to win and won their final two games to end with an 8-8 record. Had they lost these games and finished 6-10, they would have received a higher pick and it is very possible that they would have been able to draft Joe Flacco.
2009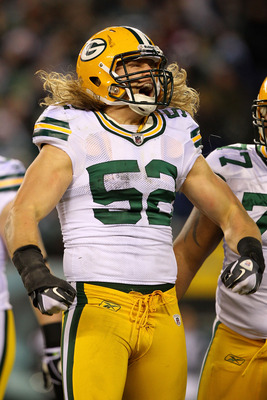 Al Bello/Getty Images
Player Drafted: Jeremy Maclin, WR
Player Who Should Have Been Drafted: Clay Matthews, LB
If Troy Polamalu is the most fearsome man in the NFL, then Clay Matthews is the most intense. He is the best young defensive star in the National Football League, and the Eagles biggest weakness these past two years has been the defense.
The defensive leaders for this team, the past two years, have been Stewart Bradley and Quintin Mikell. Clay Matthews would have been a great piece to add to this team.
2010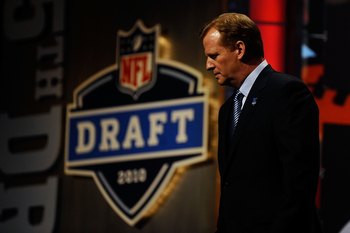 Jeff Zelevansky/Getty Images
Player Drafted: Brandon Graham, DE
Player Who Should Have Been Drafted: The jury is still out.
It is too early to judge this pick. Yes, he ended his rookie season on injured reserve, but this doesn't mean much. The Eagles did pass on Maurkice Pouncey and Devin McCourty, but only time will tell if these guys are more productive than Graham in a couple of years.
Keep Reading

Philadelphia Eagles: Like this team?