Pittsburgh Steelers 2011 Schedule: Should Host AFC Championship Again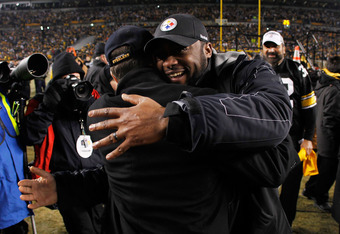 The 2011 NFL schedule will be released tonight, with all 32 teams finding out when they will play their 16 regular season games.
Well, maybe. After all, we are still in a lockout, so who knows how many games will be played in 2011? Who knows if we will even have a 2011 NFL season?
So tell me again why this means anything at all, considering the circumstances?
Regardless, the league will release the schedule for next season, although we already know the 16 opponents of all 32 teams. What we don't know is when they will play and which teams will dominate the primetime schedule next season.
The Pittsburgh Steelers were able to host last season's AFC Championship game, but it was more or less due to default. The New England Patriots finished the year with the best regular season record, but were upset by the New York Jets in the Divisional Playoffs.
But with Pittsburgh's relatively easy 2011 schedule, at least in comparison to last season, we could be witnessing another conference title game at Heinz Field next season.
The Steelers have six games against fellow AFC North divisional foes, but aside from the Baltimore Ravens, they rest of the division is more or less pathetic.
The Ravens will give the Steelers a pair of tough games. They always do, and they are great smash-mouth football games. But the Cincinnati Bengals will be bad regardless of whether or not Carson Palmer is under center, and the Cleveland Browns will be lucky to win six or seven games. None should come against Pittsburgh.
Outside of the division, it does not get that much more difficult. They play four games against teams from the AFC South, which is a competitive division. But they are competitive against each other, which makes them all appear more talented than they truly are against the rest of the league.
The Indianapolis Colts will be a tough game at Lucas Oil Stadium, but the Steelers can still defeat them, as well as the Houston Texans, Jacksonville Jaguars and Tennessee Titans.
Their other two games within the conference are challenging, as the Steelers will host the New England Patriots and travel to take on the Kansas City Chiefs. Both are winnable, but both could result in losses just as easily. They should be two entertaining games, with the Patriots offering a much harder fight.
Outside the AFC, the Steelers - as did all of the AFC North teams - lucked out in a major way by getting to play all four teams from the NFC West.
Last year, I referred to it as the UFL West, but was asked to stop. The UFL said it was too derogatory when discussing their league. They were right.
Still games against the Arizona Cardinals, San Francisco 49ers, Seattle Seahawks and St. Louis Rams should result in four victories for the Steelers.
I am not trying to belittle the Steelers' 2011 NFL schedule. But for a team who did so well last year, they certainly lucked out with a relatively easy outlook the following year.
Now, they just have to hope that there is a 2011 NFL season, so they can start working on a return trip to the Super Bowl.
Most recent updates:
This article is
What is the duplicate article?
Why is this article offensive?
Where is this article plagiarized from?
Why is this article poorly edited?