Green Bay Packers 2011 NFL Schedule: Who Will Champs Open Up Defense Against?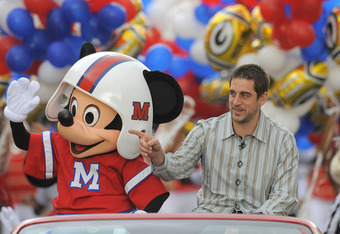 The 2011 NFL schedule will be released tonight, with all 32 teams finding out when they will play their 16 regular season games.
Well, maybe. After all, we are still in a lockout, so who knows how many games will be played in 2011? Who knows if we will even have a 2011 NFL season?
So tell me again why this means anything at all, considering the circumstances?
Regardless, the league will release the schedule for next season, although we already know the 16 opponents of all 32 teams. What we don't know is when they will play and which teams will dominate the primetime schedule next season.
We also know that it has become a tradition for the defending Super Bowl champions to open their title defense at home on a Thursday night. That means that the Green Bay Packers will open the regular season at Lambeau Field against a team who will bring ratings and competition to help kick off the season.
The Packers, like all teams, play eight home games. Three of them are against divisional foes, two are against the NFC South, two are against teams from the AFC West, and one is against a foe from the NFC East.
So, whittling down the choices, we can eliminate the Detroit Lions and Minnesota Vikings (unless Brett Favre comes back, because everyone just has to watch him as much as possible - yawn).
Green Bay also plays home games against the St. Louis Rams and Denver Broncos, but I don't think that the allure of Sam Bradford or Tim Tebow (possibly) is enough to schedule them in the opener.
That leaves us with the Chicago Bears, Tampa Bay Buccaneers, New Orleans Saints and Oakland Raiders.
The Raiders are definitely improving, but they are not quite ready for something like this, even though they have an excellent fan base.
We are down to three. The Bears make a lot of sense. A divisional rivalry that is unmatched by any other, and a rematch of the NFC Championship Game from last season. With the Jay Cutler saga, this may be a great fit.
The Buccaneers would be a good fit as well. This is a young and talented team who will be a contender sooner rather than later. Their offense is still young, but they are vastly improving under the leadership of Josh Freeman. LeGarrette Blount does not hurt either. These two had some classic games when they were divisional foes years back.
That leaves us with the team who held the Lombardi Trophy prior to the Packers last season, and that would be the Saints. Both teams are led by elite quarterbacks, and this could be the shootout that the league needs to start the season with fantastic ratings. Drew Brees vs. Aaron Rodgers would be a great way to start out the next season, hoping that the fans will forget about how the league has toyed with their emotions with the current lockout.
The Bears are a good pick, but the league likes to save divisional rivalries for when the season progresses. The Bucs are a good choice, but they still missed the postseason last year, and will have to wait another year before they get a shot at primetime like this one.
So, we now know that the Green Bay Packers will open up the 2011 NFL season against the New Orleans Saints on a Thursday night.
You're welcome.
Most recent updates:
This article is
What is the duplicate article?
Why is this article offensive?
Where is this article plagiarized from?
Why is this article poorly edited?