NFL Schedule 2011: Ideal Matchups for Thanksgiving Day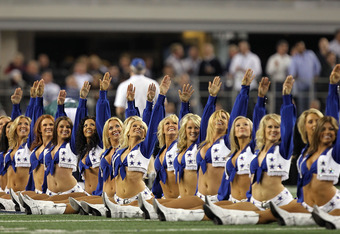 The 2011 NFL schedule will be released tonight, with all 32 teams finding out when they will play 16 games.
Well, maybe. After all, we are still in a lockout, so who knows how many games will be played in 2011. Who knows if we will even have a 2011 NFL season?
So tell me again why this means anything at all, considering the circumstances?
Regardless, the league will release the schedule for next season, although we already know the 16 opponents of all 32 teams. What we don't know is when they will play and which teams will dominate the primetime schedule next season.
The one thing I look forward to finding out is who will be playing on Thanksgiving Day. It is really the only part of the schedule I even concern myself with on the official release date.
We know this much to be true. The Detroit Lions and Dallas Cowboys will host the first two games on Thanksgiving Day. They have for quite some time, as it has become tradition. And even though both have fallen on hard times in different periods, the league should not consider changing that part of the schedule.
If they want, they can just continue to rotate the Thanksgiving Night game. That is something for which I would have no problem.
If I were in charge of the NFL schedule, and I remind you I am not, I would release the following three matchups for Thanksgiving.
First, the Lions would host the San Francisco 49ers in the first game. It would allow Jim Harbaugh to return to Michigan, and it would also give the Lions a chance at something their fans deserve, which is a win in a nationally televised game. These fans have suffered through a lot, highlighted by an absolute idiot running their beloved franchise for almost a decade in Matt Millen. A Thanksgiving Day win could help this young team, and the 49ers would provide a decent opportunity.
The Dallas Cowboys would host the second game of the day, and they should play the Miami Dolphins. It would be a classic rematch of the Leon Lett game in the snow where Pete Stoyanovich was given a second chance at a game winning field goal in a 16-14 Miami win. It was a great game once, and these two teams could both be fairly evenly matched once again. They will not be great, but they should be competitive.
The night game is a toss up, as the league has not established any tradition or history yet. With that being said, they need to begin one, so I would have the Green Bay Packers host the Thanksgiving night game every season. To begin with this year, the defending Super Bowl champions would host the Tampa Bay Buccaneers, in a game where the road team would don the orange creamsicle uniforms. It was a great rivalry for years when Warren Sapp was running around the field, and it would have the potential to become a classic this season as well, with Tampa Bay becoming a serious contender.
With that being said, no one truly knows which teams will play on Thanksgiving Day, aside from the Lions and Cowboys each hosting one game. But these would all be intriguing matchups on a great day in America.
Most recent updates:
This article is
What is the duplicate article?
Why is this article offensive?
Where is this article plagiarized from?
Why is this article poorly edited?