2011 NBA Playoff Schedule: Tip Times, Channels and Bold Predictions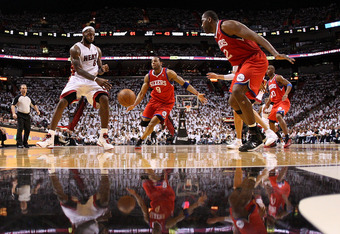 Mike Ehrmann/Getty Images
The 2011 NBA Playoffs are underway, and a pair of teams in the Eastern Conference are already off to 2-0 series leads, although one has been much more difficult to attain than first imagined.
The Chicago Bulls once again had to give it everything they had to get past a very game Indiana Pacers team to take the first two games of the series at home. Derrick Rose continued his NBA MVP campaign into the postseason by dropping another 36 points to lead the way for Chicago. Carlos Boozer had a much better game, although once again his damage was done early on, and the Bulls took down the Pacers, 99-93.
Meanwhile, the Miami Heat are having no problems dismantling the Philadelphia 76ers, as they now lead the series 2-0 as well.
The Heat routed the Sixers last night, 94-73, and looked every bit as impressive as the final score indicated.

In the first half alone, LeBron James, Dwyane Wade and Chris Bosh each outscored Philadelphia's starting five by themselves. Miami has dominated on both ends of the floor, and they appear to be a very formidable contender in the Eastern Conference.
In other NBA Playoffs news, referees have announced that the Kendrick Perkins tip in that helped lead to an Oklahoma City Thunder Game 1 victory over the Denver Nuggets should have been called off due to offensive interference. They have admitted that they made a mistake, but it does not change the outcome.
With three more games on tap tonight, the Atlanta Hawks, Boston Celtics and Dallas Mavericks are all looking to enjoy the same series leads as the Bulls and Heat, while the Orlando Magic, New York Knicks and Portland Trail Blazers will try to even the series.
Stay tuned for the latest news and coverage from the 2011 NBA Playoffs throughout the day.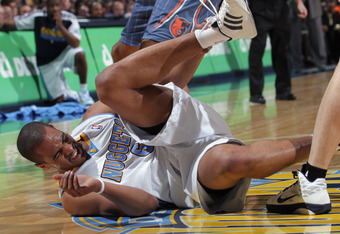 Injuries are becoming a prevalent story in the 2011 NBA Payoffs, and the Denver Nuggets are no exception to the rule.
The Nuggets, who lost Game 1 to the Oklahoma City Thunder in somewhat controversial fashion, have already ruled out starting shooting guard Aaron Afflalo for Game 2 on Wednesday night. That game is scheduled for Wednesday night at 8:00 PM on TNT.
Afflalo already sat out the first game, and there is no timetable for his return. He did, however, say that there is a "zero" percent chance that he will suit up on Wednesday night.
His left hamstring injury has sidelined him on and off throughout the last month or so, as it continues to hamper him at the most important time of the season. Aside from missing the team's first playoff game on Sunday night, Afflalo had missed 13 of the final 18 regular-season games with an injury he originally suffered March 5 and aggravated March 19, April 1 and April 11.
According to Chris Tomasson on NBA.com, Afflalo said he has learned that you cannot rush a hamstring injury. Unfortunately, the added damage may have already been done by trying to come back too quickly a few times already.
"I made a mistake once. I made a mistake twice. I made a mistake three times," Afflalo said of having come back before when the hamstring wasn't fully healed. "It's not healed. It not me sitting back and relaxing. I've tried three straight times."
Tomasson says that Afflalo still remains optimistic that he will be able to play at some point in Denver's first round series against Oklahoma City. But if the team loses Game 2 and he still remains a long shot to play in Game 3, the Nuggets may not be around much longer, giving Afflalo plenty of time to rest in the offseason.
Especially once the strike or lockout kicks in during the summer.
The Nuggets will need better shooting performances from Raymond Felton and Wilson Chandler in Game 2, as well continued strong showings from Nene and Danilo Galinari.
But if they cannot slow down Kevin Durant and Russell Westbrook, it may not matter.
This article is
What is the duplicate article?
Why is this article offensive?
Where is this article plagiarized from?
Why is this article poorly edited?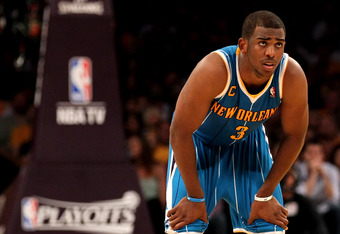 The 2011 NBA Playoffs featured some shocking Game 1 upsets in the first round, highlighted by the New Orleans Hornets knocking off the Los Angeles Lakers.
Chris Paul led the way for the undermanned Hornets with 33 points and 14 assists, and the Lakers had absolutely no answers on how to slow him down.
But after taking a day to think about things, the Lakers may have devised a plan that would not only slow Paul down, but rather one that could take him out of the mix completely.
Dave McMenemin of ESPN says that they may have found an answer, and it all has a lot to do with the return of Lakers' guard Steve Blake, who was cleared to return to the team after being deemed no longer contagious with chicken pox.
"[I'll] sweat on him a little bit," joked Blake.
Desperate times call for desperate measures, right? I would say that a chicken pox defense is desperate enough.
Blake was back at practice on Monday, finally be allowed to rejoin his teammates. He still has no idea how he contracted the disease, according to McMenamin.
"I have no idea," Blake said. "It's not like I went up to someone and shook someone's hands that had spots all over them. You just don't know how you get something like this.
"Who expects to get something like that during the season? It's just shocking. But you live with it and you move past it."
Lakers' head coach Phil Jackson said that while Blake's stamina is not all the way back, he will still spend some time guarding Paul in Game 2 on Wednesday night.
After all, it is not as if he could do much worse than anyone Los Angeles threw on him in Game 1 on Sunday.
Los Angeles and New Orleans will tip off Game 2 at 10:30 PM on Wednesday night on TNT.
This article is
What is the duplicate article?
Why is this article offensive?
Where is this article plagiarized from?
Why is this article poorly edited?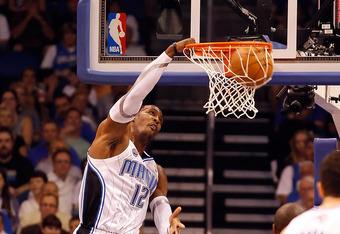 The 2011 NBA Playoffs feature the three time consecutive NBA Defensive Player of the Year in Dwight Howard, but the Orlando Magic did not look like the better team in Game 1 against the Atlanta Hawks.
Perhaps, that is because they were not.
After sweeping the Hawks in the Eastern Conference semifinals last season by an average of around 25 points per victory, the Magic came out flat on Saturday night.
And when I say Magic, I am not including Howard, who set a franchise playoff high with 46 points and also added 19 rebounds in the losing effort.
In fact, Howard became just the sixth player in NBA Playoffs history to record at least 45 points and 15 rebounds in a single game, only to be a part of the losing end. Those are not the types of numbers that anyone wants to be associated with.
The only numbers that matter to Howard and every player still competing in the postseason are 1 and 0, as in Atlanta holding a 1-0 series advantage after Game 1.
Game 2 is scheduled for 7:30 PM Tuesday night on NBATV, where the Magic will look to even the series.
Michael Wallace of ESPN said that Howard will be ready for the challenge, but he is taking a more vocal role as the leader of this team, hoping that his teammates will step up their game as well.
"But Howard spoke up Sunday and challenged his team to play better defensively," said Wallace. "As dominant as Howard was for the Magic inside, the Hawks were equally unstoppable on the perimeter because of their height advantage. The trio of Jamal Crawford (6-foot-6), Joe Johnson (6-7) and Josh Smith (6-9) shot over smaller Magic defenders, finishing with a combined 63 points."

"The Hawks' hot shooting, coupled with their refusal to double-team Howard and create open looks for Orlando's 3-point shooters, was a formula that stymied the Magic. But Howard didn't overanalyze the significance of Saturday's loss.

"They had a great shooting night," Howard said. "It's one game. That's why it's called a series, you know. It's not college, where it's one game and you're done. Because if it was, they had an amazing game, just like some college teams in the NCAA tournament. We just have to continue to play, continue to believe in each other."
Howard can give his typical Superman like performance, but he will need a better showing from his supporting cast. If Howard is Superman, then the Justice League was absent in Game 1.
Hedo Turkoglu, Jason Richardson and Gilbert Arenas shot a combined 6-22 from the field. Their defense was nothing to write home about either.
They have to realize that Howard cannot do it all by himself. Aside from Jameer Nelson, Orlando flat out needs more production from everyone else.
If not, the next number they may be concerned with is 2, as in they could be trailing the Hawks 2-0 in their first round series after tonight.
This article is
What is the duplicate article?
Why is this article offensive?
Where is this article plagiarized from?
Why is this article poorly edited?
The Boston Celtics have ruled Shaquille O'Neal out for Game 2 of the Eastern Conference quarterfinals against the New York Knicks. O'Neal continues to be sidelined by a calf injury.
The Celtics' center it still wearing a brace that covers part of his right leg. He was unable to practice on Monday, and therefore has been officially ruled out of tonight's action at home.
According to Mark Murphy of the Boston Herald, head coach Doc Rivers does not appear even the least bit encouraged by the injury news surrounding his top big man.
"He didn't do anything," said coach Doc Rivers. "He's not going to play. (Dr.Brian) McKeon came to me about an hour ago and said we're not going to put him on the floor. We're not even going to try it.

"He's got a different brace, and we have two days after this that he can practice. Even if he doesn't, then we'll make an evaluation."
Boston was fortunate as Jermaine O'Neal stepped up in a big way in Game 1, but will they be as lucky in Game 2 on Tuesday night? This team would stand a much better chance with both O'Neals available than just one.
The Knicks will also likely be without one of their top players tonight as well, as starting point guard Chauncey Billups is not expected to suit up tonight.
But Murphy points out that is not necessarily a positive sign for the Celtics in any way, since they have a history of losing to teams this season who have been without one or more of their top players.
"Lest anyone forget, this season the Celtics lost to Oklahoma City without Kevin Durant, Houston without Kevin Martin, Memphis without Rudy Gay, and Charlotte without Stephen Jackson and Gerald Wallace," reminds Murphy.
Hopefully, they will not have to add the Knicks without Billups to that list.
The Celtics and Knicks are set to tip off Game 2 tonight at 7:00 PM at the TD Banknorth Garden on TNT.
This article is
What is the duplicate article?
Why is this article offensive?
Where is this article plagiarized from?
Why is this article poorly edited?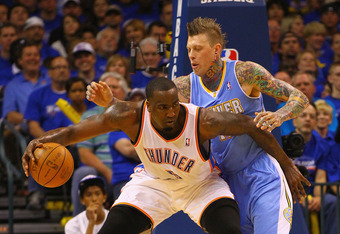 The 2011 NBA Playoffs are underway, but it is not without a bit of controversy to start.
Then again, what else is new?
When will every professional sport realize that if they do not at least expand instant replay for the postseason, that they will continue to have bad calls ruin good games?
Human error is part of life, but when it can be corrected, there is no excuse for costly mistakes to possibly derail a team's shot at postseason glory.
The Denver Nuggets were the latest victims of a bad call that led to their Game 1 demise against the Oklahoma City Thunder.
On a late tip in by Kendrick Perkins following a Russell Westbrook miss, it was later determined that the tip should not have counted, as Perkins touched the ball while it was still over the cylinder. That is offensive interference, and Denver should have been awarded the ball out of bounds.
But according to ESPN, that did not happen, and the league acknowledges that it made a big mistake.
"In a statement that referees Steve Javie, Zach Zarba and Bill Kennedy should have ruled that Kendrick Perkins' go-ahead basket with 1:05 left was goaltending and disallowed it. Instead, it counted and put Oklahoma City ahead 102-101, and the Nuggets never recovered."
Now I am not one of those people who makes excuses for everything. That is what is severely wrong with society. I make excuses for nothing. Nuggets' head coach George Karl did not makes excuses either, as he knows that his team still had a few more opportunities to pull out a late victory.
Long story short, the referees did not cost Denver the game, but they definitely did not help their chances either.
Karl admitted a mistake of his own by not calling a timeout after the controversial ruling went against his team, saying that he should have given them an opportunity to regroup and put the incident behind them heading into the next possession.
ESPN reported that the coach had a good reason for not calling a timeout.
"I'm not smart enough," Karl said. "When your team's in shock, you're not going to probably have a good possession. I thought the guy was up through the rim. That's how tight he was on the rim."
Perkins did touch the ball while it was still above the cylinder, which should have resulted in the basket being waived off for offensive goaltending. But it was not. The Nuggets know that, the Thunder know that, and both teams have to be ready for Game 2 on Wednesday night.
One bad call will not determine an entire series, regardless of how crucial - and erroneous - it was.
This article is
What is the duplicate article?
Why is this article offensive?
Where is this article plagiarized from?
Why is this article poorly edited?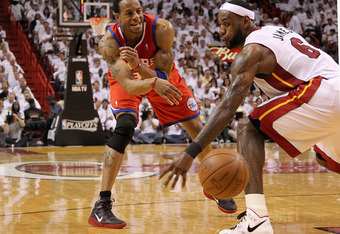 They say that in the NBA Playoffs, offense wins ratings, while defense wins championships. But when it pertains to the Miami Heat lately, they are just like what Charlie Sheen preaches he is all about.
Winning.
The Heat are winning in the ratings, destroying the 76ers and dominating defensively.
Simply put, the Miami Heat just keep winning.
Sure, that is to the chagrin of many, but it may be something everyone should learn to deal with, because this is real. Granted, it is just against Philadelphia. It will be interesting to see what they can do against the Boston Celtics or Chicago Bulls in the postseason. But regardless of their opponent, Miami finally looks like the contender they said they would be a their celebration party the night after "The Decision."
And it all starts with defense.
According to Christopher Stock of CBS Sports, this was something that Heat players had to buy in on from the start.
"We have a staple here in Miami since I've been here and before I got here they always preached defense," Heat guard Dwyane Wade said. "It's a philosophy. It's every man to help their brothers out. The defense is all about being on a string and even when we wasn't as good offensively as a lot of teams, even the last couple of years were one of the top defensive teams in the league.

"Our defense always gave us a chance to win. So now add talent to that on the offensive end and then defensively, good defenders to our scheme. It took a little while for it to come together because everyone had to get used to what we were doing and I think we are one of the best defensive teams in the league."
That defensive staple Wade is referring to may just indeed be Pat Riley, who has always preached defense to his teams no matter what role he assumes. This group is no different.
Miami is destroying Philadelphia, and it all starts with defense. In their Game 2 victory, the Heat held the 76ers to 74 points on 34 percent shooting from the field overall, including 26 percent in the first half, which just happens to be a franchise record.
Aside from the stellar play of Wade, LeBron James and Chris Bosh, it was Joel Anthony, who was signed to a big contract extension last offseason and expected to do big things in Miami, who came up big on Monday night.
Anthony blocked three shots, including back-to-back attempts by Thaddeus young that led to fast break points, in a reserve role. He also grabbed six rebounds and was showered with chants of "M-V-P" while taking his free throw attempts.
When you play together as a team, you win as a team.
But when you play together with an emphasis on defense as a team, you win NBA Championships as a team.
Maybe that is what James meant when he said this team was built to win "multiple championships."
They are built with an eye toward defense.
And it was Riley's eye that put them together.
This article is
What is the duplicate article?
Why is this article offensive?
Where is this article plagiarized from?
Why is this article poorly edited?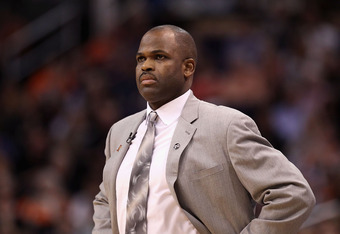 The 2011 NBA Playoffs are underway, and at least a few of the coaches have some big problems with the officiating.
Yet to much surprise, the coach who is not as verbal and has the most right to gripe is not doing so right now.
George Karl's Denver Nuggets were the recipients of an admitted wrong call in their Game 1 loss to the Oklahoma City Thunder. The referees said that the late tip in by Kendrick Perkins should not have counted, although it is too late now.
But that is not what the league is cracking down upon. Wrong calls that cost teams games in the postseason are fine, according to the NBA.
Just make sure that you do not complain about any glaring free throw discrepancy. That is a sure fire way to get you fined.
Nate McMillan found out the hard way, but you can't really blame him.
McMillan's Trail Blazers were the victims of a 19-2 fourth quarter disadvantage from the free throw line in a Game 1 loss to the Dallas Mavericks. He voiced his displeasure, and was fined $35,000 the next day.
Jeff Zilgitt of USA Today points out that while there were some noticeable discrepancies, especially for the road playoff teams, that there were probably other reasons for the numbers.
"In the eight playoff series openers, home teams enjoyed a 256-189 edge in free throws attempted, including a 130-74 advantage in Saturday's four games," Zilgitt explained.

Philadelphia 76ers coach Doug Collins skirted the issue after his team's Game 1 loss to the Miami Heat. Asked to address Miami's 39-15 edge in free throws, Collins said, "I could. But my grandkids would lose their college fund."

Though some coaches might think referees favor one team or another, style of play is probably a bigger factor.

The Heat attempted the third-most free throws in the league this season, and the Sixers were 26th. Heat forward LeBron James and guard Dwyane Wade are two of the league's most aggressive attackers, ranking fifth and sixth, respectively, in foul shots attempted.

The Chicago Bulls outshot the Pacers 32-17 at the line, but the ball was often in the hands of All-Star Derrick Rose, one of the NBA's most dynamic driving point guards.

Mavericks forward Dirk Nowitzki shot 13 free throws in the fourth quarter, but throughout his 13-year career, Nowitzki has displayed a clever knack for getting to the foul line, especially in the playoffs.

That's of little solace to McMillan, whose Blazers had more fourth-quarter shots and points in the paint but reached the foul line just twice."
Zilgitt is right in saying those numbers are little comfort to the teams who are on the wrong end of the foul shooting edge, but the referees are not favoring certain teams.
Certain players, maybe.
But not teams, and especially not the Mavericks.
This article is
What is the duplicate article?
Why is this article offensive?
Where is this article plagiarized from?
Why is this article poorly edited?