NFL Draft 2011: Latest Philadelphia Eagles Rumors, News and Speculation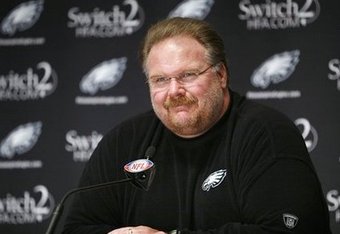 At the moment, Philadelphia is like so many other teams.
The Eagles could take so many approaches with the No. 23 pick in the upcoming NFL Draft, but they are also one of a handful of teams that have been rumored to make serious moves up into the top 10.
What's different about Philadelphia, however, is having to also deal with the status of backup quarterback Kevin Kolb. With the lockout in place, NFL rules stipulate that teams can't trade players during the draft. So rumors of him being used in a proposed trade up with Buffalo for their No. 3 pick can't happen.
Kolb is optimistic, and told the Fort Worth Star-Telegram on Sunday that he knows coach Andy Reid will help him.
"I want to be starting somewhere next year. I really want to be," Kolb said. "I'm in my fifth year now, so it's time to prove myself as a starter. Andy and I have a great relationship. It's always, 'You tell your side, and I'll tell mine, and hopefully we can make this thing work.' That's usually what happens. I know he'll do the right thing here."
Along with the Kolb storyline, Eagles fans have had a chance to debate the pros and cons of selecting an offensive lineman or cornerback. Gabe Carimi's name has been linked to the Eagles in several mock drafts, as well as Colorado corner Jimmy Smith. Smith has gained traction in recent days, however, and some believe he technically is the second best corner in this draft.
Could Philly move up and grab him or will they stay put? Will they alter their draft strategy because of the lockout? Will they do anything to try and match potential moves that Dallas and Washington could make?
There's a host of questions and issues still to discuss.
We've got just over a week until the big day arrives, so I'll be putting up as much news, rumors and speculation as I can find. I may pop off a little more and give my opinions on some subjects as well. You've still got time to also call your shots. Let me know what you think the Eagles will do and why.
I know you Eagles fans have opinions, so here's a platform.
Just try to keep it family-friendly if possible.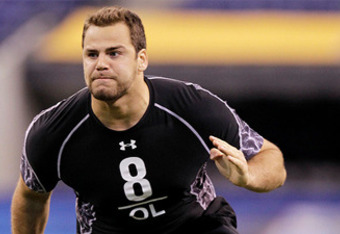 Expert breaks down selections Eagles could have at offensive tackle
At some point, it'll probably be prudent for Philadelphia to draft an offensive lineman.
"It wouldn't be a bad idea considering they allowed 50 sacks last season and Andy Reid benched Winston Justice in their playoff loss to the Packers," Ray Didinger writes. "There is enough depth in this tackle class that even at the 23rd spot, there will be a solid prospect on the board."
Didinger gives a brief look at the top offensive tackles available, but I wanted to share the one for Wisconsin's Gabe Carimi. Many mock drafts have had him going to Philadelphia with their 23rd pick.
"He does not lack confidence -- told reporters at the Senior Bowl that he considered himself 'a dominant left tackle,''' he writes. "Not everyone shares his opinion. Some scouts question whether the 6-7, 315 pound Carimi has the quick feet necessary to play left tackle in the pros. Carimi points out he played left tackle his whole career at Wisconsin and handled Adrian Clayborn (Iowa) and Cameron Heyward (Ohio State), pass rushers who will be high picks in this draft. I like him better as a right tackle. He reminds me of a young Jon Runyan."
Now, much has been made about how there's not an eye-popping lineman in this year's class like last year. That shouldn't keep teams from getting a player who could be a solid, reliable tackle for the next eight years.
As tempting as it is to say they should grab Jimmy Smith, I think protecting Michael Vick makes offensive line the higher priority. If Vick gets injured (and Kevin Kolb winds up being traded), are you really willing to roll the dice with Mike Kafka?
This article is
What is the duplicate article?
Why is this article offensive?
Where is this article plagiarized from?
Why is this article poorly edited?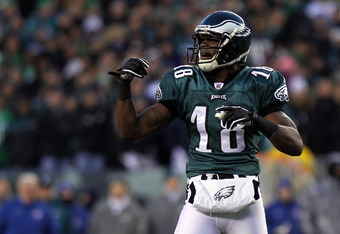 Will Eagles target one player, or move down more?
The Philadelphia Eagles have a habit in recent years of moving up in the NFL Draft.
Blogger Cody Benjamin takes a closer look at Philadelphia's activity and how it could be influenced next week. Most of the elite level talent will be long gone by the 23rd pick, but it's possible they could unload some picks if there's one player they're targeting.
"If a notable player like Da'Quan Bowers or Ryan Kerrigan slips in the opening round, the Eagles could ignore one of their primary needs by capitalizing on an opportunity to grab a top-notch prospect, but again, it's unclear how the labor ordeal will pan out and what the team plans on doing as a result of it," Benjamin writes.
Benjamin also goes on to mention that the last time Philadelphia traded out of its original first-round spot was three years ago. Then, Carolina got their 19th pick and the Eagles got three picks in exchange.
One of them was used on DeSean Jackson (pictured).
Writes Benjamin: "The season before that, the Eagles also moved out of the first round, dealing with Dallas to acquire a second-rounder and two other picks, one of which turned into quarterback Kevin Kolb (whose fate for the 2011 season coincidentally centers on the state of the current labor situation). The team has also executed a number of mid- and late-round trades, moving to load up on later selections and increase its roster depth."
Philadelphia has been very intentional and always seemed to add great pieces. Let's see if the Eagles will do the same this year when it comes to a corner and offensive line.
This article is
What is the duplicate article?
Why is this article offensive?
Where is this article plagiarized from?
Why is this article poorly edited?

Philadelphia Eagles: Like this team?